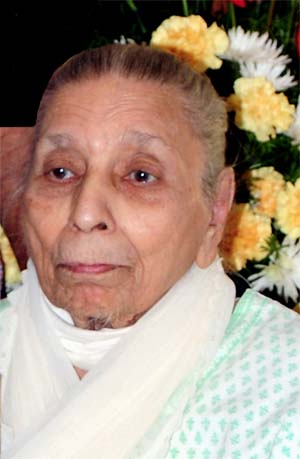 'Mere piya gaye rangoon', 'Leke pehla pehla pyar', 'Kabhi aar khabhi paar' - these retro Hindi numbers are part of every popular DJ's play list these days. While the remixed tunes are a rage at the clubs, few youngsters would be able to name the person behind the groovy voice they love so much: Musical legend Shamshad Begum.

One of the first female playback singers of the Hindi film industry and the woman whose golden voice inspired melody geniuses like O.P. Nayyar and S.D. Burman, Shamshad Begum turned 90 on April 14. The year has already begun on a memorable note for her. Almost three decades after she stopped recording, she received the Padma Bhushan, a civilian award given by the Government of India.

And, just a day before that honor came her way, the Pune-based O.P. Nayyar Foundation announced that they were going to present the grand old lady of Bollywood with the prestigious O.P. Nayyar award for her contribution to Hindi film music. Incidentally, this is the first ever 'filmi' felicitation she has received, despite a long and illustrious singing career.

A picture of grace and elegance, Shamshad Begum, now leads a retired life in Powai, a suburb of Mumbai, with her daughter and son-in-law. But before she set down the mike for good, she left her fans with several evergreen hits that continue to be enjoyed till date.

Shamshad Begum was born in 1919 in Amritsar, Punjab, to a conservative Muslim family. It may come as a surprise to many but perhaps her only real exposure to music in childhood was singing 'naats' (poems recited in praise of the Prophet Mohammed). Her voice was first heard on All India Radio Lahore in December 1937. An immediate success, she captivated many with her enchanting, earthy, nasal voice. At this point, the best thing that happened to her was that sarangi maestro, Ustad Hussain Bakshwale Saheb, accepted her as a disciple. His training reinforced her voice.

Then, as happens in all great stories involving stars, came Shamshad Begum's big break - Ghulam Haider, the Lahore-based composer, was floored by her talent. In fact, she sang in several of his films, including 'Khazanchi' (1941) and the notable 'Khandaan' (1942). When Haider relocated to Bombay (now Mumbai) in 1944, Shamshad Begum, who was an integral part of his team, also shifted base, leaving her family behind. That year, she sang for Mehboob Khan's historical venture 'Humayun', with 'Naina bhar aye neer' being her first major recording hit. It is said that she used to earn a princely sum of Rs 15 (US$1=Rs 50.08) per song at the time.

It was not long before A-list composers, the likes of Naushad, Ram Ganguly, S.D. Burman and C. Ramchandra, were signing her up. In the 1940s and 50s, this die-hard K.L. Saigal fan became a national rage, belting out one hit after another. C. Ramchandra utilised her voice for two very different style compositions - 'Meri jaan, meri jaan sunday ke sunday' ('Shehnai', 1947), which is considered by many to be one of the first real "westernized" songs of Bollywood, and the popular, 'Mere piya gaye rangoon' ('Patanga', 1949). S.D. Burman's 'Saiyyan dil mein aana re' ('Bahaar', 1951) is yet another hot golden oldie.

But O.P. Nayyar and Naushad have to be given the credit for presenting Shamshad Begum's vocal versatility to the world - she has sung unforgettable songs for both composers whose musical styles are very different from each other. While Naushad is more classical, Nayyar is the experimental, peppy one.

The Naushad-Shamshad 'jodi' (pair) took off with 'Chandani aayi ban ke pyaar' ('Dulari', 1949). This was followed by multiple hits from 'Babul' (1950), 'Deedar' (1951), 'Aan' (1952) and 'Naghma' (1953). 'Baiju Bawra' (1952) and 'Mother India' (1957) and the famous 'qawwali', 'Teri mehfil mein qismat aazma kar' from 'Mughal-e-Azam' (1960) came later.

O.P. Nayyar, the other music director with whom Shamshad Begum has had several hits, often described her voice as a "temple bell". Starting with the megahit, 'Kabhi aar kabhi paar' ('Aar Paar', 1954), the duo gave evergreen romantic numbers like, 'Leke pehla pehla pyar', 'Kaheen pe nigahen' and 'Boojh mera kya naam re' in 'C.I.D.' (1956). He also made a very unusual duet, blending her voice with Kishore Kumar - 'Meri neendon mein tum' from 'Naya Andaz' (1956) remains one of the most loved romantic duets.

The death of her husband (in 1955) was a big blow to Shamshad Begum. From then on, her songs became fewer and far between. Some time in the early 1960s, she gave up music and became a recluse.

It was Nayyar who brought her out of her retirement in 1968 to sing a duet with Asha Bhosle in 'Kismat'. The collaboration resulted in 'Kajra Mohabbatwala', which is as popular today as it was 40 years ago. Her reappearance was symbolic in more ways than one. The media hype behind her comeback was immense and many who had only heard Shamshad Begum but never seen her, could finally put a face to the name.

This grand lady has since then, however, kept away from the media. Today, her songs, which have been remixed, are a hit with the younger generation. Well-deserved and much overdue honors are finally being bestowed upon her. But despite them, Shamshad Begum remains the humble woman she was always known to be. According to media reports, when the O.P. Nayyar Foundation decided to confer on her the Lifetime Achievement Award, she graciously accepted the honor but declined to accept the cash award, asking for the proceeds to be given to charity instead.

Here is a woman who is truly a national treasure. Shamshad Begum needs to be recognized, rewarded and cherished.