One of the most prominent leaders of the Bharatiya Janata Party (BJP), Sushma Swaraj is the face of the party in Madhya Pradesh for the Lok Sabha polls.

As she moves from village to village addressing rallies, asking for votes and 'ashirwad' (blessings), women gather in large numbers to catch a glimpse of her. "I am here because the prime ministerial candidate L.K. Advani asked me to contest the Lok Sabha election. Chief Minister Shivraj Singh Chauhan invited me to contest from Madhya Pradesh and I am here with you," were the words Swaraj used when she first began her campaign from Vidisha. This seat, incidentally, has always been considered a safe bet for the BJP. Former prime minister Atal Bihari Vajpayee had stood from Vidisha in 1991, emerging victorious, and the present chief minister of Madhya Pradesh, Shivraj Singh Chauhan, had won from this seat no less than five times.
But Sushma Swaraj's election style presents a marked contrast to her male predecessors. For instance, this time she even tied 'raksha sutras' (safety threads) around the wrists of party workers and made them promise her a victory. "It's a bond with the people of the constituency as the chief minister himself has an emotional relationship with the voters," she maintains.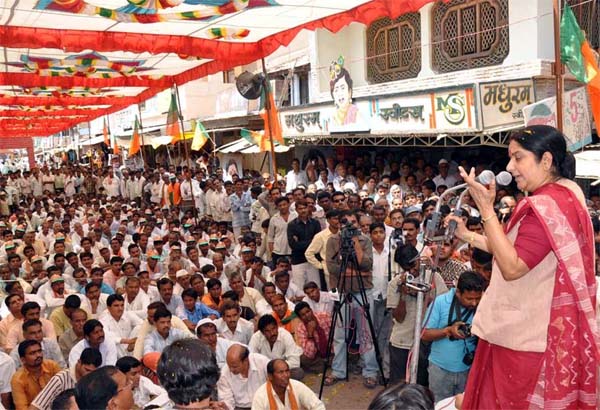 Eloquence has always come easy to this lawyer-turned-politician, who was incidentally the first woman law-maker to receive the outstanding Parliamentarian Award. In Vidisha she is at pains to dispel any thoughts of her being an outsider to Madhya Pradesh, claiming that the state is her very own, one that will deliver her political future. "People shouldn't be surprised at my decision to contest from here. My connection with Madhya Pradesh is not new. I've been representing the state in the Rajya Sabha," Swaraj explains at her election meetings. But it is also a fact that in the course of her long political career, Swaraj had contested not just from her home state of Haryana, but had been the chief minister of Delhi and had taken on Congress leader Sonia Gandhi at Bellary during the 1999 elections.

Swaraj was initially keen to contest from Bhopal but gracefully stepped aside to accommodate a party colleague. "Kailashji (former Chief Minister, Kailash Joshi) is a senior leader. He chose the Bhopal seat. Therefore, I decided to go to Vidisha. However, I don't regret it," she never fails to point out, evoking the cultural resonance of Vidisha. The region, located in the eastern part of the fertile Malwa area, is of great antiquity and finds mention in epics like the 'Mahabharata' as also in Kalidas's 'Meghdoot'.

Swaraj is an indefatigable campaigner and has addressed at least 100 poll meetings in the run up to this election. She has also accompanied Chief Minister Chauhan in almost all the rallies that were staged as part of his 'Nyay-Yatra' (march for justice) in her constituency. The BJP had launched a four-day 'Nyay Yatra' in all the Lok Sabha seats of Madhya Pradesh with the purpose of "exposing" the Congress-led United Progressive Alliance (UPA) government's alleged discrimination against BJP-ruled states.

While addressing a rally during a 'Nyay-Yatra' at Vidisha, Swaraj pulled no punches when she spoke about the discriminatory treatment of the Centre against the state. "You cannot prevent natural calamities. But for man-made problems, the people have every right to settle scores with the discriminator," she said.

Swaraj has also been liberal with her promises, including railway lines. "I know the people of the area need a direct train line from Budhni to Indore and for Sagar and Bhopal. I assure them that this demand will be fulfilled soon by the Centre," she vowed.

All this has gone down well with voters here. Often the crowds who turn up to hear her, spontaneously burst out in response, "Sushmaji, tum sangarsh karo, hum tumhare sath hai (Sushmaji, you carry on with your struggle. We will support you)."

Says Akhilesh Shrivastava, a local Vidisha resident who is quite clearly bowled over by Swaraj, "She is a national-level leader. Her victory is certain. People feel she will work for the region if she becomes MP." Vijaya Tiwari, a local housewife in her fifties, agrees. She is happy that a national-level woman leader is contesting from her city and explains that since Vidisha is a BJP stronghold, Swaraj will have no difficulty winning the seat.

However, not everyone agrees. Namit Kumar, a college student, puts it this way, "Leaders from outside only come here to use us. In 1991, Vajpayee had contested from Vidisha and Lucknow. After he won both seats, he chose to keep Lucknow and resign from Vidisha."

Interestingly, according to party insiders, Swaraj's heightened activity in the state - she is in charge of her party's campaign in Madhya Pradesh and Chhattisgarh - has made Chief Minister Chauhan insecure. But Swaraj, ever the diplomat, has publicly clarified she has no intentions of occupying the chief ministerial chair and is only working for the party's victory at the national level. Early in her campaign, Swaraj had indiscreetly voiced doubts about her party's prospects of coming to power at the Centre. Having faced a great deal of flak for that observation, she now makes sure to repeat at every meeting that she is confident "the BJP will emerge as the biggest party in the country and that Advani will become the Prime Minister."

Swaraj also insists that the BJP will bag 26 of the 29 seats in the state. While political analysts may doubt this projection, they concede that Sushma Swaraj - especially after the rejection of her Congress opponent's nomination papers - has Vidisha firmly locked up in her handbag.