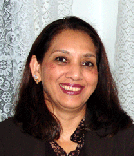 You must have often wondered, "What did I say?", "What did I do?". Well, here is some help. This is NOT abnormal at all. It is just that you are getting to know each other's moods and behavior. Take yourself for example, you may be comfortable with a mannerism of your girl friend absolutely most of the time but in some strange situation, you might have just exploded. Does that mean it's her? No! Your reaction is totally according to your situation or some bad time that you were having.
Remember, things said or done, when you are just the two of you alone will differ in reactions when you are amongst others.
The best way is to go and ask straight up - communication is the only key. It helps and is better than groping in the dark and wondering.
Also more important, put yourself in the situation and ponder a bit. Certain things might appear totally unreasonable and even unbecoming. I think this is normal too for that is what makes the two together yet remaining as distinct individuals. If you want to stay together, always count the good things about your relationship and you will learn to forget and forgive trivial issues.
Have any questions?