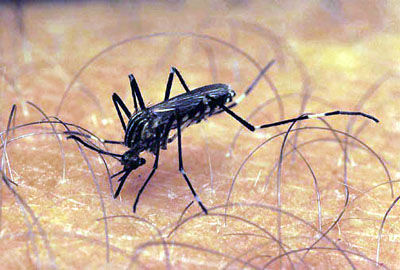 The world of international polity is caught this weekend in a frenzy of debate over dissuading North Korea from a nuclear test, perhaps discounting a much larger threat looming ominously from a billion terrorists of the Dengue Et Al brigade. There are a thousand mutinies rising as the death toll in India from this deadly viral disease has crossed 50, of which over 15 include residents of the national capital, Delhi. Nothing could be more ominous than the grand children of the country's Prime Minister, the erudite Mr. Manmohan Singh admitted under suspicion of having contracted dengue to India's primary public medical care institute. The toll of death in India has been constantly hovering between 30 to over 200 each year, while those affected run into thousands. But India is not alone in facing this deadly disease which strikes you when you are least aware, mostly by day and leaves you literally drained after sucking your blood.
The entire swathe of countries in South and South East Asia have seen an outbreak of dengue from Sri Lanka to Pakistan, Vietnam, China, Laos, Cambodia and even affluent Singapore. The aedes mosquito, portent of bad omen, the nano terrorist seem to strike with equity and equanimity, the poor, rich, communists, capitalists, dictators and liberals alike. And the threat is not restricted to just the Asian continent, the global reach of these little demons will shame even Osama's Al Qaeda. Dengue has a dominating presence in over 100 countries, spanning Africa, Americas and the Middle East. The total population affected each year is over 2.5 billion. Surprisingly for such a wide spread disease, there is no vaccine or any anti viral drug, so much for developments in modern medicine.
Dengue is a curse of urbanization with shanty sprawls dotting the developing landscape of many towns and cities around the World explaining its uniform spread. Countries as India which have large cities with oversized populations and poor public health and sanitation are particularly vulnerable as density of people implies that the aedes can target its sting far more easily and widely. Lack of public consciousness, a run down municipal administration system and antiquated health preventive mechanisms relying on episodic management to prevent spread of the disease at the peak incubation period each year means that the dengue mosquito has the freedom to bite at will.
Surprisingly two countries, Vietnam and Cuba which have a socialist administration are doing very well in combating the menace of dengue. Perhaps public consciousness and greater commitment to maintenance of community facilities and public health care has been built in these societies over the years which leads to successful implementation of preventive health programs. Taking the help of bio organisms has also been useful. Released in water bodies these feed on mosquito larvae to control the spread. Since the peak period of prevalence of the disease are well known spreading in South Asia in the months of September and October each year, undertaking prevention may not be difficult particularly when there is no cure.
Regretfully, Dengue is not the only menace which is proliferating in South Asia at present; there are others which seem to be as deadly but with limited awareness of their spread. Chikungunya fever is one, which has already killed a number of people in India's southern state of Kerala, seen as a tourist paradise. This is the first time that the disease has hit the country which is prevalent in many island territories in the Indian and Pacific Ocean. Then there is Japanese Encephalitis which had reported over 1600 deaths in 2005 mostly in India's most populous state, Uttar Pradesh. The deadly Kala-Azar a relic to the days of 19th Century British Raj is also known to be active in many parts of South Asia.
The threat from these diseases is so acute that the International Cricket Council has sought assurance from the Indian cricket board on safety of the players during the forthcoming Champions Trophy in the country. While this may be a gross exaggeration as the players operating from cleaner and greener environments are unlikely to catch the virus, it underlines the need for controlling the spread of such diseases in a country which increasingly sees itself as a leading global power. Let it not be that a billion mosquitoes bring down the India growth story by many notches in the years ahead.