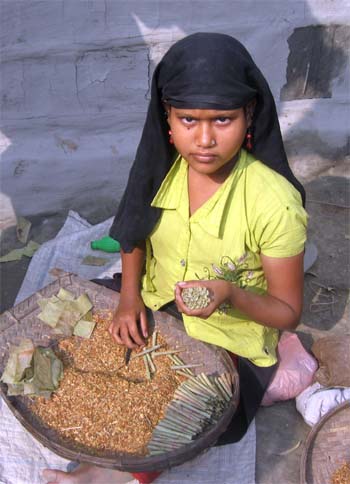 Ruma Khatun, a Class VII student in Benuguntali village of Gauripur block in lower Assam's Dhubri district, busies herself rolling as many 'beedis' (indigenous cigarettes made from leaf rolls filled with tobacco) as she can, before she leaves for school. She hopes to complete the day's quota of 1,000 'beedis' after returning from school. All this to earn a paltry sum of Rs 38 (US$1=Rs 48.8) for the day. For Ruma and her parents, every rupee counts. Ruma's six hours of beedi-rolling every day helps to supplement the family income and every month her parents deposit Rs 300 in Ruma's name so that they can have some money to spend on her wedding.

Everybody in the family rolls 'beedis'. Ruma's father and uncle work as daily wagers but roll 'beedis' in their spare time. Her mother, Hamida Bibi, and grandmother, Sahiba Bibi, also roll 'beedis' but their poor health does not allow them to make more than 400-500 sticks a day. So Ruma has the highest earning potential, because her small fingers can deftly roll 'beedis' faster than the others can. But despite everybody contributing to family kitty in this way, they can scrape together only Rs 1,500 or less per month.

Ruma has little hope of doing well in school and believes that she will do nothing but roll 'beedis' all her life. Ironically, her expertise could also ensure that she has no dearth of potential suitors because she would be a welcome addition to any 'beedi'-rolling family.

But Ruma also cherishes a dream: to secure at least 40 per cent in her exams that will enable her to get the yearly scholarship of Rs 940 provided by the Union Ministry of Labour and Employment. For Ruma, attending school after hours of 'beedi'-rolling is no longer a problem. But what is almost impossible for her - and hundreds of other child labourers like her - is to secure the required marks to get that much desired scholarship because she does not have the time to concentrate on her studies.

This young 'beedi'-roller thus ends up being deprived of a proper education, on the one hand, and welfare benefits, on the other - Although she works of Jai Hind Beedi, a local manufacturing unit, she is not on its rolls. The Child Labour (Prohibition and Regulation) Act, 1986, prohibits the employment of children under 14 years. So, Ruma doesn't have the Identity Card issued by the Ministry of Labour and Employment that entitles 'beedi' workers to certain benefits. For instance, an ID card holder is liable to get up to Rs 7,000 as reimbursement in case of treatment of tuberculosis, and Rs 10,000 as group insurance in case of death.

Only one ID card has been issued to Ruma's five-member family. "Fortunately, we have the Below Poverty Line (BPL) card and so can avail of the 35 kilos of rice in a month at a subsidised price. But for many families in our village even getting a BPL card is impossible. One has to bribe officials and they demand up to Rs 500, which is impossible for people like us to pay," says Hamida Bibi.

Ruma's story is a good example of what it means to be deprived of a childhood. But for the 50,000-odd people crucially dependent on 'beedi' manufacturing units for survival, there is no option but to get their children to do this work. According to Diganta Kumar Bordoloi, the assistant labour commissioner of the Labour Department of the four lower Assam districts of Goalpara, Dhubri, Bongaigaon and Kokrajhar, there are 36 registered and innumerable unregistered 'beedi' units in the region.

Unorganised and categorised as a small-scale cottage industry, this sector provides employment to thousands, there are but there are no definitive estimates as to how many women and children work as 'beedi'-rollers. The industry is marked by multifarious exploitation - low wages, sub-human working conditions and vulnerability to grave health problems.

Although the state government had fixed the minimum wage as Rs 77/1,000 'beedis' in March 2008, workers are still paid at the old rate of Rs 36-38. Shyamal Kumar Das, Manager, Assam Bidi Factory, says implementation of the minimum wage is impossible as 'beedi' consumers are poor and any wage enhancement would have an impact on the market price. "Moreover, we are facing a shortage of raw material. We have to depend on states like Orissa, Bihar, Andhra Pradesh, Rajasthan and Gujarat for 'tendu' and tobacco leaves because the local farmers have now shifted to other crops," states Das. He adds, "The state government has also imposed a 12 per cent Value Added Tax on tobacco."

From home-based workers to manufacturing units, the 'beedi'-making process has four stages and workers are exploited at each stage. Workers have to pay Rs 2 per 1,000 'beedis' to local agents from the paltry wage they receive. The agents collect the 'beedis' from households and take them to the main contractor employed by the principal employer. The agent gets another 50 paise from the contractor. Abdul Kasem Ahmed, a local agent of Lucky Beedi Company in Debatar Hajda village, explains that his contractor has around 40 local agents and the village produces 300,000 'beedis' on an average day.

Workers also allege that local agents supply poor quality raw material. "We are given 450 grams of 'tendu' leaves for making 1,000 'beedis'. Often the leaves are of such poor quality that we can make only 800-850 'beedis' out of that quantity, and we end up buying the additional leaves. Then the management rejects a substantial number of 'beedis' on the grounds of poor quality. "They, however, do not give them back to us but sell them in the market at low prices," informs Chamira Bibi of Poragaon village in Gauripur block. A mother of two, Chamira makes around 600-700 'beedis' per day while holding her severely malnourished baby in her lap.

Women and children are particularly exploited because, unlike the men who can pursue other jobs, they have no option but to comply with the wishes of agents.

The welfare schemes provided by the government are very few and not everyone can benefit from them. Paritosh Chanda, Union Leader, Dhubri District Bidi Majdoor Federation, points out that although his union has been demanding inclusion of all the 'beedi'-rolling families in the BPL category, the demand remains unrealised. Also, the Static Cum Mobile Medical Unit that services the 'beedi' workers and can treat up to 400 people, hasn't had a doctor for several months now. It also lacks basic health care infrastructure and runs with just five officials including a staff nurse, a pharmacist and a dresser. The medical care costs for a 'beedi' worker have been fixed at Rs 8 per patient, per visit, per day. "This makes officials of the unit distribute placebos or cheap medicines for those suffering from severe illnesses," says Bishwajit Saha, another union leader of the Dhubri District Bidi Majdoor Federation.

According to Chanda, most people die without treatment. He, however, reiterates that despite all odds the constant efforts of the union to spread awareness about health hazards have made a difference on the ground.

To an extent, this is the case. Even young Ruma will be able to talk about various tobacco-related health risks - such as tuberculosis, throat cancer, asthma, scabies, headaches, backaches and body pain. The tragedy is that she can do little to avoid exposing herself to these hazards, because her family is crucially dependent the 'beedis' she rolls out day after day in order to survive.