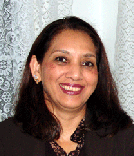 With the changing of times, we are getting more and more open and accepting our fellow human beings precisely on their personal qualities. It's not any more a Hindu or a Muslim or a White or a Black so to say… well to some extent.
Inter-religious and Inter-racial marriages are getting equally acceptable and common. However, to be a success, any marriage requires two people who are respecting, responsible, honest and sincere. When two people meet in matrimony, they should respect each other, especially so if it's an inter-religion marriage. It is very important to remember that all the religions teach the same basic goodness.
It is very unfortunate, that the religion has become a business and source of power for some and a reason for conflict among people of different beliefs. If we learn to respect others' religion and leave them alone with their preferences, this world will be a happier place.
Over the years, we have spent time or should I say wasted time in proving that a certain somebody's religion is better. In the process, there are instances, when things have gotten very ugly. We actually do not attain anything by proving our religion better than the others. Do we ever create big fights over proving our spouse better than the others, or our children better than the others? Don't we all know or believe that our children are the best yet we never try to prove it to others. I personally believe we only want to prove something, which we are not very sure of. If one is sure that his religion is better then there is no need for him to feel inferior about it. That's the way religion should be we know our religion is better – that's the reason we have adopted it. It is personal – to each its own.

Religion is a way of life. We by the virtue of being born in a certain religious backdrop learn to follow a way of praying or accepting God as Christ or Krishna and so forth. Thus following the teachings. I don't see the teachings of Krishna any different than that of Christ. How does it matter then which religion is ancient?
The second most important factor in an inter-religion marriage is the religion followed by the children. There is a constant hustle in the parents that the child follows his/her religion. Isn't it more important that a child becomes a good human being? This can be taught to him by adopting the goodness of both the religions. Here, it's very important for parents not to be selfish. We should focus on teaching the child good values which everyone would agree is the basis of every single religion. There have been instances, when adults abandon the religion given to them by their parents and adopt some other religion that they are convinced is better. I think we should let our children decide what religion they would like to adopt when they are capable of deciding for themselves.
It is very unfortunate, that the religion has become a business and source of power for some and a reason for conflict among people of different beliefs. It is sad but in the past 25 years of our marriage, most of our Hindu acquaintances have looked down upon Christianity and most of our Christian acquaintances have suggested ideas as to how I can convert my husband.
Unperturbed, we both have learnt to respect each others' individuality, each others religious beliefs, faith and preferences, thereby making our inter-religion marriage a successful one and this world a little more happier and a harmonious place to live.
True, If we learn to respect others religion and leave them alone with their preferences, this world will be a happier place.

Read the Sequel: More on Inter-Religion Marriage

Read also: Reflections