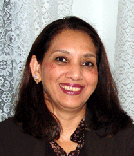 Last week, my 84 years old co-worker walked in and declared it was her anniversary. Everyone was curious - how many years. She smiled and said, "60, time for a change!"

Anna and her husband, both do things together; visiting kids, attending birthday parties, anniversaries and communions of the kids, the grand kids, great grand kids maybe. However, while at home, if Ana is in the bedroom her husband is in the living room. There are times they don't talk for days, besides basics. This is the case with many people.
It is surprising but it is a fact that most marriages do not reach the stage of companionship. In the West it is very common to get a divorce after 25/30 years of marriage. In the East however, while men bury themselves in the newspaper, women spend their time at the Mandir (Temple). Obviously they are not left with much in common. This is not companionship. If you ask most young people why they are choosing the person for being their life-time partner, they would most likely answer, " we are happy together" or "we enjoy each others company" At that age it is impossible to foresee what our interests and liking would be 20 years down the road. People mature differently with varied likings and interests.
Once we get married it's good going with the biological compatibility and other things that most young people enjoy. Soon people plan out their family. Raising kids is a job that requires both partners actively involved in all totality. There are other things in life that keep us involved and consumed. Could be settling down in life, career and a good home and so forth. While we are at all this we do not realize that as partners we may be growing apart. During the course of a married life people grow out from each other. This is very healthy. As partners, people need to grow outside and have their space and time. They should be able to do things they like most. It is unfortunate but at the end of this all most people realize that they have nothing left in common with each other or there is something missing or that there is some emptiness. Growing apart is something that we should avoid.
When we are young most of the world appears within our control. It's only the mid-life when the need of a partner or a friend is dire in real sense. At a time when we are going through the mid-life crisis, when we are lonely without the kids, or when we realize that the kids don't need us any more. I personally feel companionship is one of the most important aspects of a married life. From the beginning our efforts should be directed towards the ultimate goal of being together, being a companion to each other and being a friend to each other. Most important to be able to communicate and talk on any subject.
It is important while we are busy in other activities in a married life, we must make constant and conscience effort to be a part of each other's interests and hobbies. There should be sincere communication, which is the key to a good and healthy companionship. We must always do some things together no matter what ever happens. It is easy to form habits. As partners, we may not like the same things, but if we make efforts we can develop the habit of liking the things we both enjoy. We must always make efforts to learn about the tastes and interests of each other so we could start conversation on such issues and be able to enjoy.
Sometime we realize that this friendship needs to be started all over. We don't give up. If we reach a stage when we realize that there is something missing. We try and try hard towards a friendship. We make new friends. How difficult it would be to make friends with someone we have spent the best part of our lives together. I do believe after so many years we still have love remaining. For the sake of the love we need to ignite.