This story dates back to a time when a lot of distress existed in the society. There was rampant hunger, poverty, disease and theft. The king was concerned but could not decide how he must attend to the problem. He was fully aware that if the people were not pacified it could lead to a civil conflict. As much as he didn't want the conflict because of reasons known to mankind, the prominent reason was that the continuance of such a phase might cause an end to his reign, an end to the years of his glory and comfort.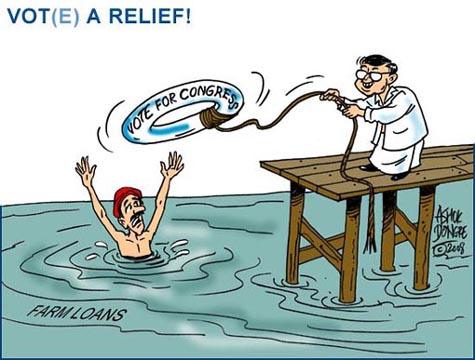 He held several discussions with his ministers but things seemed absolutely out of their hands. The group could not come up with a measure which would bring about immediate relief. The much needed solution of the hour was nowhere to be found. The issue was a reason of great concern for the king. He had been having sleepless nights.

On one occasion when the king handed over his worries to his subconscious and decided to observe his little daughter play, something came to his mind, something which seemed to be a perfect solution. His daughter was playing with her dolls. She was talking to them, getting them married, having tea with them and was going everywhere her fantasy could take her. He realized that it was her perception of these dolls which made her feel that they were akin to real people and it was this very perception which kept her occupied and kept making her feel happy. The king had found his answer.

The next day he decided to issue a farman. It read as follows

"Beloved-of-the-Gods, King Chandreshwar has caused this farman to be written. All in this land are to be happy. Nobody should worry about hunger and poverty. For a year the king's exchequer shall provide food and shelter to all."

He thought of this as the perfect quick fix solution which would avert the possibility of a civil rebellion and save his throne. On hearing the king's declaration drums were played and songs were sung in his praise. People started looking up to him with even more respect. The king had won over his people and finally felt relaxed and in control. The following year was full of celebrations and feasts. The culmination of the year was accepted as gracefully as was its beginning. Not to mention this one year had left the treasury rather empty.

The Pandora's Box was yet to be opened. Contrary to popular perception and expectation again hunger, poverty, disease and theft started picking up. Again a similar kind of unrest was observed and this time there was little a king with few resources and ideas could do to suppress popular feelings.

Reading of the Finance Minister's Debt-Relief policy for the farmers reminds me of Chandreshwar, the efficient king who could not be. To me it seems to be a very short sighted quick-fix policy which doesn't address the real issue. It's just as good as Chandreshwar declaring that food and housing will be provided to all for a year but the issue is what happens after that one year ends?

The questions that need to be posed to the government are:
How providing a one time debt-waiver would ensure that farmers will not get entangled in this vicious cycle in the future?
Is the inability to repay debt the only problem that our farmers face?
Is it actually a tribute to the man who provides us with the food we eat or is it our little mean way of mocking at his helplessness?
Doesn't the Government appreciate that the agrarian crisis is a deeper and graver problem which merits a long term policy initiative that will bring about sustainable development or does the Government want the agrarian crisis to remain a forever lasting election issue?