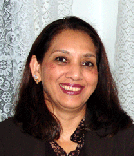 There are a lot of do's and don'ts that my mother told me while I was growing up. She gave me the perfect training considering the era and the conditions prevailing then. Some things were said, some not said, some simply exemplified and many left unsaid for me to understand on my own.
My mother always taught me to respect authority. Be compassionate, kind and respectful towards others. She also taught me in order to get respect I needed to be respectful towards my husband, which I do. She taught me to put him at top priority, which I do. She taught me never to talk back to him in public, which I don't do. All this she did not say I should do but she showed me and I picked up. This is the way she always treated my father.
However, she never taught me to stand up for myself, to fight for my rights, not to take blame for something I didn't do. She did not teach me to be treated equal. I understand the basic difference in a man's and a woman's physical creation. Considering the times I was in, my mother was convinced that the only way to keep harmony and peace in my life was to be treated the way a woman was being treated. However, this has nothing to do with what she wanted for me. She definitely did not want me to be in the same spot as her.
My mother didn't realize that she was all the time reinforcing in me the courage and strength to face the world totally differently than she did. Every time I looked in her eyes the pain and suffering of being a weaker sex - woman, I reminded myself I wasn't going to be like her. And I turned out to be a very strong, courageous and independent person.
It's a different thing that I don't have to exercise my training in my home. My husband is a nice person. Besides the flame of our love that ignited over 25 years ago is still on!