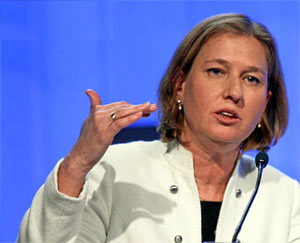 The possibility of the election of Israeli Foreign Minister Tzipi Livni, 50, to the post of prime minister has created a major stir in the country, especially among the women. If she wins, Livni will be the second woman in Israel to become PM, after Golda Meir, who held the office from 1969 to 1974. Livni is set to recreate history, amidst accusations that Ehud Olmert, who has led Israel for the past two-and-a-half years, accepted bribes from an American businessman.

Married to Naftali Spitzer, an accountant, and a mother of two - Omri, 24, and Yuval, 12 - Livni is a political moderate, unlike her parents Sarah Rosenberg and Eithan Livni, who belonged to the right-wing Etzel movement - a militant group operating in the British Mandate of Palestine from 1931 to 1948. In fact, they were even arrested for terrorist crimes in the 1940s.

Despite her radical upbringing, when she was 18, Livni joined the Israel Defense Forces (IDF) in 1976 and served there as a lieutenant until she was recruited by Mossad, Israel's overseas intelligence agency, four years later. The high point of her career as a spy was probably when she was sent to Paris 1983. However, she resigned in 1984 in order to pursue her law studies from the Bar Ilan University's Faculty of Law. Today, Livni has 10 years experience as a practicing lawyer specializing in public and commercial law.

It was in the wake of the Oslo agreement that Livni decided to join politics. (Officially called the Declaration of Principles on Interim Self-Government Arrangements or Declaration of Principles (DOP), the Oslo Agreement was a milestone in the Israeli-Palestinian conflict. It was the first direct, face-to-face agreement between Israel and political representatives of Palestinians.)
Livni's rise to political prominence has been eventful. She was first elected to the Knesset, as a member of the Likud party (right wing) in 1999. However, her political career really took off in 2001 when she became part of the then Prime Minister Ariel Sharon's inner circle, assisting him in the formulation the Gaza Disengagement Plan.

During Sharon's tenure, Livni served as the Minister of Regional Cooperation, Minister of Agriculture and Rural Development, Minister of Immigrant Absorption, and Minister of Housing and Construction. In October 2005, she took the charge of the Ministry of Justice.

However, the political landscape of Israel changed significantly the very next month when Sharon decided to break away from Likud and float his own party, Kadima. And, Livni followed Sharon and Ehud Olmert, another prominent leader, to the new centrist Kadima Party. Ahead of the election in 2006, Livni was awarded the third position on Kadima's list of candidates, which effectively guaranteed her election in the Knesset. On May 4, 2006, with the swearing-in of the 31st government, Livni became Deputy Prime Minister and also retained the position of Foreign Minister.

After the March 2006 Knesset elections, Livni was described as "the second most powerful politician in Israel" and included in the Time 100 Most Influential People in the World in 2007.

Livni's shot at the highest political office in Israel came earlier this month after the current PM and Kadima leader Olemrt announced his resignation due to allegations of corruption. It was then that she decided to stand for the Kadima primary elections. Last Wednesday, on September 17, she outperformed her chief rival Shaul Mofaz, winning the election. An opinion poll had showed that Livni had more than twice as much support inside the ruling Kadima party than Mofaz, a hawkish former defence minister.

If she does win, her success is said to have significant implications for the peace process since she has demonstrated more of an ability to dialogue with the Palestinians than her male counterparts. Furthermore, with women in Israel holding only 14 per cent of the seats in the parliament it could promise improved gender equality in the political arena.

"Livni doesn't necessarily consider herself as a representative of Israeli women. Her main focus is politics rather than gender issues. Most likely she does not see herself as a role model or a champion of women's rights," says Rina Bartal, head of the Israel Women's Network (IWN). "Yet, we hail her recent victory and perceive it as a good sign of progress for women. Her election is a big crack in the glass ceiling of Israeli politics. It indicates that the Israeli public is ready to work towards gender equality in society."

Other women's groups also acknowledged that Livni's victory would be a huge step forward for women since she would most definitely become a role model for many women who want to serve in politics. Just the fact that she managed to reach this top position will help other women realise their dreams.

"Israeli women have a relatively weak representation in government and parliament," says Bartal. "We are even behind countries such as Iraq and Afghanistan. Despite this exceptional miracle of Tzipi's victory, we insist that the only way to address this inequality is to pass legislation assuring that women hold a representative number of legislative seats in the parliament."