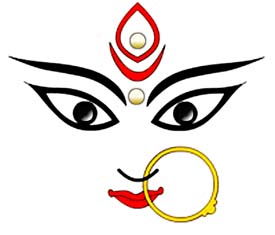 The Goddess Durga is on her annual sojourn to her earthly abode. For Bengalis, her arrival brings joy and festivities. It's no different for the 2,000-odd sex workers of Sonagachi, Kolkata's red light district. To them, the Goddess is truly a source of power. They believe she provides them with the strength to fight life's daily battles and survive.

The 'puja pandal' (a temporary structure where Durga puja rituals are held) of the Sonagachi Sarbojani Durgostav is small, but for the sex workers living here it represents their determination to rise above social taboos and find an identity for themselves. "For years, idol makers have been coming to us to collect mud, which is then mixed with clay to make the idols of the Goddess and her children. They do this in the belief that every man who enters our homes leaves all his purity and virtues behind. So the mud here is considered pure and virtuous. We see this tradition as a way of humiliating us by giving us a bad name in the name of the Goddess," says Bharati De, 55, a senior sex worker.

To counteract this, the sex workers decided to have their own community 'puja' (Hindu religious ceremony). "The Goddess is feminine. Who better to fight for our rights? She is powerful and has the ability to conquer even the mightiest of demons. We felt that the Goddess herself should be our way out from the humiliation perpetrated on us, year after year, in her name. We have now made her our own," says Swapan Gayen, 35, another sex worker.

"Despite opposition from the morality brigade, we finally started our own 'puja' a couple of years ago. We imbibe the Goddess's strength in ourselves to continue our fight for our rights. She does not differentiate amongst her devotees, so why should we allow mere mortals to separate us from her?" asks Gayen defiantly.

Eminent odissi danseuse, Sanchita Bhattacharya, whose dance-drama 'Nav Durga', depicting the nine forms of the Goddess during the nine days of 'Navaratri' has won world acclaim, puts it this way, "My presentation spreads the message for peace and harmony, but the Goddess means different things to different women. For the downtrodden, Durga is often a great source of spiritual and mental strength. It's a sort of osmosis. They pray to her and seem to absorb her power. In many cases, the Goddess inspires the women to rise and fight, even attack and destroy their subjugators."

Bharati De has always been a devotee of Goddess Durga. Despite her dire circumstances she managed to educate her two sons. "The Goddess is benevolent, but protective of her sons, Ganesh and Karthik. I have tried to remember this as I strove to bring up my children. Today, both my sons are engineers working in reputed companies. They are leading a good, clean lives due to the blessings of the Mother," says De. Her sons, on their part, can never forget what their mother did for them. To them, she is the true Durga.

According to noted Bengali writer, Nabanita Deb Sen, while in the rest of India the 'Navaratri' season incorporates the Ram-Ravan legend, it's only in West Bengal and amongst the adivasis (tribals), that the Goddess is given such pride of place. "It's the feminine divine that has supremacy here. That's why Durga is seen as mother, daughter, wife, beloved... It's common to address daughters, daughters-in-law and grandchildren as 'maa' in our culture, as a synonym for the Mother Goddess herself," she explains.

Perhaps, it's the 'feminine' aspect of the 'puja' that sees scores of women across Bengal volunteering as 'puja' committee members. Prashant Bhattacharya, a priest, observes, "The women seem drawn to doing things for the Goddess, they want to be close to her. A special bond seems to develop between the Goddess and ordinary women during this season."

The sex workers of Sonagachi try to make their 'puja' a little more special with every passing year. Last year they organised an eye-donation camp, this year, they are looking after the aged in their community. "The elderly, retired sex workers hardly have a good time. This time, we have given them new clothes and they are served sumptuous feasts for five days. We also take them pandal-hopping in the city," says Sudipta De, 37.

Together, the women conduct and participate in all the rituals associated with the 'puja'. Take 'Sindoor khela', an integral part of the 'puja' rituals. Traditionally, on the last day of the 'pujas' - 'Dashami' or the tenth day - married women anoint the Goddess with vermilion and then each other, praying for the long life of their spouses. The women of Sonagachi, too, follow this ritual. But with a difference.

"We can never be married in the conventional sense," reveals Mosumi Chaki, 30, a mother of two living in Sonagachi. "But we bear children. We are mothers, like the Goddess. So we apply 'sindoor' (vermilion) on Mother and pray for the well-being of our children as we bid adieu to her. The Goddess allows us to bend the rituals because she is a woman herself. After all, she too has broken many social norms. As Kali, she stepped on the chest of her husband, Lord Shiva. The Goddess Durga stands for justice." She adds, "It's this belief and this faith that gives us the right to worship her in our own way."

Suman Bandhopadhyay (name changed), 20, is a second-year B.Sc. Honours student. For the five days during the 'pujas', she leaves her college hostel and heads for Sonagachi. "My mom made my life. She sent me to school and now to college. I have been kept away from the agony of a sex worker's life. But during the 'pujas', I insist on being with her. When I pray to the Goddess, I see the face of my mother. No fear of social stigma can keep me away from her during this festive time," she says.

Suman's mother, Asha, 50, happens to be the secretary of the Durbar Mahila Samanway Committee, an organisation of sex workers. "We women stand united. We are fighting for the labour rights of sex workers. We want recognition and acceptance. We are as much a part of society as any one else. If society can worship the Goddess, so can we. Aren't we her children? Durga gives us spiritual power. She heals our wounds and broken lives and gives us the strength to face each day with courage," she says.

At one level, Durga Puja in Kolkata is a time for the good things of life: new clothes, holidays, travel, great food and 'pandal'-hopping. In Sonagachi, it is all that, but it is also something more. For the women here, stigmatised by their profession and brutalised by life's experiences, it is also a time for reflection, a time for absolution, a time to search for sources of inner strength.