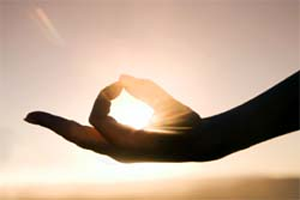 We can infer that there is God based on our observation of both the living and non-living beings of this earth surface. Trees, soil, flowers, water, mountains – all of these things originated from a source. Whatever we see, whatever things we use infact originated from a source. Logic explains to us that everything except God was created. Therefore, the very existence of God has not been proven by science till date. It is known to everyone that which cannot be proved by science is a mystery and that particular mystery is considered as "spiritual" or in other words "God".
Scientists, even though they are able to reproduce human and animal life through artificial processes like Vitro-fertilization and Cloning; yet they cannot accomplish these feats without the basic elements of life like genes, cells and other organic properties. Scientists, in other words are not able to produce these things by themselves. Therefore, we can say that everything on this earth originated from a source except God and hence, God should be considered to be above all things and "He is ever-alive who camouflages as the inner light in every human being".
If God is a kind of "emotional faith" who is considered as the "Master of the Universe", then I think that He wants the entire humanity to be prosperous as well as fruitful and benevolent towards each other irrespective of caste, creed, language, religion so on and so forth. Therefore, man's first responsibility is to take care of the earth, to make sure that the earth was nurtured and supervised properly. So much of the suffering that man experiences is because he has not discharged this fundamental responsibility.
As told earlier, God is to be considered as a "faith" in something spiritual that which replenishes our soul, or prepares us for some kind of action. In fact, people go to the Church for the same reason they go to mosques or temples, to stupefy themselves, to forget their misery, to imagine themselves, for a few minutes anyway, free and happy. Then, why God is being divided into many shapes by the different religious scriptures? I can't understand why is there difference in religion as because the people who preach God do so for the same reason whatsoever and wherever. A Hindu going to pray in a Mosque will pray for the same thing he does in a temple. More so, the blood as well as the bodily structure of people belonging to different religions is not different in any way. Here also, another question arises i.e. what is the difference in human beings in terms of religions? I personally believe that there is God but no religion in actual terms. A child born in a Hindu family if given to a Christian family for adoption will preach not Hinduism but Christianity. Why is this so? If God made religion as claimed by some religious leaders, then it would have been inborn. But in fact, it is not and that's why this claim of the religious minded orthodox people is to be dismissed with immediate effect.
In this present day world, people have become more educated minded than religious minded. Education no doubt teaches us about the different religions but it lays especial emphasis on "Universal Brotherhood" and places "Humanity" on a high altar. If a highly educated Hindu boy gets a good job in a Muslim dominated country, will he not join? I have personally observed that many Christian and Hindu people working under the leadership of Muslim people—will they resign from their respective jobs? If "not" is your answer, then where the essence of religion lies is in itself a question of outmost enquiry for the whole lot of religious minded people. Now, if we had to make a choice between religion and education, what would you choose? I think that the new generation would always opt for education because in this highly developed world, religion cannot give us what education will give. Then what is the use of becoming orthodox and remain fixed to one religion. In fact, most of the religions stress the necessity of faith, and obedience to the sacred word of God. But it is instructive to know first of all, the dangerous effect of adherence to dogma in spite of the serious negative consequences to humanity. Therefore, to me, a secular human being is one who is expected to always question even cherished beliefs and test their applicability in the real world.
But, I don't want to say that we should disbelief every religion. Instead we can have adherence to each and every religion but never ever become orthodox. I personally think that the time has come to open our soul to positive thinking rather than stick to serious dogmas of the "religious scriptures". If we can free ourselves to believe in every religion and there is nothing like alien and can spread our wings to meet the need of the aspiring human community ever striving to reach the zenith of development, we can make this alluring world a better place to live for each and every living being that the earth has nurtured till date and will do so till its age is over.