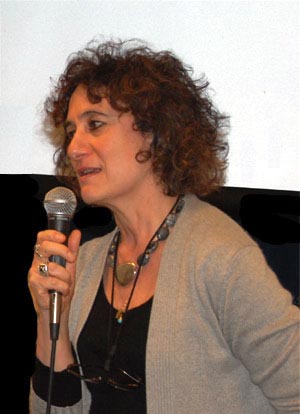 For the last three years, Maysoon Pachachi has been teaching Iraqis to shoot, albeit from the heart. An Iraqi filmmaker, who has lived in exile in London for 35 years, Pachachi was inspired to do something for her people when she visited the country of her origin after the fall of Saddam Hussein, in 2004. As a filmmaker she, along with another London-based filmmaker of Iraqi origin Kasim Abid, set up the Independent Film and Television College (IFTC) in Baghdad in 2004.

The first of its kind in the country, the college is funded by international charities, trade unions and private donations and provides free-of-charge intensive short courses in film and television technique and theory. The selection process is fairly straightforward: Through word of mouth publicity and announcements in local newspapers applications are invited. Students are finally selected after a round of interviews. "Our only requirement is that a student is committed and is willing to work hard in a spirit of cooperation," says Pachachi.

Due to security reasons for the last two years the filmmakers have been forced to move to Syria. So, most of the teaching is conducted online and even the post-filming work is carried out outside the country.

In the first three years, the college managed to produce 11 short documentaries, all of which offer a glimpse of ordinary life in Iraq, one that is seldom picked up by mainstream media. This is the first time in three decades that Iraqis are making documentary films free of government intervention.

While Abid, who is a cameraman, director and producer, provides media training to young Iraqi students, Pachachi encourages them to be true to their lives and capture the everyday world around them.

Something she herself managed to do quite well in her documentary 'Return to the Land of Wonders' that she filmed when she went back to the country with her exiled politician father, Adnan Pachachi, after the American occupation of Iraq. For the daughter, a graduate of the Slade School of Fine Art, the art school at University College, London, this film is special.

In exile since 1971, Pachachi senior was appointed to the Iraqi Governing Council and was involved in the drafting of Iraq's interim constitution. Rumours were rife that he was set to become the next president of Iraq and for Maysoon, who had accompanied him with a video camera, it was an occasion that needed to be captured on film.

"My father could not do much for Iraq in 2004. Time was not on his side. He is 85. Had he been 20 years younger maybe he could have made a difference," she says.

Of course, by capturing the contemporary voice on camera, his daughter - who had left Iraq as a child in 1971 - is making a difference. In 1994, she had already won acclaim for 'Iraqi Women: Voices from Exile', a 54-minute critical account of Iraq's contemporary history from the perspective of Iraqi women living in exile in Britain.

Pachachi reflects that she wanted to hear Arab women talk about life in Iraq before Saddam Hussein; about the years of repression under his regime; and of events that led to the 1991 Gulf War.

Her students now follow in her footsteps, trained to evoke local colour and voices and thereby giving the western world an opportunity to hear what Iraqis are truly going through.

Take the case of young Dima. At the precocious age of six, Dima clicks scenes from her everyday life with a camera. She is the daughter of Irada Zaydan, a novelist and professor at the University of Baghdad. Zaydan is also the Iraqi project manager of Open Shutters, an online photographic gallery started by Eugenie Dolberg, a photojournalist based in the UK.

Pachachi chose Dima for a documentary film where the child got to speak her mind on screen. "What are the Americans doing here? Don't they have their own country to go to?" questions Dima, in the still incomplete documentary of the same name. Parts of this film, along with those by the students of ITFC, was specially screened at the recent 'Documentary Films Produced by Arab Women' (April 21 - May 8), organised by the Diplomatic Arab Women's Forum (DAW), an Austria-based NGO, in Vienna. Besides the films from Iraq, the festival drew entries from Egypt, Jordan, Morocco, Saudi Arabia, Yemen, Palestine, Lebanon and Syria.

"Today there is only one row of desks," says a pensive Dima in the film reminding viewers that many more children were in school with Dima a few years ago. The young girl adds that she likes Iraq simply because everyone she loves lives here.

'A Stranger in His Own Country', a 10-minute film by Hassanain al-Hani, revolves around Abu Ali, a Shia refugee who fled Kirkuk, a region with a Kurdish majority, after his home was lost to sectarian violence.

Abu Ali lives in a refugee camp on the outskirts of Karbala. His most precious possession is a coffee maker that helps him earn, as he sells the brew around the marketplace.

Hiba Bassem is a student from Kirkuk. So, her film 'Baghdad Days' is a diary of her year in Baghdad, as she tries to find a place to live, looks for work, graduates from college, deals with family problems and struggles to come to terms with her position as a woman.

All the movies from Iraq, which were screened at the festival, offer a panoramic tour of life in Iraq. Another gripping entry, 'Dr. Nabil', is about a surgeon who works in a modest hospital in Baghdad. He is trying to come to terms with the lack of medical facilities in the country and also the fact that his young son accepts violence as a part of life. His son only plays with toy guns and uses building blocks to build tanks. In the 15-minute short film made by Ahmed Jabbar, the soft-spoken professional explains that most Iraqi doctors migrate not for economic reasons but as a result of the frustration of not being able to help patients as hospitals in Baghdad have no medical supplies and are inadequately equipped.

And Abid and Pachachi know this first hand. In addition to encouraging Iraqis through a cinematic catharsis, they are helping raise funds for the treatment of filmmaker Emad Ali, who was shot in the leg and chest while filming 'A Candle for the Shahbandar Caf'.

Founded by the city's intelligentsia in 1917 on the famous Al-Mutanabi Street and named after an Arab poet, the Shahbandar Caf' was the cultural lung of the city, something neither the terrorists nor the American soldiers seem to care about. Ali who had filmed the caf' before it was bombed in 2007, was attacked when he returned to film the ruins of the caf'. His injuries are serious and require him to travel out of Iraq for advanced medical treatment.

Right now, he is unable to walk even on crutches. But as soon as he is able, Ali will edit his film, aided by Pachachi and Abid, which will include material about the explosions on Mutanabi Street - once lined with bookshops - the destruction of the Shabandar Caf' and its customers, and, yes, the attack on him and its consequences.