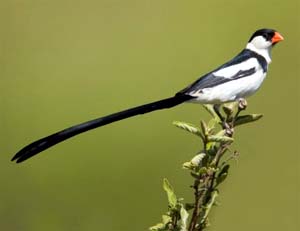 Do you want to lose yourself in the vast density of a tropical rain forest?

Do you like to inhale fresh oxygen amidst wide variety of wild animals?

Do you wish to arrive in some three million years old volcanic crater which is famous as the 8th Natural Wonder of the World?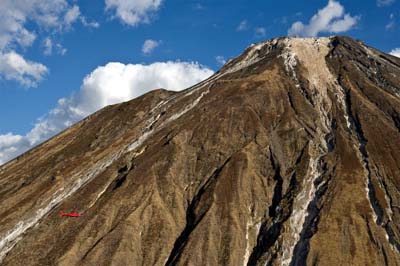 If your answer is "Yes", then Ngorongoro Crater (situated in the crater highlands area of Tanzania, East Africa) is proudly waiting for you. Boasting of the title "The Eden Of Africa" this crater was created when a giant volcano exploded and collapsed on itself about 3 million years ago. Time passed by and that crater area gradually converted into a Natural Enclosure for about 25000 wild animals, predominantly the grazing animals. It is now called the Ngorongoro Conservation Area ( NCA). Apart from the herds of zebra, wildebeest and gazelle, the members of 'Big Five' are also found here. These are lion, leopard, elephant, buffalo and rhinoceros. The main attraction of the Ngorongoro Conservation area is the Ngorongoro crater which is the world's largest unbroken, un-flooded volcanic caldera. Naturally I was excited to explore such a magical beauty.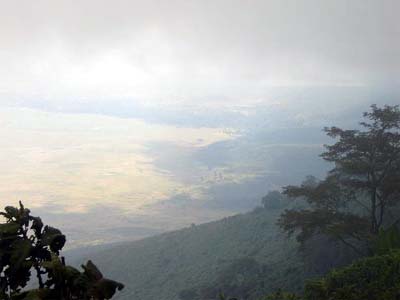 It was 5th July, 2009. I started the journey to Ngorongoro crater with my husband Shantanu and our friend Dilip. We hired a safari car and our guide Mr. Charles was describing about the possibility of spotting different types of animals. We got the entry ticket for the conservation area and our car started coming down to the crater floor from the top crossing the tropical rain forest which occupied the upper side of the crater. As it was quite high from the sea level, so, the disobedient but sweet clouds came and invariably wet our face and hair.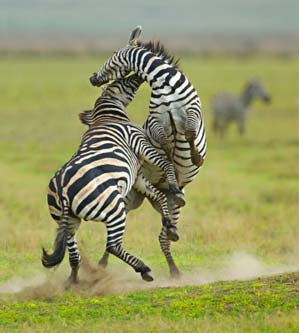 After sometime, we first saw the zebras. After that, we found an ostrich. Then, Charles stopped the car near a viewpoint. From this viewpoint, the entire conservation area is clearly found. Here, some written words drew my attention. I came to know how different wildlife scientists worked to save the wildlife of the crater. Some of them were even attacked by the rhinoceros still, they did not stop to preserve the existing ecosystem. Being charged up, we rode again in the car and ultimately reached the much awaited crater floor.

While Dilip was keen to see Rhinoceros outside water, I was eager to see lions. I went to Simlipal National Park and Sunderban National Park in India and Mikumi National Park in Africa, but, failed to see tigers in the first two parks and lions in the last one. So, I was requesting continuously Mr. Charles to help us spotting the King Of Jungle.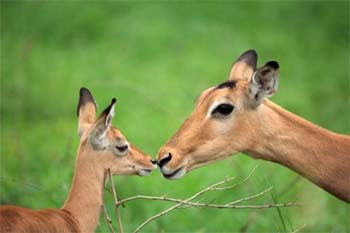 The grasses in the crater floor were cut beautifully for easy traveling of the safari cars. Several roads were made in this way so that probability of finding animals could increase. And truly, there was hardly any moment in our 5 hours long safari when there were no animals beside us. We saw gazelle, wildebeest, elephant (tusker), leopard (from a considerable distance), impalas(African Antelope) and so on…but, where is lion? Is the same disappointment going to happen like my previous safaris? No! Fortunately, we could locate three lions together behind a bush. One of them was awake and the other two lions were taking rest, almost sleeping. Soon I noticed that many safari cars also reached there.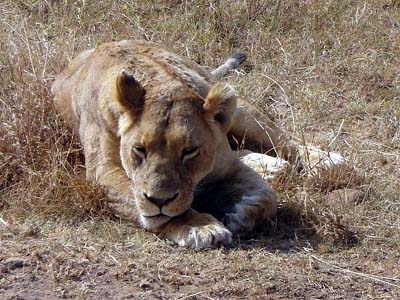 Actually, in such safaris, whenever a tourist guide spot lion/leopard, then he immediately informs other guides so that other tourists can also have a glance of lion. The design of wildlife safari car is a bit different from usual cars. Here, one can stand on the seats and the hood of the car can be opened. As a result viewing outside becomes easier and more enjoyable. When we were watching the leonine perfection, Mr. Charles whispered near my ear "The lion is hungry. It will hunt soon." I asked him the reason. He replied that it was his years long experience by which he could realize this by simply observing the belly of lion. Quite interesting, indeed! But, what is the surety? So, we decided to proceed towards the spot which was especially used for eating.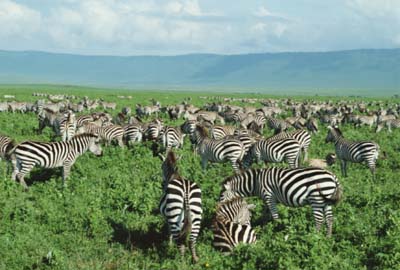 Toilets are only there also. After lunch and taking a few photographs of the crater we started moving towards the same spot where we saw lions earlier. On the way, I was feeling very tired and drowsy. At one point, I woke up on hearing a bizarre sound. Oh! My God! It was such a big herd of both zebra and wildebeests. They were grazing together, some of them were sitting lazily, some were moving tails. And the bizarre ' Gnu! Gnu!' sound which made me awake was the sound of the grunting wildebeests. I heard the 'click click' of Shantanu's camera. The awesome wildlife spectacle of barking zebras and hooved mammal wildebeests in the world's largest intact volcanic caldera is now captured in our small camera. Charles drank water from his bottle and put his foot in the pedal. We crossed the huge herd of zebra and wildebeest and arrived near Magadi lake where we saw lions earlier. But, this time, a surprise was hiding there…Can you guess what?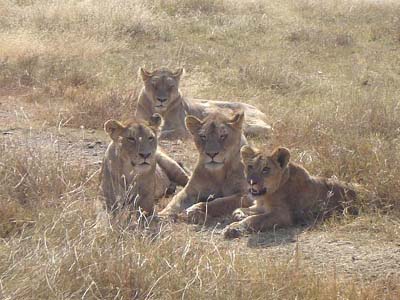 A wildebeest was recently hunted and fresh blood was coming out from it's backside. It is undoubtedly a sad scene, still we were lucky enough to see this. In any safari, spotting tiger/ lion is always difficult and here we watched the big cat as well as their recently hunted prey. Soon, four other lions came to the spot. They were approaching towards the prey but, the hunter one who actually killed the wildebeest seemed quite reluctant to share it's food with anybody else. He urinated on the dead wildebeest and sat beside it. We waited to see him eating the animal, but, nothing happened. We heard Charles's voice "Lions usually do not eat right after hunting. A lot of energy is spent during hunting, so, they first take rest and then starts eating."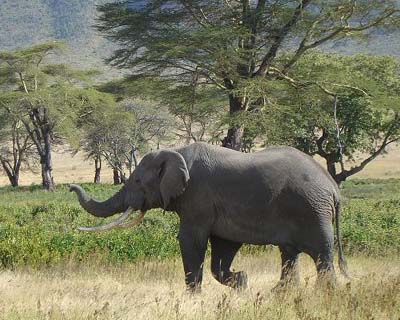 Charles drove the car in front of those 4 lions who were hoping for a share of food. The maned lions are really breathtaking! They were carrying a mysterious aura which had a magnetic effect on the tourists. The safari car which was behind us requested Charles to go ahead so that they can come in front of the lions. The clock was running too. We had to return to Arusha (our hotel was there). Before climbing the crater rim, we saw a tusker elephant moving slowly near a big tree. The magnificent elephantine grandeur readily stored in our mind as well as in the memory of digital camera.
It was such a wonderful exploration! Dilip was happy as Charles showed us hippopotamus outside water (We saw Hippopotamus adjacent to Magadi lake, where we saw lions). Shantanu was satisfied to see the recently hunted prey of lion. Charles was happy because he was able to fulfill our wishes. We started climbing the crater rim, entered into the dense forest and smelled unknown smell of wild flora. Sunlight was playing hide and seek with the unruly leaves of trees. We left the crater area and Charles pressed the accelerator. We began running towards our fake civilized society.
Yet, I was happy because I could store forever in the cone cells of my eye the innocent staring of wildebeests, the zebrine style of showing elegance, the dignified posture of the lions symbolizing power and the mind blowing blend of million of years old magma with today's water. Till date, I am fascinated by the vast expanse (600 meters deep and 300 square kilometers in area) of pristine African wilderness and by the lush green forest surrounding the crater floor. Ngorongoro Crater is all eligible to be in the list of UNESCO World Heritage Sites. And, so, it is there ...

Images of Pintail whydah, Zebras, Impalas and Ngorongoro Crater under license with Gettyimages.com All other images by the author.