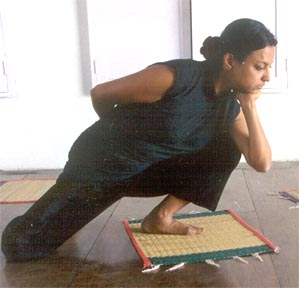 "Most people don't nourish their body with movement, as much as they do their minds. Why is that?" asks Bangalore-based Tripura Kashyap, one of India's first trained dance therapists. "We're all born with movement in our bodies. Yet we tend to neglect or negate it. Could it be because of Indian society?"

Kashyap's questing mind and the questioning body initially led her to engage in therapy with schizophrenic adults at Atmashakti, and hearing-impaired children at Hamsadhwani (both in Bangalore), and mobility training programs at the National Association of the Blind. That was on returning to her roots in 1990 after two years of American dance therapy training at the University of Wisconsin's Hancock Centre.

Kashyap - widely recognized as a Kalakshetra-trained Bharatanatyam dancer, who blossomed into contemporary choreography via a stint with breakaway dancer Chandralekha's troupe in Chennai - rewinds to her most precious encounter as a therapist. This was at the Baldwin Opportunity School in Bangalore, where she worked with eight children who were moderately mentally challenged. They were very mobile, and full of energy.

What made the experience valuable? "Each child had different problems. One had a short attention span, another could not coordinate with rhythm, and a third found relationships difficult. They could dance on their own, but not with the group. I took each problem and made it the goal of therapy," says Kashyap.

"One day it was social skills, such as holding hands and moving them. Or placing their palms against each other's, and pushing playfully. Gradually, their coordination improved. We finally choreographed three dances incorporating mirroring, sculpting, and other exercises we'd done as therapy. Even their teacher Ruth got involved, correlating dance to their learning problems. When they had perceptual problems with drawing a circle, we'd walk in a circle, getting it into their bodies. My three years with them were very rewarding."

What brought Kashyap into dance therapy? Around 1988, after a stint with Chandralekha, she was working as a librarian at the Institute of World Culture in Bangalore. "I vaguely wanted to start a dance group. But I was equally keen on dance for handicapped people. Maybe because my late brother was differently-abled. I had no idea how to go about it. That's when I met American dance therapist Grace Valentine and she invited me to the US," Kashyap says.

On her return, Kashyap set up her own dance troupe, Apoorva, best known for its pieces, 'Chayangika' and 'Aranyakiran'. Many non-dancers signed on. Then came an Ashoka Fellowship in 1992, during which she travelled the length and breadth of India, training special educators to use movement therapy. In addition, she compiled a handbook with 40 activities they could use as starting points.

Kashyap feels special educators need dance therapy more than the handicapped. "They're out of touch with their own bodies. They earn a pittance of what normal teachers do. It's almost voluntary work, yet their inputs are much greater," she stresses. "Often, I do follow-up workshops, so that they can come back with their problems. Word is now spreading that movement needs to be a part of the curriculum."

How does Indian dance therapy differ from the US? "The American Dance Therapy Association has a thousand members, who work in prisons, at de-addiction centers, at halfway homes. In India, we're s till at a nascent stage. When trained therapists return here, they're both underpaid and unappreciated, though our need is so great. They're constantly battling

with the system. So they return to the west," Kashyap notes. "In the US, treatment is almost like a private psychotherapy session. Even visitors can only watch through a one-way mirror. In India, visitors to the school just walked into our sessions. And we've got it into our heads that dance is a performing art."

"In India, we have so many classical and folk dance forms which were intrinsic to our community," argues Kashyap. "Then, why are people so distanced from their bodies today? Except for disco bhangra or disco garba, it's no longer a part of our everyday lives. So, I have to use more structured exercises to get people moving here. Often, we use kolattam sticks or cymbals as props or try the bamboo dance."

Within this context, she lauds Sohini of Kolkata's Sanlap, who presents performance-oriented therapy with girls and women from the red light areas. "They're brilliant dancers. You're in tears when you watch them on stage. Their equation with the public has changed. They bring forth how they feel about their origins, the problems of living in cramped Sonagachi, or the way men look at them. They now earn money through dance," says Kashyap.

Kashyap was recently in Argentina, where she teamed up with another Ashoka fellow, an artist named Veronica, allied with a musician and a theatre-person. Over three weeks, they experimented with therapeutic inter-arts modules, which yoked together esoteric elements like meditative Tibetan chants, Bharatanatyam mudras, shadow play, and communing with nature. An English-Spanish 'Moving through Art Rituals' handbook is slated for the future.

A fervent believer in inter-arts therapy, Kashyap is currently working with 20 mentally challenged adults at Pune's Sadhana Village, along with Anand Chabukswar, a drama therapist, and music therapist Zubin Balsara.

"Our goal is to make them come out of their seclusion and isolation," explains explains Kashyap. "If we can challenge them, if we can all work with them as therapists in a single session, that would be exciting for me!"

Is the Indian approach to dance therapy too casual? The need, according to Kashyap, is for trained therapists. "If you're just a Bharatanatyam dancer, to what extent would you understand the movements of spastic children? Unless you work with a special educator and a physiotherapist, how can you be sure certain movements are not detrimental to the child?" she says.

What is it then that sets dance therapy apart? "As dance therapists, we don't use just one form or style. We're trained in at least five forms, so that our bodies move in eclectic ways through creative movement. It's unfair to superimpose a formal style on a disabled person. It might prove dangerous," Kashyap opines. "Even with mentally-challenged kids, you need a psychoanalytical background to understand what they're going through. An ordinary dancer is not trained to cope with that."

As dance therapy gropes for a foothold in India, Kashyap will require reserves of courage and determination to stay the course.