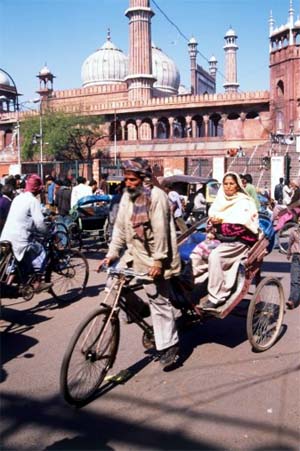 Remember your first taste of 'automobile' with the tri-cycle that you simply loved as a child? Did you ever realize that the only tri-cycles around to remind us of our fond memory are the Cycle-Rickshaws? Little do most of us know how they have come to symbolize the state of injustice, corruption, oppression and abject poverty in Delhi.

Unofficial estimates indicate that there are nearly five lakh Rickshaw-pullers in Delhi, with only one lakh having a proper authorization. An investigation into how this operates unravels a nexus of MCD officials (including the top brass), Delhi Traffic Police and the ever-flourishing Rickshaw-Mafias.

Almost none of the Rickshaw-pullers in Delhi are the owners of their Rickshaws. They pay a daily rent of Rs 30-40 to the Rickshaw-owners. The average income of a day yields about Rs 125-150 in which they have to pay for their Rickshaw rent, food, living, children's education, support their families and often save up to send back home in the villages. With prices soaring high, it is grossly insufficient to survive. On top of that, if their luck runs out and they have fallen prey to the MCD officials, the fine imposed is Rs 325 if paid within a day of detention, with Rs 25 added for each day's delay. However, the norm is to forcefully extract bribes of Rs 150-200. The 119 roads which have been declared as no-entry roads for Rickshaw-pullers are being used by the Delhi Traffic Police to the same effect.

Also numerous Rickshaw-Mafias operate in the city. They own hundreds of Rickshaws illegally and in liaison with the MCD, are a major force in preventing the formation of a Rickshaw-pullers' Union to fight for their rights. Some, like Rizwaan who runs a rickshaw garage at the Asif Ali Road and Biloo who runs one at Yamuna Bazaar, are believed to own more than 2500 Rickshaws. Some empathetic small-scale owners like Seema didi (as she is fondly called) who runs a tea-stall near the old 'lohe ka pul' near Yamuna Bazaar are under constant harassment. Seema didi is a member of the Delhi Pradesh Cycle-Rickshaw Thela-Chaalak Union (affiliated to CITU) and is fighting a lone battle for the rights of the Rickshaw-pullers. She says, 'Out of the 32 Rickshaws that I once had, only 9 are left now. The rest were illegally detained by the MCD at the behest of Rickshaw-Mafias.' These Mafias have also developed a proper coding technique, in which their Rickshaws have a particular symbol which indicates to the official machinery that it is a strictly 'touch me not'.

However, an encouraging sign was witnessed about a month back on April 24 and 25 in Karol Bagh, when several hundred Rickshaw-pullers took out a procession over their worsening condition. The Sabzi Mandi was closed down for a day. Their demands included regularization and open registration of all the Rickshaw-pullers in Delhi, embarking separate lanes for Rickshaws, life insurance, a social security scheme and access to cheaper medical facilities.

Mr. Jagdish Manocha, General Secretary of the Delhi Pradesh Cycle-Rickshaw Thela-Chaalak Union insists that he has met the MCD Deputy Commissioner (city zone) Mr. Vijay Singh numerous times and has updated him of the Rickshaw-pullers' grievances. But as it always happens, all pleas seem to have fallen on deaf ears. It is high time that the government, the MCD, the media and the civil society groups take notice of the plight of these Rickshaw-pullers.

So, the next time you call 'Aye! Riksha!' do remember your childhood memory and do remember what it has come to symbolize.