One has always referred to them as the "Twin Cities" - but one always talked about Hyderabad and Secunderabad. A desultory stroll in the Old City made me realize that I indeed live in a city that is clearly demarcated - in terms of language, culture, cityscape and a lot more. While I was growing up, I have always had a lot of Muslims as my friends. I was invited over to their houses on Eid and they came over to ours on Diwali and Dasera. One of my friends, I remember, particularly digged into Ugadi Pachchadi - a bitter/sour/sweet concoction made of tamarind, raw mango, jaggery and neem leaves and eaten first thing in the morning on Ugadi - Telugu New Year. Every year that day she made it a point to come home all the way from near Charminar area, about 10 kms away which in those days was considered to be a long way off. But those were also the days when distances were not measured in terms of kilometers.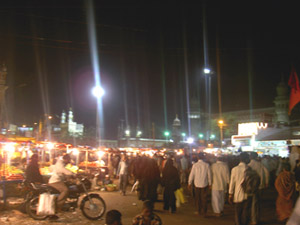 Why do I think of this now? Monday night hubby and I decided to make our way to the "Old City" in Hyderabad. The reason - during the month-long Ramzan period, the place is said to come alive during the night. It had actually been ages since we have even been to that area, and so we set out at about 10 pm. Hyderabad is called a city that never sleeps - so, it isn't unnatural to see vehicles and people on the streets even late in the night. However, as we approach Nampally, Mozamzahi Market, Afzalgunj, Purana Pul - it is difficult not to be amazed by the buzz of life and activity in these areas. The streets are crowded, well lit making it seem like day, and the shops are abuzz with activity. In fact, we are not allowed beyond the famous Madina Hotel. The road from Madina Hotel to Charminar along Pattar Gatti had become a street market - with every inch of the space occupied by people selling anything and everything to people walking around. Where were all these people going? Or coming from? One was never too sure.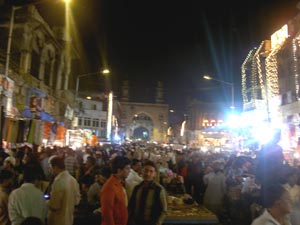 We parked the bike near Madina and made our way towards Charminar, jostling through the crowd. All around the shopkeepers (one couldn't really call them that because there were no shops) tried to entice us to at least look at their wares. There was one teenager, not more than 13 or 14 years old, standing on a bench, jumping up and down asking people to buy clothes from him - the cost for each dress, he kept yelling out, was Rs 135 (when said in English) or Rs 125 (when said in Hindi).

Despite such moments, it felt like a different world altogether. Having grown used to Supermarkets and Shopping Malls, having the sellers literally screaming into your ears asking you to check out their stuff - that was an experience one was just not used to. To me it seemed more like a market from the Medieval Times - time truly seems to have come to a stand still. Is this why it was still called the "Old City"?

We walked on - strangers in our own home town, almost like tourists visiting a new place. Why was there such a strong sense of displacement? Why was there no connection? Why didn't we feel we belonged? I couldn't make sense. Much later when I was talking about it to other family members, it stuck me why - we felt displaced because we have lost the desire to touch, to connect. Thanks to a handful of religious fundamentalist and increasingly insecure society we seem to be living in, haven't we deliberately moved away from it all? But I am digressing.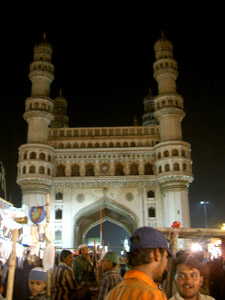 Our aim was to walk up to Charminar which we hadn't seen in a real long time, especially during the night time and then walk back. Finally we spotted the magnificent structure, a monument that never ceases to amaze me. On a less crowded day you can actually spot it all the way from Madina Hotel - an amazing structure standing tall above everybody else. Built by Muhammad Quili Qutub Shah in 1591 to commemorate the eradication of plague, Charminar was first envisaged as a mosque with 45 covered prayer spaces and some open space to accommodate more people in Friday prayers. Positioned right in the middle of the road, Charminar makes for an impressive and beautiful structure, each side measuring 20m and each of the edges having a pointed high minaret. During the night, when lights are on, it seems even more impressive.

I have driven past Charminar on a number of occasions, but this was probably only the second time I walked around it, watching it up close. The first time round was way back in the early eighties when I was still a kid, and we climbed up the monument. While that is not allowed today, on a normal day with heavy traffic on the crowded road, it also becomes difficult to walk around it. As we went closer we found ourselves standing in front of a unusual structure - jutting out of one of the minarets of Charminar was a small temple - the Charminar Maisamma Gudi. Yes, one of the oldest mosques in the city had a temple attached to it. It was obvious that it wasn't part of the original construction; it had come up much later; but the fact is that in this densely Muslim populated corner of the city, adjoining a much-revered national monument, a mosque nevertheless, was a temple - that was allowed to be built and stay. What can speak more for the secular fabric of this country? To me that speaks volumes about the people we actually are - that let alone, with no intervention from the self-serving politicians of the country, the Hindu-Muslim unity was in no danger of being eradicated.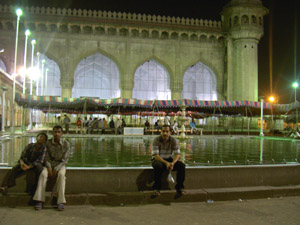 After spending some time near Charminar we went further up. Towards Rajendra Nagar and Barkas were the Unani School of Medicine and Hyderabad's Mecca Masjid. I have seen the Masjid from outside many a time and have always been rather impressed with its entrance itself. I have never had an opportunity however to enter the shrine itself. It probably is always open to everybody, but I just wasn't too sure. But on this day, there were people inside - some of them offering their prayers, some just lounging around, some really relaxing and sleeping. So, finally, after all these years of being in Hyderabad emboldened by the presence of people and the festive spirit around me, I entered Mecca Masjid. I was immediately taken in by the enormity of the place - it was truly truly huge, and seemed to fit tens and thousands of people at one time for prayers. As we sat there, we found it to be rather peaceful, completely detached from the chaos outside even though it was actually right in the middle of the crowded street

We made our way back and reached home way past midnight. I am not sure what this trip meant to me, but I was moved by it. The Old City does seem like a different city altogether, different from the City I live in - even though ironically both are actually part of Hyderabad itself. Yet, the people seemed different. I know of a lot of people who accuse those living in the narrow lanes of the Old City of being narrow in their mindset, closed up. But I couldn't help but wonder if it wasn't the same with us as well - our roads may be wide, but are our minds broad enough?