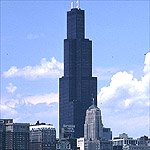 This Christmas day weekend we decided to drive upto Chicago. We started out early on Friday at 5.00 am in the morning. It is approximately an eight hour journey to Chicago from Omaha, and we reached there at around 12.45 p.m. Chicago is located near Lake Michigan and is known as the 'Windy City'. Many Indians live here. Many famous architects like Carl Sandburg, Frank Lloyd Wright started their careers in this city. Some of the 'Blues Band' also played here. A black man named John Dusable was one of the first persons to own a house in Chicago. Much of Chicago district and the downtown area was destroyed in the Chicago fire of 1871. Only two buildings- 'Waterworks' and the 'Watertower' survived the fire and they remain standing to this day. Later the city was rebuilt on the swamp and rubble leftover by the fire. Downtown Chicago has loop trains running on elevated ' L' tracks. Chicago also has two famous parks- 'Grant Park' & the newly built 'Millennium skating park'. Some notable buildings are the 'Chicago board of Trade' building, 'Chicago Tribune' building and the 'Wrigleys' building. 'Marshall Fields' is a famous department store located here as well as 'Saks of Fifth Avenue'.

It is very useful to have a street map of Chicago when one is visiting Chicago.

Some highlights of this trip:

Lake Shore Drive
For someone from Bombay, I thought I wouldn't find the buildings on lake shore drive interesting, but I was awed by the size and beauty of buildings on lake shore drive. The drive, stretches along the Michigan lake and it feels good to drive through it at night, with the lighted buildings on one side and the breeze blowing from the lake on the other side. Each building is different and is an example of fine architecture. There are also apartment buildings a little further down the drive.

The Chicago Trolley Co has Trolley tours and double-decker tours of Chicago and I feel this is one of the best ways to do sight-seeing in Chicago. With an all-day pass, one can ride both the trolley and the double decker bus, and hop on or off at any of the trolley or bus stops. They have regular service stops at the Sears tower, art institute, museum, water tower etc where one can board as well as purchase tickets.

Sears Tower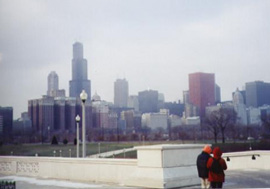 The Sears Tower is the second largest building in the world and is located on 233 S. Wacker Drive. It has 110 floors and the skydeck is located on the 103rd floor. The tower is made up of 3 buildings put together and the whole thing gives the effect of cigarettes in a cigarette box. Tours to the skydeck start at 10 am, and it is open 365 days a year. The view from the skydeck is awesome and overlooks the city of Chicago. Cars on the street below look like tiny toy cars racing to their destination on toy tracks and the lane markings look like tiny chalk marks on a blackboard. Somehow I had a feeling that we human beings must seem the same way to God when he looks down at us from heaven.

The Art Institute of Chicago
This was one of the first places we visited in Chicago. It is a very big building comprising of three levels; the lower level, the first level and the second level all connected from the first level. Two magnificent stone lions guard the entrance to the building. The first level has a collection of African and Ancient American art, Chinese, Japanese, Korean and Modern and Contemporary art. Also featured are European Decorative Arts and American Arts from 1900 up to present. I found the Indian and South East Asian section very interesting. One of the items on display was a beautiful stone idol of Ganesh from the Hoysala temple in Karnataka. It is very difficult to describe its beauty in words. The second level has a collection of European arts and sculptures from the early 1800s,1600s-1700s and 1400s. Also featured are European prints and drawings, Renaissance period art and architecture, Impressionism and post Impressionism art as well as Modern and Contemporary art & architecture. Restrooms, a restaurant and the museum shop are conveniently located near the elevators. The lower level has a restaurant, open only in the summer, as well as a collection of textiles mainly lace from the 18th-19th century up to present. The museum is open on all days except Thanksgiving and Christmas from 10.30-4.30 and is located on 111 South Michigan Avenue.

Field Museum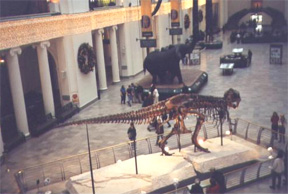 Located on 1400 S. Lake Shore Drive, the field museum has exhibits of nature like mammals, culture and environment of Asia & Africa, N. American birds, plants of the world, reptiles and amphibians, insects and ants and exhibits of culture from Africa, Egypt, The Americas, Asia and Pacific among its permanent exhibits. This time they had a temporary exhibition on Cleopatra. 'The Grainger Hall of Gems' , with its exhibits of gems and diamonds is worth seeing. The museum also has an exhibit of 'Sue': the world's largest and most complete T.rex. The entire skeleton of the T.rex, whose bones had been buried in rock for 67 million years was put together by the museum experts.

The museum, the aquarium and the 'Adler planetarium' are all located close to each other and can be walked up to, but we couldn't visit the planetarium since it was closed that day.

Shedd Aquarium
The aquarium has as its exhibits fishes from around the world, sea horses, coral reefs from the Caribbean and also a informative tour of the Amazon river ecosystem. The aquarium also houses a oceanarium which takes the visitor on a trail through the pacific northwest coast. The oceanarium also has a marine mammal presentation show where we get to watch dolphins performing various flips and dives and also Beluga whales, and how the trainers interact with them.

Navy Pier
Located on 600 East Grand Avenue, Navy Pier is mainly a shopping area. There are dozens of interesting stores here featuring souvenirs, sports memorabilia, books, games, clothing etc. There are also dozens of vendor carts throughout the Pier selling jewelry, artwork and other items for every taste. A large food court where one can find everything from hot dogs to pizza is located here. We had lunch at 'King Wah's Express', a place which serves Chinese food along with a few vegetarian items. There are also other attractions like the 15 story high Ferris wheel, carousel, gardens, water attractions offering dining cruise ships and tour boats.

Devon Street
For an Indian, a trip to Chicago is incomplete without a visit to Devon Street. Both sides of this street is lined with Indian and Pakistani shops, selling the latest audio & video cassettes & CDs & DVD, steel utensils, gold, silver, saris, and other Indian items. Restaurants like 'Udupi Palace', 'Mysore Woodlands', 'Sher-e-Punjab' are located here which serve good Indian food. Also there are various sweet shops like 'Sukhadia's' and shops selling grocery items like dals, pickles, namkeens, Indian vegetables etc which sold items at cheaper rates than at our place so we did a year's grocery shopping here.

We drove back to Omaha on Tuesday.