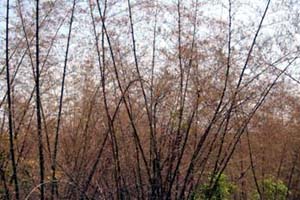 "Gregarious flowering", it is called. But the benefits to be derived from it are not truly so expansive. The bamboo flowers every 45 to 50 years. And those who have seen it once will not want to live through those times again, says David, our host and guide for the next three days. All the bamboo trees, especially those raised from the same seed, flower at the same time. And eventually die. People do not remember how the entire hills turn yellow. It is the sudden increase in rodent population, and the inevitable famine that follows the flowering, that lingers in their memories.

The high-protein bamboo seeds form the perfect meal for the rats, which start to multiply in thousands. Once the bamboo dies, the rodents attack farms, houses, granaries, fields of standing crops, everything that is available, leading to famine. In Mizoram they call it Mautak flowering; ironically, it almost sounds like maatam. It is happening again, not only in the North-east but in the Western Ghats as well, where we were, David tells us.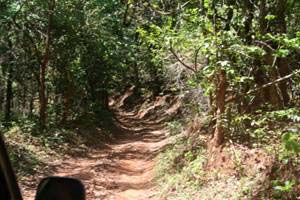 Nestled in the quiet hills of the Western Ghats is The Hermitage, home of David, Morvarid and Katrina, and our repose for the next three days. It is 45 km from Belgaum, off the Goa highway; as you turn into the muddy stretch that will get you to this 'ashram', the signals of the urban life die away, the phones stop ringing and you will be treated to the sounds of the jungle. Totally disconnected as one is from the rest of the world, I realized one is forced to connect with oneself.


David Fernandez has vast knowledge of the hills, the forests and the people living in them. Understandably so, since he had made these hills and forests his home for 28 years now. I am yet to fathom the decisiveness with which a dapper 21-year-old suddenly decided he had enough of a city like Mumbai and withdrew into the wilderness with just his wife, Morvarid for company. Together they bought 45 acres of land and made a world for themselves that they open up to outsiders 8 months of the year. Life wasn't a bed of roses: they lived in a hut initially, trying to get used to the environment. They had a refrigerator that ran on kerosene. One night, the hut caught fire as they slept. David and Morrie scampered out and saved their lives; undaunted they built a new hut the next day. Katrina, their 24-year-old daughter, pursuing her doctorate in biodiversity (very aptly) at the University of Tasmania (she comes back home to do the field work for her research) tells me her parents would wake up at nights to snakes crawling by. Eventually, they built a house; and then came electricity a good 7-8 years after they moved here. "This is my paradise," Katz told me proudly as we sipped tea; I looked around and understood why.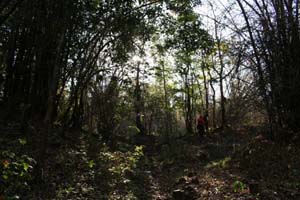 Bear Hill trek was what we did on the first day of our arrival; David told us this was his little test for all his guests, a test to see how much each one could take. David walked fast, briskly; one had to almost run to catch up with him. We would stop every once in a while and gather around him, as he gave us tidbits of information of the plants and trees around us. As we sauntered in a single file through the woods, I enjoyed every moment of it, including the scratches and bruises that come from walking and brushing against the leaves and branches, the sunlight streaming through them and the chirping of various birds. And when we climbed up a slope we were surrounded by swarms of insects; shield insects, David told us. They seem to protect themselves with yellow armor/shield; these were the result of bamboo flowering as well.

We climb up the bear hill, rather quietly; it is called so because it is home to many a bear. David showed us a bear cave and told us about the rather close shave he had with one when he came up the hill with just one tourist. He is more circumspect now, watching out of the corner of his eye even as his guides us along. From the vantage point, one gets the spectacular view of the entire Western Ghats, the whole expanse of the Londa range. As I sat down watching the sun go down those hills, I felt rejuvenated. As I looked at the green lands spread out in front of my eyes, I seemed to understand why someone would want to get lost in this wilderness: was this one way of actually finding oneself?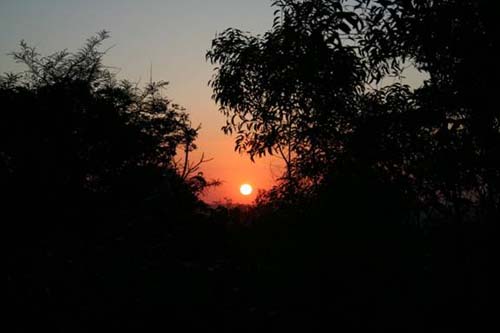 The way back we walked through some deeper forests and then villages. David knew most of the villagers, it seemed. They wished him and spoke to him. The people in this place spoke dialects of Marathi and not Kannada, closer as they were to the Maharashtra border. I was told later that David and his family often got involved in resolving disputes among various villagers; in fact, on the day we were leaving David had to go to the police station with one of them to settle some such problem. Morrie told one morning that when they first came here, the villagers thought David and she were crazy, wanting to live in the wilderness the way they did. I wasn't truly surprised.

A twisted ankle kept me in the resort for the next two days; but I truly didn't mind it. The best thing of staying here was not doing anything, not waking up to a to-do list – either in my mind, my phone or my comp. I would wake up every morning to birds twittering and the sounds of thousands of bees, which sound almost like a pressure cooker – a hissing sound that reaches a peak before tapering down gradually. You could sit on the patio of the machan or the kadaba and look out, savoring the green forest cover around you and the sounds of silence. The Fernandez family also has three Dobermans you could make friends with if you were a dog lover – Scully, the mother, is rather quiet and guarded, like all adults usually are, taking her time to get friendly with you. Badmash and Bahadur were the younger ones – while the former was true to his name, the latter seemed more like the mother, eager but wary.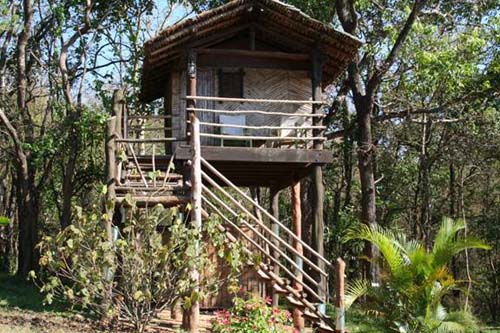 Every evening you could help Katrina light the lanterns (and vie to get her attention as two of the eligible bachelors in our group did). Or you could also rummage through the treasure chest the family owns, full of curios collected from Parsi homes in Belgaum. I chanced upon a stethoscope and a medical kit almost 70 years old, books that were more than 50 years old (with titles such as 'What a young mother should know' or 'What every bride should know'), a darkroom lamp and many such wonders. The chest also consisted of numerous photographs: As Katz walked me through each of those snaps sharing her knowledge of each, I thought about the people in them and wondered about their lives and the dreams in their eyes. Else, you could simply devour the yummy food that Morrie dished out for you at every meal.

Pure bliss, I realized at the end of our stay, was in not doing anything, just lazing around with great food and warm company. Ensconced as were in our 4 * 4 cubicles, pecking away at our keyboards day in and day out, grappling over architecture designs, life truly had become a drab. Would I do a la David some day? I am not so sure – but for now, The Hermitage to me was the perfect getaway. Try it out sometime, and you will come back – maybe not enlightened but definitely rejuvenated.

Facts:
Information about how to get to Hermitage and how to contact David is available on the website. If you are travelling from Hyderabad, here is some information you could use:

You can take either a train or a bus from Hyderabad. While the bus takes about 12-13 hours, the train takes longer (almost 18 hours). The train to take is Rayalaseema Express and on return you catch the Haripriya Express. Get down at Belgaum, and ask David to send you a vehicle, at a price of course. Once there, you don't have anything else to worry about - you will be wonderfully taken care of.