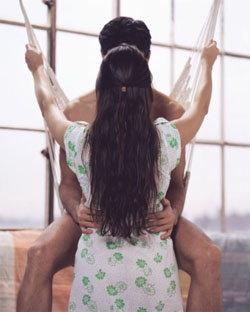 As HIV infections among women escalate around the world, experts sound out a new call: Equip women with effective tools, so that they can protect themselves instead of being at the mercy of males who may or may not use safe sex methods.
The key is in promoting more research on microbicides - topical substances like gels or creams that could be applied to the vagina or rectum - which, experts underline, will empower women to take control of their bodies and lives.
Delegates at the recent XVI International AIDS Conference in Toronto (August 13-18) reiterated that the availability of both rectal and vaginal microbicides will ensure that women have options, should they need them, for protection against HIV and other sexually transmitted diseases. However, participants at the conference - organized by the International AIDS Society - pointed out that research in rectal microbicides lag far behind research in vaginal microbicides. Rectal microbicides, activists say, are essential for both women and MSM (men who have sex with men).
According to latest UNAIDS figures, in 2005, women represented 48.9 per cent of HIV-infected adults worldwide. One of the major challenges to containing the spread of HIV is women's inability to negotiate safe sex, stresses Dr Gita Ramjee of the HIV Prevention Research Unit in Durban, South Africa. "Effective microbicides would greatly empower women to ensure that they have something to protect themselves from HIV transmission," she states.
Observing that many new infections occur in married women, Ramjee says that both commercial sex workers and women in relationships would benefit from microbicides. As Director of the South African Medical Research Council's HIV Prevention Research Unit, she is directing several advanced microbicide trials throughout Africa.
Speaking at one of the plenary sessions of the six-day conference, she said four microbicide products being evaluated are formulated as gels that are introduced into the vagina one hour prior to intercourse. Acceptance of microbicides has been very high among both men and women in the trials and first results are expected in early 2008, she says.
Another promising preventive being considered is Pre-Exposure Prophylaxis (PREP). In recent years, researchers have begun studying the antiretroviral drug Tenofovir, taken as a once-daily pill, as a potential new method to prevent HIV infection in high-risk individuals - an approach known as PREP. According to experts, it is expected to be particularly beneficial to individuals at higher risk for HIV, including commercial sex workers, injecting drug users and MSM.
Says Joep Lange of the Centre for Poverty-Related Communicable Diseases at the University of Amsterdam, "We need to actively encourage research-based pharmaceutical companies to invest in all aspects of PREP research, as well as the implementation of PREP if trials are successful." Currently, clinical trials in adult humans are underway in Botswana, Ghana, Peru, Thailand and the United States.
However, a potential concern about PREP is resistance. Any resistance developed to antiretroviral such as Tenofovir when used for prevention could limit the usefulness of the drugs for later HIV treatment. Industry, government and researchers need to address the ethical concerns surrounding PREP research if implementation is to be successful. As Nimit Tien Udom, Director of AIDS Access Foundation in Thailand, notes, "The real challenge of PREP will be in its implementation. If it works, who will get it? How will we ensure that governments, study sponsors, donors and the community work together to benefit not only the trial participants but everyone in the community?"
Apart from microbicides and PREP, a range of new HIV prevention approaches are nearing completion of clinical trials, states a new report released at the conference. Entitled 'New Approaches to HIV Prevention: Accelerating Research and Ensuring Future Access', the report cautions that the world is unprepared to ensure widespread access for those in need. While some of these prevention approaches could potentially be proven effective within the next one to five years - such as male circumcision and microbicides - an array of practical and ethical challenges threaten to slow, or derail, critical research, including the need for many thousands of additional trial participants, it says.
Male circumcision, cervical barriers such as diaphragms, PREP, microbicides, suppression of herpes (which increases HIV risk up to three times) and HIV vaccines are cited by the report as six promising new HIV prevention approaches.
Male circumcision, has, by far, been the most controversially received. A total of 11 prospective studies on the effectiveness of male circumcision across Africa show a 50-90 per cent decrease in HIV infection rates among circumcised men. A study completed last year in Orange Farm, South Africa demonstrated that male circumcision provided a 60 per cent increase in protection.
But social scientists and other activists continue to voice their concern that current studies have failed to take into account the delicate societal impact of prescribing male circumcision to cultures that have never practiced it. In South Asia, for instance, male circumcision is so closely tied to religious identity that some communities would be highly resistant to the idea itself.
An Indian delegate goes further, describing circumcision as a hygienic standard rather than a preventive against HIV/AIDS. "Circumcision is a religious practice among Muslims, Jews and certain sects of Christianity. It is administered by the priests at a very young age, preferably within ten days of birth," states Dr Leo Rebello, Director of a Mumbai-based clinic, Natural Health Centre. "In fact, the earlier it is done the better, as it is more dangerous as one grows older," he claims.
That said, he remains skeptical about its usefulness as an HIV prevention method. "Khatna (circumcision), is the removal of the foreskin of the penis. How can it prevent HIV when infected semen will still pass through the penis?"
National AIDS Control Organization (NACO) Project Director Sujatha Rao is more cautious in her response to the new preventive approaches. "It must be carefully planned only after seeing and weighing all the evidence," she says simply.
'New Approaches to HIV Prevention' has been prepared by the Global HIV Prevention Working Group, which consists of leading public health experts, clinicians, researchers and people affected by HIV/AIDS, and is co-convened by the Henry J Kaiser Family Foundation and the Bill and Melinda Gates Foundation. "Very soon, we could have new, highly effective ways to prevent many of the four million new HIV infections that occur each year," states Helene Gayle, co-chair of the Working Group and co-chair of the Toronto conference. "But these tools will have little impact in the real world unless we take immediate steps to complete current trials, mount new ones and reach people most in need," she cautions.