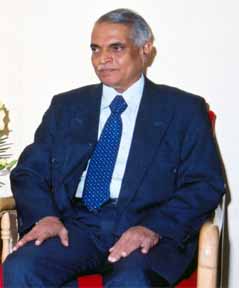 From being one of the oldest 'lunatic asylums' in British India, to being recognized as a model in mental health care for the developing world, NIMHANS (National Institute of Mental Health and Neurosciences), which celebrates 50 years of its existence this year, has come a long way.
In 2003, a total of 317,000 patients visited this institution, which is an autonomous body of the Indian government, dealing with research, training and treatment in mental health and neurosciences.
NIMHANS Director Dr D Nagaraja talks about the long journey of the institute and its vision for the future.

Q: What has been the most significant contribution of NIMHANS to the development of mental health care in India?

A: Research, training and service are the three main pillars of this institute. The institute was the first in the world to have integrated mental health and neurological services, and it has pioneered the integration of mental health care into community health care in India.

The institute houses the country's first brain bank and the largest centre for rehabilitation of the psychiatrically and neurologically disabled. The rehab programmes have been developed with Indian needs and resources in mind, such as low-cost rehabilitation modules as well as accessories. This know-how is being provided free to other centers. NIMHANS is a deemed university and over 70 per cent of the psychiatrists working in India have been trained here. In neurology training also, we have been the leaders. The amount of practical training that candidates get here is enormous - we have a 24-hour emergency service and there are 30 to 40 emergencies every day in neurology alone.

Q: The incidence of stroke among young people is on the rise. Why?

A: Actually, stroke is taking the form of an epidemic. We are genetically predisposed to it. And there are lifestyle changes like food habits and lack of physical activity that are fuelling this epidemic. For young stroke (in people less than 40 years), we have developed a protocol for treatment. We identified various new causes like homocysteine and nutritional deficiency, especially folic acid and vitamin B6, which lead to young stroke. This has helped in better understanding and management; our research is still going on. In the US, folic acid has been made mandatory for all food additives. It may be much more useful and relevant in India than the US. But we have to prove this through research.

Q: Has the concept of community management of psychiatry caught on?

A: For a country with a billion plus population, we have only 6,000 psychiatrists; and 80 per cent of these are in metropolitan cities and big towns. For rural people, hardly any professional psychiatric help is available. Given the current number of postgraduates in psychiatry, we won't be able to reach the block level for the next 50 years! Besides, Indian psychiatrists migrate to the UK to work for the National Health Service. So the only way we can provide psychiatric services to our rural population is through the existing healthcare system.

In 1981, we took up psychiatric-help delivery through community health centers. Later, the now-famous Bellary model was developed. In that district, we trained all the primary health centre (PHC) doctors, nurses etc in identifying patients, giving medicines, following up. This model was proposed to the Planning Commission as the National Mental Health Program (NMHP) and was implemented in 27 districts in five states during the Ninth Plan. We evaluated this in 2003 and, based on our recommendations, the Ministry of Health has expanded the program in the Tenth Plan with an allocation of Rs 1.9 billion (1US$=Rs45). It has three components - expanding the program to 100 more districts, improving the status of psychiatric departments in medical colleges and government hospitals, and improving infrastructure at each of the 37 mental hospitals in the country. The mental health landscape in the country has changed with this program - a major contribution of NIMHANS.

Q: But can this program meet all the mental health needs of Indians?

A: Two to three per cent of our population faces serious mental health disorders like psychosis and depression, while about 5 to 8 per cent faces common mental disorders that people usually don't care about. These are: constant headache, backache, anxiety, tension, restlessness, abnormal behavior etc. Currently, most people do not get treatment for these problems. So in the next phase of the NMHP, we are planning to improve the infrastructure further to address common mental illnesses.

Q: What is the focus of research activity at your institute?

A: At NIMHANS, research is not a stand-alone activity, it is integrated with everything else. We have undertaken large-scale epidemiological studies on psychiatric and neurological disorders, child mental health, head injuries, substance use and so on. Clinical studies have been done in areas like obsessive compulsive disorders, epilepsy, schizophrenia, dementia, stroke and Parkinsonism. Several basic research projects are also on. When Dr K S Mani started the neurology department, his main contribution was in tropical paraplegia, and "hot water epilepsy" (a rare form of reflex epilepsy caused by bathing with hot water, which occurs generally in children).

Q: In terms of application of research, what has really made a difference to the community at large?

A: We introduced the anti-coagulant drug, Heparin, for cerebral venous thrombosis. When I joined NIMHANS in 1973, mortality was between 20 to 30 per cent. We used to see young women after delivery with their veins in the brain getting blocked, severe oedema and unconsciousness. Then we started experimenting with Heparin in various dosages; with a medium dose, we could reduce the mortality to about 5 per cent. This method of treatment has now been accepted all over India. Cerebral venous thrombosis is peculiar to south India; in the north its frequency is less. The reasons are basically genetic.