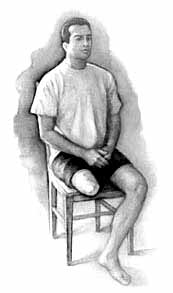 Most of us are born as whole complete human beings. Mind and body is connected through nerves, muscle and bone. Unfortunately this system is sometimes torn apart by disease or unfortunate accidents. In a few rare incidents babies are born with an amputation or limb loss usually for anomalies while still in the womb. This can be detected during a prenatal test.
The causes of amputation may vary from country to country. In countries where warfare and civil unrest prevails, amputation due to trauma and landmine accidents is much greater. In India the main causes of amputation are:
Accidents and mishaps
This is the leading cause of amputations. If an accident devitalizes the tissues and crushes the bones, it is difficult to save the limb. Crush injuries occur when a heavy weight falls or goes over a body part. Or a sharp blade may ampute a body part directly. Accidents may occur at home, at the work place or on the road. Accidents in factories are very common.
Vascular and circulatory disease
For vascular diseases minimal amputation is done.
Burgers Disease
A disease which is primarily caused by smoking. Burgers may occur at a young age. Burgers disease leads to a painful sensation in the limbs as one walks or moves about. After 5 minutes one gets cramps and pains in the leg in such a way that one cannot walk and has to take rest. The time difference gradually gets minimized and pain is felt even when one rests. This happens due to lack of blood supply. Gangrene spreads from the tip of the limb and it becomes cold.

Thromboembolic Phenomenon
A disease in which a clot goes and merges into the blood vessel cutting off the blood supply. Beyond that portion, the limb becomes gangrenous, so it has to be amputed. Certain drugs may produce thrombus (like the prolonged use of oral contraceptives.) Bed ridden people are in risk of thromboembolic disease.
Diabetes
Diabetes leads to blood vessels being narrowed cutting off blood supply leading to a body part becoming gangrenous. Diabetic patients are also susceptible to infections giving rise to diabetic infected gangrene. Usually the legs are affected by diabetes. Diabetes may be hereditary. . A viral infection may lead to the pancreas being affected causing diabetes.
Tumors
Tumours are of two types - one is cancerous, one is non-cancerous. If the tumor is non-cancerous only the tumor is removed. If the tumor is cancerous that part of the limb may have to be removed. Cancer may be in the bones, muscles, tendons or tissue. Growth of tumors may lead to major amputations.
Leprosy
Leprosy leads to natural or surgical amputation. Leprosy awareness has however increased and it can be cured at the initial stage, free of cost.
When a limb or a part of a limb which everyone takes for granted is functionally useless and has to be removed, a person naturally starts feeling helpless or inadequate. The emotional stress starts when the requirement for amputation is created. Psychiatrist, Dr.Debashish Ray says,
"There is always a feeling of denial in the initial stage. There's hope against hope that the limb may be saved but gradually as the person starts facing the reality, he is overcome by depression. Amputees feel a loss of possession giving rise to a loss of control. Suicides may be prevented by both pre and post-amputation counseling. Whenever there may be an amputation, there has to be a psychological assessment to find out where the conflicts lie. It must also be found out whether this person had any syndromal psychiatric disorder. It must be taken into account how an amputation is going to affect his personal and professional life. A leg amputation of a soccer player is more serious than a similar amputation in the case of a writer."
When the day of amputation is growing close, supportive psychotherapy should be started. It has to be revealed to the patient that amputation is inevitable for they have to be prepared of how they are going to look like. They should be assured that with time they can still carry on with their lives without the limb. The post amputation counseling includes inter-personal therapy, cognitive behavior therapy (challenging irrational or negative thoughts). The family members should be taught how to accept an amputee.

Soon after amputation, many amputees feel the presence of a phantom limb or a feel that there is a limb where there isn't. Phantom sensation can range from tingling sensations to a biting pain which needs professional help. Methods of relief from phantom pain include medications, electric nerve stimulation, massage, heat, cold, compression, acupuncture, acupressure, cranial sacral therapy and touch treatment therapy.

A new amputee has to adjust to a radically new lifestyle. Issues of simple mobility and self-care are the initial problems that most amputees face. There are however ways in which an amputee can physically and emotionally recover and lead a life as near to normal as possible. If you are an amputee and reading this remember that you are not alone. There are thousands of amputees all over the world and many of them are highly successful names. Landmine survivor Chris Moon took part in the 1998 Winter Olympics Opening Ceremony. Tom Whittaker made the first amputee-push to Mt. Everest's summit. Drummer for rock band Def Leppard is an arm amputee. Indian dancer Sudhachandran, an above knee bilateral amputee has made a name in Bharatnatyam using artificial limbs.

Artificial limbs may be used 6 months after amputation. It may be used as soon as the stump heals. For people who do desk jobs the longevity of an artificial limb is 5 years. For those in manual labor the artificial limb may be changed every 2/3 years.

There are limbs of various materials. The limbs are cast in accordance to the stump size. All normal activities like running, cycling and driving can be done with artificial limbs. The joints are moveable and the limbs are given color as to match the complexion of the user. There are different types of artificial legs for below knee and above knee amputees respectively. Aluminum legs are the least expensive. Polypropylene legs are the most expensive but they are light in weight and have muscle softness. Plastic legs have a high density. Fiber glass legs are well suited for heavy weight patients. The price range for artificial legs is from Rs 1,200 to Rs 12,000. For arm amputees there are above elbow and below elbow prosthesis. For those who have lost fingers, there are cosmetic hand gloves. It once again becomes possible for an amputee to grasp things and write. Arm prosthesis range from Rs 2,300 to Rs 4,000. The Indian Government supplies limbs for free to families with a monthly income upto Rs 5,000 and 50% of the cost is paid in the Rs 5,001 - Rs 8,000 income range.

Mahavir Jain Centre, a NGO in Alipur, distributes limbs free of cost in rural and urban India and even to foreign countries. 'A baby who was 4/5 months came over for an artificial limb. Most of our workers are amputees,' says Mr.T.N Tewari, Manager of Mahavir Jain Centre.

It of course takes time and patience on the amputee's part to take hold of his life. A new amputee must regularly organize checkups with the orthopedic surgeon. For psychological recovery, a psychologist or psychiatrist must be consulted. He can gradually return to his employment and recreational activities. It is possible to resume many of the erstwhile regular activities, it's just that it has to be done in a different way. Socio-medico counselor Dr.Kanchan Gurtu of Self Help Counseling Center adds, 'After amputation a person feels it is the end of the world. One is also wary of the social stigma that may be faced. Vocational skills may be nurtured according to one's potential and abilities. Once an amputee realizes that he can manage his life independently, the response is positive.'

Ranjit Singha, who underwent amputation in Year 2000, in fact assures his mother who breaks down thinking of her son's loss. 'I tell her that what has happened cannot be changed, fate must be accepted and life just goes on.'

Bijoy Das, a below knee bilateral amputee, narrates the story of the trauma he went through after amputation and how he overcame it. 'My amputation took place in 1985 when I was 25 years old. On one unfortunate day some heavy weight landed on my legs in the factory I used to work in. It was a contaminated wound and gangrene spread soon. My leg had to be re-amputated several times. I felt that life was not worth living any more but gradually I learnt to accept my fate. I met fellow amputees and discovered that I wasn't alone. Soon I was walking with artificial legs. When I meet new amputees I explain to them that all isn't over and that they can still rise and walk. I could not continue with my job at the factory. Now I work with Mahavir Seva Sadan, a manufacturer of artificial limbs. I am married now. My wife is also an amputee. We have a child together. The only problem I still face now is phantom pain. Sometimes in my sleep I reach down and it seems to me that I can feel both my legs.'

Brahmanand Phathak (below knee amputee) says, 'My amputation took place ten years ago due to a road accident when I was 36 years old. After my amputation I had broken down emotionally. But well wishers assured me that I could carry on with my life. Before my amputation I would work in a private firm. After my surgery I changed to private tuition, a profession which demands less physical exertion. Society has been kind and considerate to me. My friends have helped me to open a store, which is now supervised by my son. I'm married with two children.'

***

The Indian government has facilities and benefits for persons with disabilities. As an amputee one can avail of the benefits but there are certain formalities. First the District Medical Board must examine and identify a person as disabled. Next a disability identity card must be issued from the District Headquarter Hospital. Only those with 40% + disability are eligible to avail facilities and benefits of grant, scholarships etc. The various disability schemes are as follows :
Handicapped children in Government schools from classes 1 - VIII, below the age of 16 years and family income within Rs 750 are eligible to avail stipends. Application forms are available from the Social Welfare Department for Kolkata residents and the nearest Block Office in districts for district residents. Class IX onwards disabled students can avail this scholarship from the Directorate of Technical Education, Bikash Bhawan. The student should however have 40% + in the annual examination and the monthly income family income should be below Rs 2000 per month.

Adult disabled with a monthly income within Rs 1000/- and interested in setting up a business can avail a grant of Rs 1000/-.

The disabled are provided sewing machines / harmonium / tanpura / sitar / tabla under this scheme. Family income of the person should be within Rs 1000.

For all government jobs 3% seats are reserved for the disabled. Residents of Kolkata can register their names at Special Employment Cell, 67 Bentink Street, Kolkata 69.

Supply of petrol / diesel on subsidy is available to disabled persons owning and using motorized transport / vehicle and having a monthly income Rs 2,500.

The permanently disabled are given a monthly pension of Rs 300.

All government buses, trams and trains has reserved seats for the disabled.

The disabled travelling by Indian Railway with an ecost can get 75% concession.

Indian airlines grant 50% concession to the disabled.

All disabled government employees are eligible to get a maximum of Rs 100 per month of their gross salary as conveyance allowances.

Disabled employees get a tax deduction of Rs 20,000.

A tax payer belonging to an Indian undivided Hindu family are eligible to get a tax relief upto Rs 15,000 per year.
Besides government aid, financial aid can also be available from banks, employment exchanges, district industrial centers and social welfare units. Disability loans can be availed of from the following banks - SESRU, SSEP (ITDP), SCP, SEPUSUA, SJSRY and MMS. Loans upto Rs 25 lakhs can be availed of through the Capital Investment Scheme. Disabled citizens engaged in businesses like shop-keeping; running health centers, beauty parlors, computer training centers, telephone and fax booths; photography, press, tailoring, poultry farming, handicrafts and physiotherapy are usually preferred for these loans. The Assistance for Agricultural Activities Scheme provides loans for irrigation, insecticides and the purchase of agricultural land and tools. The National Handicapped Finance and Development Corporation promotes economic development activities and other ventures for the economic rehabilitation of the persons with disabilities.
Important Contacts

* National Handicapped Finance and Development Corporation
Ministry of Social Justice & Empowerment
Red Cross Bhaban. Sector - 12.
Faridabad - 121007 Hariyana

* National Institute for the Orthopaedically Handicapped
BT Road, Bonhooghly, Kolkata 700 090
phone : 5567279, 5563232, 5573610, 5578379
fax : 557 8379 email : nioh@cal.vsnl.net.in

* Mohona Orthotics and Prosthetics Centre
154 MTH Road, Villivakkam,
Chennai 600 049
Fax : 91-44-6207898
email : mohanaoandp@yahoo.com

* Amputee Coalition of America
900 East Hill Avenue, Suite 285
Knoxville, TN 37915
www.amputee-coalition.org (a non-profit organization working to bring resources and support to amputees, family members, support groups, and health care professionals who provide rehabilitative care; accepts world wide members)

* Mahavir Seva Sadan
20 Eqbalpur Lane
phone : 4492654
(supplies artificial limbs for free)

* The Kolkata Orthopaedics
(Dealers of Artificial Limbs Manufacturing Corporation of India)
2/1 A & 3, Raja Rammohan Sarani,
near Lady Duffrin Hospital, Kolkata 7000 09
phone : 350-0763, 351-2165, fax : 033 834-0002

* Orthopaedics Appliances Stores
(Dealer in artificial limbs)
113 Chittaranjan Avenue
Kolkata 7000 073
phone : 225-5412, 221-6251

* Orthopedic Appliances & Surgical Appliances
1 Surya Sen Street
Kolkata 7000 12
Opposite Northend Medical College on College Street

* www.shaadi.com (a matrimonial portal with a special section for the physically challenged to find their soulmate)