Amrita Ahuja, 26, a vivacious BPO call centre employee, has been experiencing an unfathomable tiredness of late. She sleeps erratically, eats frugally and experiences a recurrent throbbing pain in her neck. Surprisingly, after a battery of medical tests - including a brain scan, chest X-Ray and thyroid/urine examinations - Amrita's physician finds "no problem" with her.
Arjun Arora, 36, a Mumbai-based travel agent, has been suffering from an unusual memory loss this past year. Referred to as a "mobile directory" by his friends - he could rattle off phone numbers with enviable ease - Arjun now has a problem remembering his own mobile number!
Both Amrita and Arjun are typical victims of the Chronic Fatigue Syndrome (CFS), a debilitating disorder that currently afflicts 30 per cent of all global patients who visit a general hospital OPD. According to the Center for Disease Control and Prevention (CDCP), Atlanta, USA, which has recently carried out research on this disorder, women are four times more likely to be CFS victims as also people in high stress jobs such as BPOs, media, advertising and aviation.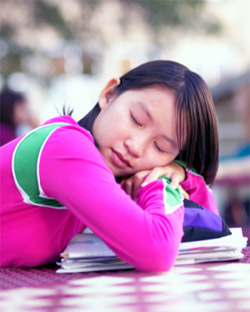 Children and adolescents, according to the CDCP's findings, are also susceptible to the effects of CFS - with girls being more vulnerable than boys. Unfortunately, half of the children and adolescents who are CFS victims also suffer psychiatric disorders, anxiety and depression. And shockingly, 90 per cent of CFS cases worldwide remain undiagnosed as many doctors are ignorant about CFS.
But what exactly is the Chronic Fatigue Syndrome and what are its symptoms?
CFS, also referred to as the immune dysfunction syndrome, is a distinct disorder with specific symptoms and physical signs, which ought to have been present for more than six months. These include short-term memory loss or a severe inability to concentrate that affects work, school or other normal activities, sore throat and swollen lymph nodes in the neck or armpits.
According to Delhi-based physician Dr J.S. Mathur, CFS victims experience fatigue that lasts a long time. "Other symptoms include headaches, sore throat, tender or pain in the neck or armpits, unexplained muscle soreness, pain that moves from joint to joint without swelling or redness, loss of memory or concentration, lack of sleep and extreme tiredness after exercising that lasts more than 24 hours," he says. CFS may also be triggered off after an illness such as a cold or start during or shortly after a period of high stress. It can even appear without any perceptible starting point or any obvious cause. In some cases, CFS can even last for years!
According to Dr Girish Vaishnav, Head, Internal Medicine, Fortis Hospital, NOIDA, there has been a dramatic upward spiral in the number of CFS cases in India over the last decade. "CFS is a lifestyle-linked disorder," he explains. "Its onset is usually gradual and happens due to a faulty lifestyle, lack of sleep, bad eating habits and stress." The physician admits that almost half his CFS patients are BPO employees who consistently do graveyard shifts, barely get quality sleep and consume a lot of junk food.
Quality sleep, according to the physician, is crucial to keep CFS at bay. "Sleep helps produce good hormones (especially melatonin), during a good night's rest. The good hormones are then transferred to the body's vital organs in the morning. This helps the sleeper to feel refreshed," elaborates Dr Vaishnav. Lack of quality sleep triggers off depression, obesity, diabetes and results in plummeting immunity levels and productivity, which impact one's whole life.
"In women," adds Dr Veena Purohit, consultant gynecologist and obstetrician at Max Medicare Hospital, "CFS can trigger off gynecological complications, disturbed menstrual patterns, depression and an early onset of menopause. In fact, of late, we've seen women in their 30s coming down with menopause though the `normal' age is post-45! This may directly be linked to chronic fatigue."
However, sociologists feel that women are also more prone to CFS because of the changing dynamics of the Indian family. "The pressure to prove themselves inside the house, at work and with kids, are prime reasons for them succumbing to CFS," says sociologist Geeta Shridhar, visiting professor at Delhi University.
However, as experts point out, CFS is not an entirely new disorder. In the 19th century, the term neurasthenia (nervous exhaustion) was applied to symptoms somewhat akin to CFS. In the 1930s and through the 1950s, widespread outbreaks of disease marked by prolonged fatigue were reported in America and many other countries. Beginning in the early to mid-1980s, interest in CFS was revived by reports of various outbreaks of long-term debilitating fatigue across the world.
According to surveys by CDCP, CFS affects over four in every 1,000 Americans (0.4 per cent) and is a serious health hazard. The highest cases of CFS are found among women, minority groups and people with lower levels of education and occupational status. The disorder most affects individuals between 40 to 50 years of age and is least prevalent in people under 29 or over 60.
Elaborates Dr Vaishnav, "People in stressful work conditions are definitely at a higher risk for CFS. Also over-achievers have been found to be more susceptible because they set impossibly high standards for themselves thereby causing undue mental and physical stress."
However, due to insufficient research, mystery still surrounds CFS and its causes. Many physicians even feel that CFS isn't actually a disease but a psychological disorder or a symptom of other problems, similar to anemia or high blood pressure.
However, the broad view is that CFS develops from a convergence of conditions that may include genetic factors, brain abnormalities, a hyper-reactive immune system, viral or other infections and emotional conditions. Some experts theorize that a viral infection or an event of depression in combination with certain neurological and genetic abnormalities may trigger CFS.
Dr Mathur reiterates that studies on CFS patients have also observed deficiencies in cortisol levels, a stress hormone produced in the hypothalamus (part of the brain). "Its deficiencies may be the reason why CFS patients have an impaired and weaker response to psychological or physical stresses such as infection or exercise," he adds.
Other research has highlighted that patients with CFS have abnormally high levels of serotonin, a neurotransmitter (chemical messenger in the brain) that causes fatigue. Yet another study reported that deficiencies in dopamine, another important neurotransmitter, may play a catalytic role in causing CFS.
Whatever the cause, medical experts point out that as CFS impacts one's physical, emotional and social wellbeing, it requires holistic treatment. "You have a better chance of adjusting to your illness and feeling more satisfied with your life," sums up Dr. Vaishnav.
According to physicians, it is easier to cope with CFS if a few basic guidelines are kept in mind.
To begin with, keep a daily diary to identify your peak "energy hours". Plan your activities for these times.
Keep up with exercise, no matter how basic, to suit your strength level. Exercise helps refresh your body and mind.
Express your feelings such as sadness, anger and frustration freely.
Ask for support from family, friends and colleagues. Look for support groups or counseling in your community. Emotional support is crucial in coping with CFS.
If your memory and concentration are affected by chronic fatigue, keep lists and make notes of important things. Also, give yourself more time for activities that take concentration.