From Paharganj to
Mughal Marvels
My train chugged into the Paharganj Railway Station of Delhi one sultry summer afternoon. On un-boarding my air-conditioned bogey, I seemed to be in a busy bustling station like any other in India, except that the sizzling heat made it quite apparent that I had travelled miles from my hometown. My friend had booked a hotel for me in Paharganj. From the name Paharganj, I thought that it was a locality perched on soft, brown hills but soon discovered that it just had narrow lanes crowded with backpack tourists, cycle rickshaws, carts and cars; all on the plains. The cyber cafe I checked mail from seemed to have the slowest Internet speed on earth and I was shocked to see flies flocking the sweetmeats sold at the roadside stalls. But within a few days I was able to discover the myriad chaotic charms of the locality's bazaars, peddlers and tourists.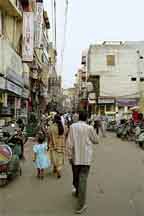 I was staying in a low-budget hotel of Paharganj but even that was too expensive for me as I was on a very long vacation. A relative of mine found paying guest accommodation for me at Chittaranjan Park (CR Park)- nicknamed Delhi's Little Kolkata. CR Park has grown around a Kali Mandir and its inhabitants are mainly Bengalees from East Bengal. Everyone in the neighborhood from an autowallah to an engineer could speak Bengali fluently. All its homes had the Bengali channels; its residents read the Ananda Bazar Patrika daily and tuned into Khas Khobor in the evenings. The fish market, which has now unfortunately being taken off the roads was the hub of the Bengali addas and sold the tastiest jumbo prawns of the city. I have fond memories of Durga Puja organized in CR Park, the sound of the dhakis and fair selling Bengali audio cassettes; making me feel so at home.

However the purpose of my visit was not to interact with Bengalees in Delhi but to explore the city. After all Delhi being India's capital is a very cosmopolitan city. Instead of taking a tourist bus I decided to travel by auto rickshaw to the tourist spots. Despite the police making a rule that the fare has to be fixed according to the meter, nine out of ten autowallahs will say that the meter is out of order and rates have to be fixed by bargaining. Taxis are far too expensive.

Riding through Delhi's main roads specially Janpath and Rajpath is an experience in itself. The roads are wide and majestic flanked by manicured lawns resembling Kolkata's Maidan. The Indian Gate towers amidst the green and jawans are often seen marching under it. It bears the names of the thousands of Indian army soldiers who died in the campaigns of World War I.

On the whole Delhi is a very green city with an extensive forest cover inhabited by monkeys, squirrels and birds. In fact I was surprised to see an auto arriving every evening at 5 o'clock sharp laden with bananas to feed the monkeys of the Okhla forest. I was great fun to watch at least 50 monkeys of all sizes and age groups enjoying a high potassium diet everyday. The stray cows of Delhi are quite a spectacle too. They are all over the city with their calves- strolling, ruminating and waiting pensively at the bus stop as if to catch a bus.



I'd love to go to Lodhi Gardens for jogging in the mornings. This well kept garden has the tombs of the Lodhi rulers and the beautiful Bara Gumbad Masjid.








Humayun's Tomb was a stone's throw away from Lodhi Gardens. I remember dozing off while its architecture was being taught in one of those monotonous history classes in school. But the first time I saw it in real life I was totally awed by its beauty. It is said to resemble the Taj Mahal but I actually found it more beautiful than the Taj. Built in the 16th century this exquisite piece of Mughal architecture is topped by a double dome and has impressive high-arched entrances.

Also worth visiting is Nizam-ud-din's Shrine of Muslim Sufi saint Nizam-ud-din Aulia who passed away in 1352. Safdarjung Tomb standing on a high terrace on an extensive garden beside the Safdarjung Airport is a fine piece of Mughal architecture built in the 18th century by the Nawab of Avadh for his father Safdarjung.

Every brick of the Purana Quila seems to whisper a tale of the past. It was after all supposed to be the Indraprastha, the original city of Delhi. Afghan ruler Sher Shah completed the fort during his reign in the 16th century.

The Qutab Minar is more than 800 years old. It is the highest stone tower in India decorated with intricate calligraphy, which can be better observed with binoculars.

The Red Fort, Shah Jahan's citadel of red sandstone sprawls over miles. Its main entrance the Lahori Gate is where India's Prime Ministers have delivered their speeches. The Chatta Chowk of the fort is a roofed passage lined with antique shops.

The Jama Masjid, also built by Shah Jahan is the largest mosque in India. Its courtyard can hold up to 25,000 people.

The Feroz Shah Kotla built by Feroz Shah Tughlaq in 1354 is now in ruins. In its fortress palace is a high sandstone pillar inscribed with Ashoka's edicts.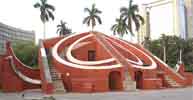 I had a lot of fun climbing all the way up the steep steps of the Jantar Mantar ' Maharaja Jai Singh's observatory of Jaipur built in 1725. It's famous for its huge sundial known as the Prince of Dials and other instruments to trace the course of heavenly bodies and predict eclipses.

Though Delhi is not really propagated as a spiritual centre of India- visiting the Lakhsmi Narayan Temple, lotus shaped Bahai Temple, Rakaganj Gurudwara, Church of the Sacred Heart and Ladakh Buddha Vihara added a new dimension to my trip.

The day before I left Delhi I went to Delhi Haat to pick up souvenirs for friends and family and also tasted flavors of Uttaranchal and Lakhswadeep from it's ethnic food stalls. I took a last glimpse of Delhi from the plane window. The wide pathways seemed to be garlanded with the brightest of lights. A beautiful bird's eye-view I'll always treasure.
23-Jan-2005
More by : Pallavi Bhattacharya
---