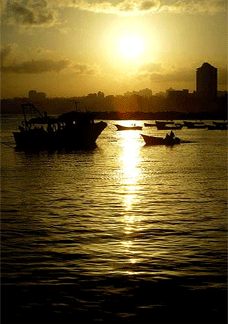 As I read about the discovery of Biblical Siloam Pool in East Jerusalem a few weeks ago, my thoughts invariably turned to Gaza Strip. There is another, glorious face to Gaza, away from the squalor of the refugee camps, the violence-ridden existence of the Palestinian Arabs, or the intrusive Israeli security personnel guarding the Jewish settlements. It is one that pulsates with history. Archaeological evidences affirming its antiquity are scattered everywhere � pots to graveyards, mosaics and city walls lie beneath sand dunes, orchards, and towns and villages. And now, all is being gradually swallowed by the depredations of its current political situation.
To my amazement, the high anonymous pile of sand projecting out over the Mediterranean, on which I stood savoring the bracing wind from the sea, turned out to be a portion of Alexander the Great�s port of Anthedon. This was where he had brought in his army to carry out the siege of Gaza city in 332 BC. According to a local conservator, much of the fortification continues to lie beneath the densely-populated Beach Refugee Camp; those discovered and uncovered are gradually biting the dust, after remaining intact for centuries.
A few Kilometres north of Anthedon, in Jabaliyyah, where a fierce gun-battle took place between the Israeli army and Palestinian Islamic radicals about two months ago, lies an array of spectacular patches of Byzantine mosaics. Intricate figures of humans, birds, animals, fruits, trees, flowers and geometrical shapes beckon you with magical stories of the yesteryears. Many church remains with intact mosaic floors lie buried in the Gaza Strip and many more have been removed by the Israelis during their occupation.
Though not considered as glamorous as West Bank and Jerusalem neighbors and often relegated to the sidelines on tourism maps, Gaza�s archaeological sites and historical buildings were fascinating in their antiquit�. Wadi Gaza, with its wetlands, for example is thought to be home to an ancient Canannite city in the early Bronze period dating back to 3200 BC and here at the Tal al-Sakan site stands the largest wall to be discovered in Palestine so far. Gaza was also an ancient trade route connecting Egypt to the Levant and crossroads between continents. Unfortunately, the fate of Gaza�s heritage has become inextricably connected to the Palestinian-Israeli conflict.
A joint Palestinian-French excavation of the Tal al-Sakan site was shut down by the Israeli authorities in 2003, citing �security reasons�, given its close proximity to Netzarim Jewish settlement. And several layers of ancient sites have been crushed under the rumblings of Israeli tanks and bulldozers. In addition, uncontrolled building to accommodate its penned-in and pent-up refugee population has seen Mamluk tombs and Ottoman courtyards disappear under makeshift camps and extensions.
Nowhere have antiquities taken on more significance and symbolism than in Israel and Palestine. Archaeology has not only been used to justify one�s claims, but also to falsify and deny others� claims and narratives. Palestinians have been denied the claim to preserve their cultural heritage, even if it happens to be in their areas. As maintained by a report, Roman pillars that were once part of archaeological site of Bait Hanun, and anthropoid coffins excavated prior to Oslo, have all been seized by the Israelis. With the recent election of Mahmoud Abbas as Palestinian president and consequent brightening of chances for peace between the two parties, this cradle of civilisation would probably see better days. Insha Allah!