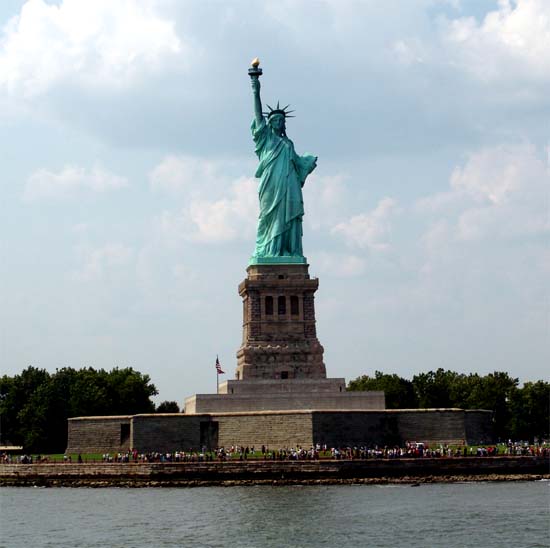 What is so great about America? Not a simple question to answer! America stands for Liberty, Democracy, and Equality as Abraham Lincoln propounded. More so, the great statue of Liberty, carried from France to the shores of America, reflected the great human spirit that endeavors to free man from shackles of slavery, and touches the heart of every American.
The statue has now been renovated and this event should have reminded every one of us to rededicate our energies to espouse the great ideals for which America stands.
Having been born and brought up in India, I read a famous poem during my childhood which said:
"Nana bhasha, nana kautha, nana pauridhan,
Vividher majhe dekho milan mahan." (In Bengali)
Translation:
"Among variety of languages, variety of tales,
and variety of attires, you can, in all this variety,
see a great unity."
I then felt proud of India, my country. However, after coming to America, my mind expanded, undergoing a great change. I found similar unity here on a global level. In other words, America could be termed as the crucible of world cultures.
It is apt to quote here Madam Blavatsky, the founder of the Theosophical Society, who said:
"As to the future evolution of humanity, it is the mankind of the New World ... whose mission and karma it is, to sow the seeds for a forthcoming, grander, and far more glorious race than any of those we know of at present ... Pure Anglo-Saxons hardly three hundred years ago, the Americans of the United States have already become a nation apart, and owing to a strong admixture of various nationalities and intermarriage, almost a race sui-generis, not only mentally, but also physically ... . The exultant pulse will beat high in the heart of the race now in the American Zone, but there will be no more Americans when the Sixth (of the seven Great Root Races) commences ... . For they will now become a new race, and many new nations ... . The cycles of matter will be succeeded by cycles of spirituality and fully developed mind."
These are prophetic words of a visionary, who lived a century ago. We have to ponder what really made American people so great. Here we turn to Vivekananda, who said:
"American Civilization is, in my opinion, a very great one. I find the American mind particularly susceptible to new ideas. Nothing is rejected because it is new. It is examined on it's own merits, and stands or falls by those alone. ... used to stand on the seashore at New York and look at the immigrants coming from different countries - crushed downtrodden, hopeless, unable to look a man in his face, with a little bundle of clothes as all their possession, and these all in rags. If they saw a policeman, they were afraid , and in six months hence, these very men were walking erect, well clothed, looking everybody in the face, and what made this wonderful difference?"
It is clearly seen that America is in the process of absorbing the best from all over the world, where all nationalities, with their faiths and cultures, are merging together to produce a higher consciousness in humanity.
In the process of this socio-cultural change, immigrants from all cultures have to play a very special role to play in integrating Eastern Values in Western thought. The spirit of the scientific inquiry shall focus both in the mind and the spirit, as well as on matter. Proven traditions shall find harmony with modern innovation. When this is done, to rephrase Kipling,
"East is East and West is West,
But the twain shall meet for World's best."
And then there will be a true liberated world.
A few words of caution may, however, be necessary for our youth. Although America is a land of opportunities, side by side there lurk some dangers too. Fifteen years ago, I was attending a Hindu heritage summer camp in Pocono Mountains, where American Swamis attracted to Indian values were conducting the camp. They used to tell the children,
"You have to determine the purpose of your life. In God's world nothing is done purposelessly. We see that the cream of India has come to America, and you are the children of that cream. In India we see that there is so much poverty. Yet we find that people are more contented, while in America, with all the affluence and comforts, there is so much discontent. What could it be due to? One of the reasons could be that India carries a rich culture which is over four thousand years old and has been preserved despite several onslaughts. Well God's purpose to bring you here could be that you assimilate the two great cultures effectively to turn out into an ideal citizen. If you do this, you will become leaders in the society here. But if you do not, and follow the rut, you will lose your identity and become a nonentity. It is for you to decide what you want to become."
I feel it is a great message not only for Indian Children, but for all others as the cream of all countries and cultures has come into this great land of opportunity.