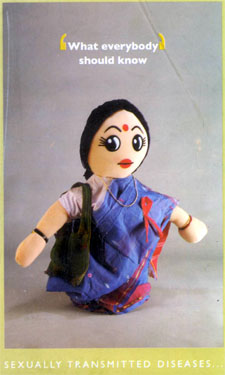 "Looks, education and character alone do not make for an ideal son-in-law. Don't decide before he's gone through an HIV test" says the advertisement, with a toll-free number - 1097 - prominently displayed. These words of caution do not come from a stern doctor or a high-flying celebrity. These are Bula-di's ('di' or 'didi' is an honorific in Bengali, used for an elder sister) words. This animated character is a cheery woman in an ordinary sari, carrying a jhola (sling-bag). Bula-di looks familiar - like a neighborhood mashi (literally, aunt) or didi.
It is little wonder then that the Bula-di campaign has been such a phenomenal success. The campaign was launched on December 1, 2004 - World AIDS Day - by the West Bengal State AIDS Prevention and Control Society (WBSPACS), the state arm of the National AIDS Control Organization. Since then, she has been a regular on billboards, TV spots and radio jingles, talking about HIV/AIDS and the dos and don'ts of safe sex.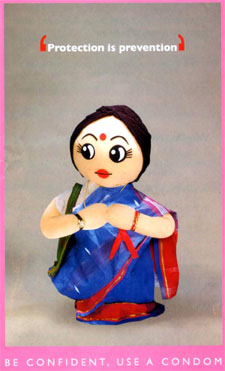 She is shown discussing matter-of-factly topics that are considered 'embarrassing' in many Indian homes. A young man is shown asking, "But Bula-di, won't using a condom mean I suspect my partner of infidelity?" Pat comes the reply, "Not at all. In fact, it's the sign of a healthy relationship."
And she is practical. In another hoarding, she is dressed in her trademark blue sari, advising a worried housewife who knows about her husband's extra-marital relationship. "Go for a blood test immediately." Timely warning, indeed. Suresh Kumar, Project Director, WBSPACS, agrees, "Married people comprise nearly 61 per cent of AIDS patients here."
There is also considerable migration from West Bengal. Many men migrate to areas like Mumbai or Gujarat to find work. As the UNDP advisory 'Migration and HIV in South Asia' says, "Hostile and lonely environments, separation from families, lack of access to information and services and social support systems can lead to social and sexual practices that make [migrants] more susceptible to HIV exposure." This vulnerability also translates to an increased vulnerability for monogamous, married women. Rampant gender inequalities and the inability to bargain for safer practices in sexual relationships further increase their vulnerability. And it is in this context that Bula-di aims to increase women's access to information.
Kumar explains why Bula-di finds easy acceptance in West Bengal: "In eastern India, and even the south, there is this familiar figure of a neighborhood aunt- or sister-figure. Almost every pada (locality) has someone like her." People feel comfortable with her, perhaps even confide in her. That's where the idea of bringing a 'nakrar putul' (rag doll) alive, as an acceptable figure who can talk comfortably about intimate issues, comes from.
However, Kumar is not sure this concept will work in other parts of India. In north India, for example, the macho male may reject a woman's counsel on sexual behavior, he feels.
Bula-di is the result of brainstorming sessions between WBSPACS and the advertising firm Ogilvy & Mather (O&M). The UN theme for World AIDS Day 2005 is 'Focus on Women', and so they were looking for a communication strategy that focused on this theme. The idea was to educate women, and through them to educate men, about HIV/AIDS issues.
An estimated 6,941 people in West Bengal are HIV+, as per WBSPACS 2004 figures. Until May 2003, the number of HIV+ persons was 5,090. In just over a year, the figure increased by 1,851 persons. Meanwhile, awareness levels - especially among women - remains abysmally low.
A pre-campaign study by O&M showed that awareness levels among the general population stood at about 50 per cent. Among women, the figure was 33 per cent.
A qualitative break up threw up the following, very worrying, results:
67 per cent of rural women, and 25 per cent of urban women, were not familiar with the term AIDS.

66 per cent of rural women were ignorant about how HIV infection spreads.

A number of respondents said, "AIDS happens only to women."

47 per cent of the people believed that AIDS happens only to people from the lower classes or to laborers.

Only 9 per cent believe that AIDS is a serious threat to the country.

Several respondents - from both rural and urban areas - even believe that diseases like leprosy, heart ailments, cancer, boils and sores are the result of condom use.
The most revealing statistic, though, is that 95 per cent of the women believe that they could never contract HIV infection. This was the project team's "biggest insight", which helped them define their target audience. To reach this segment, the campaign needed an acceptable figure - someone women would trust; someone who would help them realize that anyone could contract an HIV infection.
"We needed an ambassador who is intangible but of warm deportment, whose acceptance as a friend, aunt or sister would be guaranteed across a whole cross-section of people, playing educator in an amiable and non-controversial manner," explains Jayatsen Bhattacharya, Head of the O&M creative team. Thus was born Bula-di, drawing on Bengali culture. The communication targeted the urban and semi-urban population, covering Kolkata and 18 other districts.
"The Bula-di campaign is by far the most successful HIV/AIDS campaign in the state. A formal impact assessment study revealed that as many as 79 per cent of all respondents said they had not seen any HIV/AIDS-related campaign prior to this," says Kumar.
Bolstering the campaign is the toll-free helpline facility, with responses available in Bengali, Hindi and English. Although this number was available earlier as well, there were very few calls to it. A monthly analysis of phone calls received has shown a sharp rise (up to 193 per cent) after the campaign was launched.
The Bula-di campaign is multi-pronged. The Bula-di Pada Football Tournament - with teams representing different localities in Kolkata - is an example. The tournament, organized in collaboration with the Indian Football Association, seeks to combine Bengal's passion for the sport with the popularity of the Bula-di figure towards greater awareness on HIV/AIDS issues. Trained counsellors interact with spectators and participants before each match.
WBSPACS appointed Synovate - an independent research agency - to inquire into the effectiveness of the campaign. With a sample size of 300 respondents in Kolkata and 180 in the other districts, Synovate found that the overall recall for the campaign was 80 per cent (56 per cent unaided). About 83 per cent of the respondents claimed that the campaign had changed the way they view HIV/AIDS. Over 90 per cent were able to identify the modes of HIV transmission, despite the fact that 79 per cent had never seen any HIV/AIDS campaign prior to this one.
Fittingly, Bula-di has won WBSPACS a slew of awards at advertising competitions (the Srijon Samman Award, among them).
The next phase of the campaign - launched in mid-2005 - tries to generate awareness on the linkages between HIV/AIDS and sexually transmitted diseases (STDs), STD symptoms, particularly among women, and symptoms of HIV/AIDS infection.