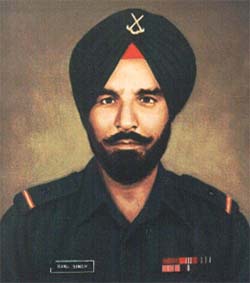 He did not feel the bitter cold. He did not feel any fear. Yet, he was facing death with every climb on the steep, icy walls of the highest peak, 'The Quaid', commanding the brooding heights of Siachen.
The year was 1987 and our dauntless soldier made progress inch by inch climbing at a 90 degree angle. He could not tell if it was day or night, as the heavy snowfall erased all sense of time. Every pore of his body strained and yearned to reach that single bunker at the top. Four of his men followed close behind on that treacherous trek. Slowly but surely they were moving up the 1500 km icy wall. After several hours, they were now very close to the top.
Our soldier suddenly stiffened. He felt the need to be cautious. There were earlier attempts by his fellow soldiers who had almost reached the top when they were detected. Enemy fire threw them on the hostile terrain and they fell headlong to their snowy graves. He steeled himself. His country depended on this do-or-die mission. He remembered Guru Gobind Singh's voice from the night before, 'I wanted to test you, Bana.' That voice charged him and his infectious enthusiasm spurred his followers. His hand slowly closed upon the grenade as he evaluated the situation.
Meanwhile, on the top of the 21,000 feet high peak, the Pakistanis were safely ensconced, bragging as usual about their martial prowess. They felt confident. They were imbued with the usual scathing contempt for Indian troops. Moreover the 'bhangee' troops had no chance as their weapons jammed due to the biting cold hovering at -35 degrees centigrade. When they were at the height of their jingoistic banter, suddenly a door opened, a grenade was dropped and the door closed. And before they could open their mouth, the grenade exploded and all was silent in the make shift bunker. Our hero moved fast. He personally led the assault on the remaining Pakistanis outside the bunker. On the slippery slopes, there was hand to hand fighting. Some were bayoneted, and some slipped and fell to their death. It was an arduous battle fought between men who gave it their all with a do-or-die ferociousness.
Finally, on June 26, 1987, the victorious Indians, Rifleman Chunni Lal, Laxman Das, Om Raj and Kashmir Chand led by our hero, Naib Subedar Bana Singh, captured the post. For his daredevil assault, Bana Singh received the Param Vir Chakra. The 'Quaid' now became 'Bana Post'. The Tricolor flew high on the freezing heights and history smiled once again on the sleeping nation.
Were it not for Bana Singh, the whole of Saltoro range would have become sitting ducks as the Pakistanis had the 'Quaid' post which was higher than all the peaks occupied by Indians in Saltoro. Eventually, the scheming Pakistanis would have slowly occupied all of Siachen.
One would think that a man such as Captain Bana Singh whose wondrous feats of endurance and valor erased the enemy's script for Siachen, would be in every Indian's consciousness. One would also think that a grateful nation would include him in the pantheon of valiant heroes who fought against all odds to procure for India a very vital post. But no, such natural reactions are beyond India's capacity. Today, he is barely even recognized in military circles. Reports indicate that the Government of India turned down his request for a petrol pump and he had to take up farming in his village to support his family. Moreover, the state of Jammu and Kashmir of which he is a resident gives him a paltry amount of 160 rupees per month as an allowance for having won the highest bravery award. Except for the state of Punjab, which was willing to provide him with a handsome remuneration which he could not accept due to his principled stand that he belonged to Jammu and Kashmir, there is nobody who cared to even find his whereabouts in a map.
The reason for such appalling indifference is not hard to find. Obsessed with Mammon and her minions, the whole country is busy following the only game in town, 'Get rich, then get richer, then richest and let the devil take the rest'. The upper classes are busy fawning at moneyed thugs, self-seeking politicians, decaying Bollywood and flaunting their wealth in ostentatious weddings and extravagant living. The much wooed middleclass is busy churning soul-less assembly line products of engineering schools feeding the pipeline to America's utopia. As for the impoverished masses, who do not exist in anybody's radar, along with their never ending heroic struggles to survive, are ground down to muffling the haunting sounds of hunger.
However, when a society ticks only to the jingle of coins, the values embodied by men like Bana Singh, are ground to dust by blind indifference, an indifference which would spawn historical amnesiacs, lawless gold-diggers, educated fools, fifth column writers, pseudo-secular traitors, clueless peaceniks, shallow intellectuals and spineless politicians sleeping with the enemy. The alternative is to value our everyday heroes, our fighters, our spirited people, our courageous reformers, our workers battling odds in the trenches of living, and lionize them, treasure them like gold, and let their noble thoughts, ideas and deeds ripple through our collective consciousness to launch a moral spine.
It is the least we can do to preserve our hard won freedom obtained by the sacrifices of several men and women who endured years of unspeakable tortures, deprivation and death.
For as History has proven through the eternal eons of time that a nation that cannot honor its unconquerable heroes will inherit a unthinking, inactive civilization eventually to 'disappear with the wind.'