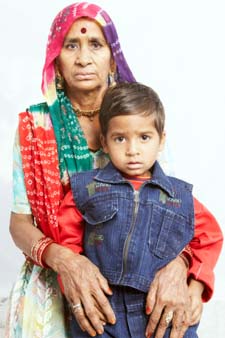 Having entered the last lap of the race, (even if a youthful mind often forgets the fact, an aging body rubs it in!) I have very serious doubts about benefits of the increased longevity, a common feature of our times.
Our ancestors were very hard working men and women. They walked many miles, carried loads, used all muscles and sinews to do their day-to-day life chores. In the course of their strain sweated and breathed well to ensure a good appetite, an easy digestion and a peaceful sleep. Never knew the names of diseases and deficiencies. Words like cholesterol, calories, blood pressure had no place in their vocabulary. No knowledge of diabetes, hypertension, cardiac problems, rheumatism, osteoporosis. Undiagnosed were cancers, tuberculosis and a host of other ailments. They ate well, slept well without unnecessary diet restrictions and health worries.
Modern kitchen gadgets were unknown. Without mechanized methods of washing, cleaning and travelling they burnt their calories sufficiently, efficiently. The new malady of obesity was unheard of in those days. Today obesity opens the doors to all other illnesses.
But our ancestors died earlier than our present day senior citizens due to some unsuspected, undetected diseases. We have advanced technologies for spotting, preventing and treating ailments. Specialists and speciality hospitals are abundant. Operations, hospitalizations, heavy expenses are common in our lives in stark contrast to that of our forefathers.
They had no time to sit and rue at leisure any physical or mental problems. Now we have all the time in the world to introspect, mostly with regret at finding little meaning in continuing with diet restrictions, medications and limited mobility. A partial dependence initially and full dependence later on others to pull on is inevitable and bitter. There is excruciating pain both real and virtual.
The contribution of elders to others is also minimal in the present day nuclear family system. Their experience and wisdom are often of no avail, irrelevant or unacceptable. They, hence, settle into pastimes, smooth routines suited best to their moods and capacities.
To many retired, old couples who live alone since their children are working elsewhere and they prefer to live at an easy pace with enough space for themselves meeting dear and near ones once in a year or so is the only solace, an oasis, in their desert-like lives. But to other elders sharing life with children when afflicted with infirmities of old age a sense of guilt at being a burden gets added to their actual physical pains.
A feeling of depression and worthlessness makes life unbearable for many old people. It is very difficult to lift their spirits from melancholy and to get them involved in some cheerful activities.
There is a worse situation in most cases. The old couple draw support from each other to make their lives tolerably easy and pleasant. But after one expires it is an unspeakably cruel, lonely fate for the remaining one. Of late, there is an increase of suicides of the lonely partner, especially the male! A bitter reality to reckon with.
My pet topic of euthanasia gains more relevance when the variety of treatments (very prohibitively expensive too!) enable a person to be alive but as an invalid, unconscious and attached to machines. Is life worth living in a vegetable state?
Medical profession is commercialized losing its dedicated service mind and ethos of honest practice. And there are ever so many confusing new treatments cropping up. Allopathy, siddha, Ayurvedic, naturopathy, aroma, magnet, color therapies, acupuncture, acupressure, pranic healing, reiki and so on. It is also very difficult to identify quacks and merciless practitioners. The side effects of some treatments turn out to be more dangerous and painful than the ailments themselves.
In short, old age is a nightmare to many. Only people with a brave heart and positive outlook manage to make their last years meaningful and satisfying. These facts raise the question whether living a few more years than our forefathers is a boon or a bane!