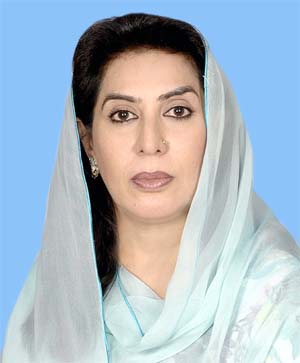 In her lavender-colored embroidered 'shalwar kameez' (Pakistani attire of long tunic and baggy trousers), with diamond-studded pearl earrings sneaking through her sheer scarf, Dr Fehmida Mirza, 51, looked uncannily like her leader Benazir Bhutto.

And like Bhutto, she was an epitome of composure, poise and eloquence as she took her oath of office as Speaker of Pakistan's National Assembly. "I am honored and humbled. This chair carries a big responsibility. I am feeling that responsibility today and will, God willing, come up to expectations," she said after taking oath last week.

Winning an overwhelming 249 in the 324-seat Lower House, to the welcoming pounding of desks by the legislators, Mirza, a joint-candidate of the Pakistan
People's Party (PPP), the Pakistan Muslim League (N) and the Awami National Party (ANP), made history when she became the first woman to be elected Speaker in the National Assembly. Many insist she is the first Muslim woman to be a Speaker.

Interestingly, she not only earned laurels from her own party that nominated her for the Speaker's seat, but has received unmitigated respect and admiration from the media. Many see in her a vindication of the blow that was dealt to women in politics after the assassination of Bhutto in December last year.

Endearingly termed Nancy Pelosi of Pakistan by Nusrat Javeed, a senior journalist, she is described by Javeed as one who has "has good political instinct" who "during her tenure as member of the opposition, not only actively participated in all debates, but was known to have done her homework well on whichever issue she took up."

With a woman as the Speaker of the house, Javeed said, while it may mean she may sometimes be accommodative of some positive discrimination in favor of women, there is little doubt that it was election that has paved the way for women parliamentarians all to be acceptable in their own right once and for all.

Shah Mahmood Qureshi, a PPP leader, told the media that the election of Mirza was a "big step towards the empowerment of women in Pakistan".

Mirza, a medical doctor by qualification, comes from a prominent political landed family of Sindh, the home province of slain Bhutto, who decided to put aside her degree and pursued her career in agriculture (politics).

"It's going to be a colorful assembly," predicted Asma Shirazi, a correspondent with a private channel.

And colorful it was with the female legislators alighting from gleaming cars, in their smart outfits, high heels, carrying designer bags and gold-trimmed branded sunglasses perched fashionably over their carefully coifed tresses, others with their heads covered.

These elite women from feudal backgrounds and with powerful connections present a marked contrast to the veiled women representatives of religious parties who had dominated the past parliament.

To Shirazi, the Speaker was always a "a soft-spoken, non-aggressive and humble person".

"I am quite confident that she would be able to lead the House well as its custodian, she's a seasoned politician, after all," said Dr Donya Aziz, member of the opposition party, Pakistan Muslim League-Q.

But then, compared to her predecessor Amir Hussain, said Shirazi, the going would be easy for the speaker because her own party is in majority and she also enjoys the confidence of some allied parties like the PML (N), the ANP and the Muttahida Qaumi Movement.

This will be Mirza's third tenure in the parliament after winning electoral contests in 1997 and 2002. But unlike many of her colleagues, she has always won on general seat rather than one of the twenty per cent of seats set aside for women lawmakers.

"She got this office purely on merit," said Hamid Mir, a prominent TV anchor. Mir adds, "She faced a lot of problems in the last eight years and raised her kids as a single parent because her husband was forced to go underground due to fake cases cooked up against him by the previous regime. She was approached many times by the latter to switch her loyalties but both she and her husband declined." These cases have since been withdrawn.

Her husband, Dr Zulfikar Ali Mirza, is a close confidant of Asif Ali Zardari, Bhutto's widower and co-chairperson of the PPP. In fact, he was accused of being Zardari's front man for carrying out shady deals.

"It's a good feeling as another woman politician breaks the glass ceiling," said Niilofur Farrukh, an art critic and historian. "I hear she is a courageous woman and hope she will show her mettle while managing the negative elements in her party."

While there are quite a few old faces, there are many new to the game. The challenge is whether they will be able to hold their own.

The first session took place with some 74 of the 342 seats occupied by women, of which 60 came on reserved seats, thanks to the 20 per cent quota kept for them - bringing their percentage to 21.6, slightly up from 21.1 per cent from the previous figure of 2002, but comparing rather favorably with the world average of 17.9 per cent and the regional score of 16.9 per cent (Inter-Parliamentary Union Report, December 2007). Prior to that, the women's presence in the National Assembly was a mere two per cent.

"The previous women legislators were not the outcome of broad-based elections. The present ones appear to be more liberally mentally conditioned," said Najma Sadeque, a political analyst. Yet, she was skeptical and said they wouldn't "necessarily call the shots" since most were still largely followers.

"The women in this assembly are hard-core political elements," said Javeed. "This time it's going to be different in the sense that it's not just token representation like in the previous parliament where the female members from the religious alliance - Muttahida Majlis Amal - hardly ever showed up and never participated," he underscored.

Sadeque, however, was not very optimistic. "None of the major parties are completely free of feudal or pseudo-religious or territorial-gang mindsets. The traditionalists still dominate and the 'modernists' among them, if you will, still have to maintain a balancing act with them until they acquire more visibility, power and popularity for delivering the goods."

But she was hopeful the new legislators, would do better "because they have caught the mood and demands of the people, who are not as ignorant as before".