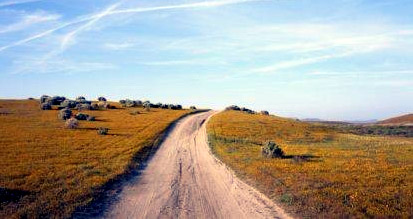 In a super frenzied and chaotic world, perspective is everything really. And this is where travel comes in, to help you escape the tedious bonds of convention, when you can find answers to some of life's greatest mysteries. When you can actually discover the raw, primitive nature within you, and finding that you are not always that harried person, rushing about all the time doing something. To travel is to just be.
"To see a World in a Grain of Sand
And A Heaven in a Wild Flower,
Hold Infinity in the palm of your hand
And Eternity in an Hour".
William Blake in his Auguries of Innocence couldn't have been more right.
Travelers are two – there is the armchair traveler and then there is the real traveler. The kind who feels that there is just something about packing the bags and getting away from it all. That unexplainable feeling that calls you away from the drudgery of daily life; to be liberated, to flee from a hackneyed existence; to be enveloped by new places and new faces; having a pair of itching, restless feet. That simple, but pure joy you get when you touch the soils of Umbria or Utopia even. Being smitten by all of that. Dreamy, whimsical, and solitary.

Travel, they say, is really not about the destination as much as it is about the journey itself. And it has never been truer than it is. There has been Marco Polo, Columbus, Hiuen Tsang; and there has been Thoreau, Chatwin, et al. To all of them the earth has unfailingly opened up, greeting them and saying "Love me, and I will love you back."

It's when you arrive that for a brief moment, you become aware of the soul of the place. And when you glimpse curious cultures and people, you ponder on the question of just what makes it so - maybe sometimes reflecting your belief and feelings, and sometimes not. That spirit which is found not only in the culmination but in the interludes too.

And especially, that thrill of discovering an unheard of place, or wishing you could have been in the well-worn shoes of Columbus. That ultimate gratification that comes to you when you find that the whole world has not yet been completely hijacked by an ever growing and totally insensitive humanity. That there still are a few places that may be only God has ever seen or touched. Vistas that stay the way they are and not give in to the touch of man, or to the crude progress that we are part of today. The desperate prayer you have that it would always remain so. A desperate wish for the unbroken endurance of the way life has always been lived in such places. Annoyance at careless visitors, sloppy picnickers, and above all, greedy governments.

That fantastic experience of taking off, hovering easily it seems, feeling that boundless sense of freedom; the feeling of almost savage rapture at the first sight of a place, when you believe for a moment that the ancient harmony between man and earth has been restored. To abandon ego, clout, class, and just experience like the common man, a citizen of the world.

There is a wonderful line in William Least Heat Moon's book "Blue Highways" – "When you're traveling, you are what you are right there and then. People don't have your past to hold against you. No yesterdays on the road." You don't have to think of tomorrow either.

That is travel. Not the past, not the future, but the here and now moment. Not the been there, seen that, get in the bus, get off the bus sort, but rather the real experiences, the fulfillment of those urges to escape confinement from your personal world in one little corner of the earth. And that ultimately, is what journeys are all about.