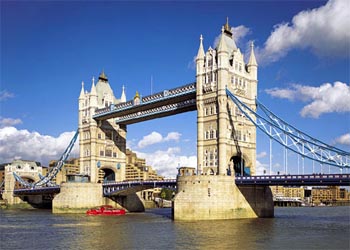 'This city is too too expensive!!'
This outburst is from Francoise Simard, a Canadian tourist who came in to London for a week's holiday directly after a four-day stay in Paris.
'Paris is the city in the world that has the most tourists every year, but I found it much cheaper than London.' Her tone is authoritative as if there is no doubt whatsoever in her mind.
Asked for specifics, she points to the hotel rates. 'What you pay in Euros in Paris, you have to pay in pounds in London.' And it's not only the boarding. 'They provide a continental breakfast for seven pounds and it is only a three star hotel in London. In Paris they are much more reasonable.'
Did she take up the issue with the management of the hotel? The hotel has an impressive fa'ade and lobby and is well located being just off Belgrave Road within walking distance from Victoria tube station. 'As a matter of fact, I did,' she said. 'I told them the breakfast was too expensive and I would eat out.' And their reaction? 'They just shrugged. 'It's only seven pounds!' they said.'
Karen Laljani, a visitor from Brussels agrees with Francoise.
'I went to see a movie in Leicester Square,' she says. 'I could not believe the price of the ticket. Nine pounds for a movie!! I have to compare it with Brussels where I go to see movies at the Heysel the biggest movie complex in Europe. I pay only five and a half euros over there.'
Nasser Zakr came into London from Milan. He had contracted an eye infection and went across to a clinic in Victoria Station. He was shocked when he was asked to pay 69 pounds for an examination that took barely three minutes.
'The doctor felt there was no need to see a specialist, but I still had the problem after four days and when I went to see him the next time there was no discount. Another 69 pounds. I ended up paying 138 pounds for a routine examination and I'm not sure if there have actually been any benefits, come to think of it.'
But Medicare is expensive all over Europe. Not so much, claims Nasser, a seasoned traveler whose work takes him to different European cities. He explains: 'I flew in from Paris actually where I had some work and the examination at the De Gaulle airport cost me only thirty-two Euros.'
According to a survey done by Merer Human Resources Consulting in December 2005 Tokyo and London are the most expensive cities in the world. The survey measures the comparative cost of 200 items in various cities chosen for the survey.
Whatever the truth of these claims be that London is currently the most expensive city in Europe, the crowds at peak tourist areas would seem to suggest that it doesn't deter any one from coming here.