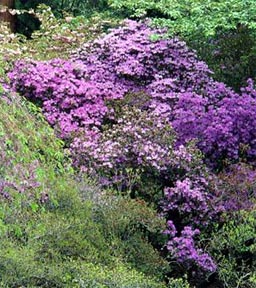 I have trekked through blossoming peas fields where the azure sky extends like the universal mind. I have learnt to be a little more tolerant towards life for I have seen how men dwell alone on forest side collecting firewood and spinach. I have seen rhododendrons bloom and heard Shreekhola sing a song of love.

Batasi is only 15 kms. from Manebhanjang and stands at an altitude of 2098 m. Falling within Tonglu range it is supposed to be the starting point of River Rangeet. It was late evening when we reached Batasi. Dark pine forest extended on all sides. The forest bungalow without electricity stood quiet amidst the dark. Darjeeling shone merrily with a thousand lights at a distance. The cook Santosh Thapa and his family were the lonely dwellers in their tidy cottage beside the bungalow. Trekkers and travelers came and went, their life followed a single pattern---collecting faggots by day, cooking for visitors, staying indoors as darkness dawned for fear of the cheetah. Sometimes they confronted �bhalu� the black bear on their way to collecting faggots. For the pine woodland shelters a variety of wild animals, namely, the cheetah, bear and the red panda. We took their advice and shut ourselves in against the wind and the wild. We spent the night in a cheerful carousing beside the fireplace.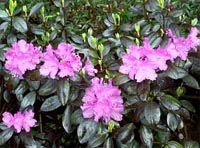 The morning sun made a vain attempt to remove the gloomy shadow cast by the congregation of palm trees. In front of us in green recurrent slopes shone out Langurdham, Virgaon, Thumke village, Seraphbasti, Railing [Sikkim border]. Towards the left sloped Kaijaljhapi, Jorthang, and Bijonbari. Towards a little right was Darjeeling.

Our cook pointed at his native place Bijonbari. We could see its tinned rooftops shining in the sun. Little sun entered the pine forest It was dark and damp inside. Although every moment we expected something we did not perceive the presence of any animals only a pahari bulbul whistled our exit.

Our next destination was Rimbick. The road meandered through Dhotre, Palmajua, and Linsebong Ramam Hydal project to nostalgic Rimbick, the endpoint of our Sandakphu-Phalut trek. Here we had parted with many trekker friends we had met on the way to our Sandakphu-Phalut trek. We had parted with our porter Bumdaju who had been a true friend and guide in all difficulties. Rimbick bazaar was the same as we had seen it two years back. Our vehicle was stranded due to landslide and leaving it in care of the forest department we prepared to trudge up the 3 km steep climb to the forest bungalow. Taught by our previous trekking experience, we did some marketing, vegetables, chicken, rice etc. and stuffed ourselves well with steaming momos. A porter was easily available for Rs. 100 who carried most of our luggage. The way up was a beautiful climb; pretty women washed clothes chatting rapidly in Nepali. Children yelled from thatched huts, their mother trying to soothe them sang rhymes. Later an empty road extended with an old monastery on top flapping the peace flags and chanting "OM MANIPADME HUM' with the wind. Exquisite rhododendron trees held out their bloom in pride. A group of trekkers from U.K. hurried down. They were returning from Sandakphu. The weather was bad up there it was heavily snowing. They advised us not to go up to Sandakphu.

Our shopping proved fruitless, as the bungalow was prepared with everything. We ordered plain khichri and omelets. The rain poured in time and turned our simple menu to a delicious combination. The evening was a fight against the cold, chicken with raisaag beside the fire and a hot debate on the rural women of India. The sky next morning was unexpectedly clear; it had the blue seen only in high altitudes. We promptly decided to trek down to Shreekhola. The trek route was bedecked with blooming rhododendrons.
The slender buds with closed eyes looking skywards almost prayed aloud for a bloom. Some flowers bidding adieu fell on our path. The Roufus woodpecker pecked in a monotonous beat. We could hear Shreekhola from quite a distance, see her through the gaps in the verdure, but she could be best appreciated from the hanging bridge. She was like a caged lion waiting for the monsoons. The restaurant in Shreekhola welcomed us with �thomba�; a country liquor made out of kudo seeds served in a wooden tumbler known as �dhungro�. This is their traditional welcome drink. Each �dhungro� was provided with a pipsin that acted as a straw. A tree with aubergine like tomatoes stood in front. The Nepalese called it rukh tomato and prepared excellent pickle out of them. On a rock opposite to the restaurant botany students from Darjeeling carried out some experiment. After lunch we trekked back the same beautiful path. Some of the rhododendron buds we had seen had half bloomed by now. An incessant drone of cricket accompanied us for some time. Sweet breeze blew. We crossed the white-blossomed peas fields, green potato fields, small thatched huts, refilling water in one of the huts. Slowly the sky darkened and the wind howled. Although we hurried the rain caught us. The trees provided us the required shelter and we continued without much hazard. It soon began slitting. The sleet fell on our caps and scattered away. The path grew slippery. We fell back as the others hurried along. It was a unique experience. The forest was playing with us in a maze of rhododendrons and we were trying our way out of these mesmerising bunches. The drizzle and the snowflakes provide the necessary humidity and temperature for the rhododendrons. The name of the flowers is formed form two Greek words--'rhodon' meaning rose and 'dendron' meaning tree. They are otherwise known as alpine roses. Of the 1200 variety we could find the R.arborium, R.barbatum and R.falconeri. R.arborium has dark green bullet leaves and blood red flowers. R.barbatum grows into graceful small trees. Their twigs and leaf stalks are covered with stiff, bristly hairs. They have compact red flowers. R.falconeri is a spreading tree with several trunks that can reach up to 16 m. It has reddish-brown bark and creamy yellow bell-shaped flowers .By the time we reached the bungalow we were shivering cold and thoroughly wet,20 minutes late and with a memory of a lifetime.

The sky hadn�t cleared next morning although it was not raining. We climbed down a foggy path through pea- fields where the plants bent with fruits and white flowers. There were stretches of radish fields with tiny violet flowers. Women cried out from the huts for selling spinach. We rushed to our car for it had begun to drizzle. Carrying yak �butter as a souvenir we started back for Siliguri. My rucksack still smells of the trek routes, of dry leaves and rhododendrons.



About the Author
Zinia Mitra is a lecturer in English in a college in Jalpaiguri, West Bengal and a research scholar under North Bengal University.