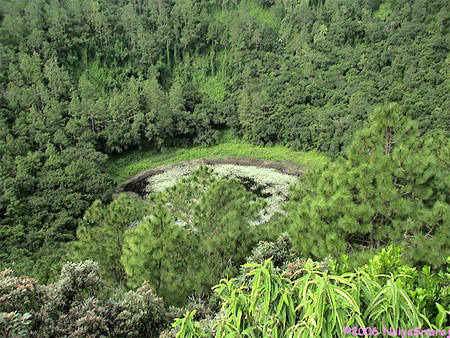 Mauritius, we had routinely assumed, would be a late night country; and being a small one besides, easily crossable from end to end. The bus of course, would be a charming way to travel around. So there we were, my husband and I, in Port Louis' Le Caudon Waterfront, happily watching the sun set over the harbor. It was 5.30 pm, and we had anticipated staying there well into the night. So caught up in our enjoyment, neither of us noticed the shutting down of the place, and before we knew it, the crowds had disappeared and the mall closed. Hurrying to the bus stop only to lose our way, a ten minute walk from the harbor took us a good half hour. Once there, we discovered to our dismay that there was just one bus left, and that too going to a different town.
Communication is always a problem when traveling we discovered. The conductor did not know English, we did not know French, and by gesticulating he told us to take a taxi. Taxis in Mauritius can be an expensive treat, and we really didn't want to treat ourselves just then. He must have noticed our hesitation and pointed us to the bus, promising to drop us at a taxi stand before they took the diversion to Triolet. We gratefully jumped on, noticing throughout the drive that everyone had locked up, ready to go to bed. It was barely 6.30 in the evening.

'Lesson 1', my spouse said to me, 'When in Rome do as the Romans do'. (And when in Mauritius pack up by 5.30 or be lost, at least when not in the few places offering late night entertainment).

Before reaching Triolet, the conductor kept his promise and stopped at a taxi stand. He argued for a minute; then apologetically told us that no taxis were available. 'Get down Triolet' he said. 'Just 5 minutes, only 5 minutes walk to Mont Choisy' ' that's where we were staying. The roads were absolutely devoid of even a street light as we began our walk. The promised 5 minutes turned to 10, and the 10 to 20. After half an hour we were still walking down dark and ghostly roads, shivering in the cold winter evening, imagining the good use we could have put our heavy-duty torch and coats to, now lying unused in the room. We expected to reach any moment, but the walk just kept getting longer.

Several wrong turns and several curses later, we were there. The sight of our villa was just heavenly. We had been the only ones on the road for miles together, thinking we would never reach - the assured five minute walk had actually taken us an hour.
Lesson two is to never repeat mistakes.
So, we decided, no more buses, we'd hire a scooter. This time we didn't forget the torchlight and coats. Looking dumb and dumber than Jim Carrey and his partner in their movie, complete with inverted soup bowl - helmets and map in hand, we started the ride, racing it up to Port Louis, driving through scenic beach roads, and sugarcane enveloped lanes. I map-read from the back, constantly hampered by the helmet slipping to one or the other side, and clinging on for dear life. Were we glad we were wrapped up? You bet! It was a pleasant day but freezing on the move.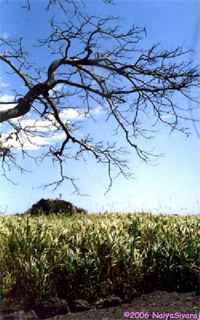 From there, after a sandwich lunch, it was off to Curepipe. We had been hearing lots about this place from the time we had landed. The taxi driver who picked us up at the airport earlier had offered to take us to the volcano when we passed the town. Volcano? I hadn't remembered reading anything about a volcano in the flyers I had. 'Oh yes', insisted everyone from our villa's housekeeper to the waiter who served our dinner everyday. 'It's a volcano' they said. I got directions from a cop who looked incredulously between me and the tiny scooter. 'You're driving to Curepipe on that? It's 30 kms, are you' He droned off, stopping short of calling us crazy, I'm sure. 'Well, yes!' I replied. One of the best things about this island are the roads ' four lane, and oh so smooth. We didn't think we'd have a problem. We drove off and got there pretty fast.
Once in Curepipe, we stopped at the market for directions. Nobody could give it to me. 'Volcano, what's a volcano?' was the invariable question I encountered. Young men at the fruit stalls blushed and looked away and refused to answer me like I was asking them for a date! The map was of no help. So we pressed it up the hill and drove about looking for a signboard or anything to help us get there. We drove around some more before finding we had been going in circles. Taking a break for a drink, we decided that in ten minutes if we didn't find the supposed volcano, we were turning around and going straight back to Port Louis.

We finally came across two old men napping in the afternoon sun who told us there's a 'big hole' called Trou aux Cerfs up here. We hear the 'Volcano? What's that?' question again. A tiny, unnoticeable signboard pointed the way to the lane; it's no wonder we missed it. Everybody had been so convincing that I rather suddenly and foolishly half expected some hot ash or lava to pour down on me. But there was total silence at the top. I could only hear the wind whipping the trees. Peeping over the barricades, I found only an old crater overgrown with moss and filled with stagnant ponds. There's a signboard which tells me it's a volcano alright, but one that exploded 800,000 years ago and has been dormant ever since! So much for the volcano. To think I had been excited to see some lava! Feeling pretty dumb, I sighed.
Lesson three - sometimes it's better not to believe your taxi driver or hotel manager, however animated about their country they may be!
It was beautiful all the same. We had an uninterrupted view of volcanic mountains stretching into the distance, ringed by the distant ocean.
By the time we got back to the highway, it was dark. We rode back to Mont Choisy, reading the map by torch light. I either didn't seem to be very good at that or the map didn't help much, because we were lost once more among the sugarcane. Stopping several times to pore over the map, and with absolutely no streetlights, it was eerie having all that whispering cane wave over our heads.

We finally did manage to get back, rattling all the way to the villa with frozen backsides and stiff necks. The hot shower and dreamless sleep had to be the best I ever had.

A scooter is not always the best choice to explore we learnt. Especially in a land that shuts down at 5.30, and especially when there in winter!