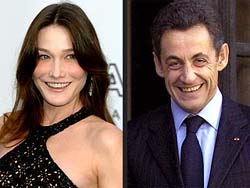 Nine months after he took office, French President Nicolas Sarkozy's popularity has slumped - and part of the reason is the nation's new First Lady. The French intelligentsia is worried that Sarkozy's high profile courtship and marriage to the glamorous supermodel-turned-singer Carla Bruni has distracted him from the affairs of state.

He faces his first test very soon. A verdict on Sarkozy's policies - or the lack of them - and implicit comment on whether his choice of wife has damaged his and his Union for a Popular Movement (UMP) party's reputation will be delivered when the French vote on March 9 and 16 in the municipal elections.

"It's a joke," said Catherine, 37, a Paris-based journalist. "Policies? What policies?" Images of Sarkozy entwined with his amour on holiday in Egypt, for instance, were received particularly badly in view of inflation and the struggles of ordinary people to make ends meet.

This "profoundly conservative" nation, to quote former president Jacques Chirac, where feminism is still muted, also takes issue with the idea of a First Lady who doesn't fade into the background.

Centrist politician Fran'ois Bayrou in a televised debate referred to Sarkozy's "display of luxury" as evidence of how he has jarred on the national mood.

The first couple has also upset international sensibilities. It was decided Bruni would not, after all, accompany Sarkozy on a visit to India in January because of protocol difficulties since the couple was not then married.

Meanwhile, surveys carried out shortly after Sarkozy married Bruni on February 2, found his approval had fallen to its lowest since he was elected in May 2007. Pollster IPSOS said that his approval ratings had fallen to 39 per cent compared with 64 per cent in September 2007.

Bruni has acknowledged she appeared to be a distraction, but insisted that in reality she is not. "I don't think the happiness of a man impairs his efficiency," she said in her recent interview with magazine 'L'Express', the first since she became the First Lady. "I think it's the display of happiness as a president that harms his image... People think rightly that a president's work should be carried out 24 hours out of 24 hours. I can tell you he is like that. However, he does need a share of normality, as we all do, even if it's a very tiny share."

Historically, France's first ladies have been unobtrusive and the private life of the president has remained private. The press turned a blind eye to the existence of former president Fran'ois Mitterrand's illegitimate daughter and never commented on the extra-marital affairs of others in high office even if virtually everyone was aware of them.

The objection now is that Sarkozy has put his feelings centre stage. His version of events is that he did not want to lie, so after divorcing his previous wife, Cecilia, in October last year, he made no secret of his relationship with Bruni, whom he met in November and married three months later.

"There's a difference between not lying and flaunting it," said Catherine. The style of the president and his First Lady to a degree depends on the individuals. "First Lady doesn't mean anything. It's whatever you want it to mean. It depends on the personality," said Danielle Mitterrand, wife of Fran'ois Mitterrand.

But there are parameters. News and celebrity magazine, 'Paris Match', commissioned a survey of 954 people aged more than 18 on what they thought of Bruni and how she should broach her new life. Fifty-one percent of those questioned on February 7 and 8 thought Bruni elegant and 39 per cent considered her modern. They nevertheless took an old-fashioned view that her task was to complement the president, rather than pursue her own career. Asked about her role, 54 per cent wanted Bruni to take part in humanitarian/charity work, while 44 per cent wanted her to attend traditional-style official receptions.

Bruni is working on her third record, scheduled for release in August. After that, she said she would continue to write music, but did not expect to make any more recordings until after her husband left office. Royalties from the new record will be given to a good cause and, perhaps mindful of the criticisms of tactless displays of luxury, she has resorted to soft-peddling her immense privileges. "I'm 40 years old. I'm normal, serious, aware, straightforward, even if I'm privileged," said the Italian-born, French-educated daughter of a concert pianist and step-daughter of an industrialist and classical composer.

Moving on from numerous high-profile affairs, including being named as the "other woman" in the break-up of rock star Mick Jagger and supermodel Jerry Hall, Bruni said she hopes to be married for life to Sarkozy and, as First Lady, says she will take the job very seriously.

Known for her left-wing politics until she fell in love with a right-wing president, Bruni maintains she has not forgotten how to think and sees challenging his views as part of her task. "You can talk with Nicolas, who likes discussion and contradiction," she said.

Some in France cannot hide their incredulity. "Ok, so a young girl of 16 might talk in this idealized way of her boyfriend, but a 40-year-old woman who has had a lot of experience in love... it's enough to make you sick," exclaimed one critic on 'Rue89.com', a French website for political and cultural debate.

More measured commentators are also unconvinced about the extent of the new First Lady's power. "When Sarkozy's wife, Cecilia, demanded a divorce and walked out last year, it was a sea change: from now on, a premiere dame could be modern, no longer a submissive wife," wrote Angelique Chrisafis, France correspondent with Britain's 'Guardian' newspaper. But then she swiftly added, "...in reality, the job is still steeped in tradition and public opinion can easily turn."