Mental and Physical Preparation:
After our Kailas Yatra if were to use two adjectives to describe the trip it would be ' unique and tough. For the average office going /business class and the housewives, this would probably be the toughest adventure tour you would have undertaken. For the NRIs and well heeled passengers, in addition to being the toughest probably this would be the most uncomfortable journey you would have undertaken. But if you manage to successfully experience the main 3 events of Yatra:
parikrama,
good darshan of Kailas
a reasonably good weather in Mansarovar and a dip in the holy waters
The mental satisfaction, the feeling of proximity to the almighty above and the sense of achievement that you would get would probably be much more than anything you would have experienced till then and would experience in future. Yes- the Yatra is unique and a once in a life time experience, but at the same time it is tough.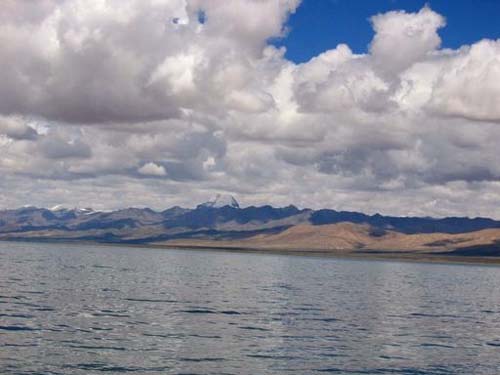 However these 3 main events are dependent on so many factors which are totally beyond your control that you should not be overly disappointed if you do not get to experience them - like they say ' if you are destined to have these 3 experiences it will happen , if not it just will not. So pray to god to give you a good Kailas Darshan, bless you with good weather in Mansarovar and give you enough will power and stamina to do parikrama. The second day of Parikrama is the toughest and more than anything else you will need sheer will power and faith in god to pull you through 'particularly if you are walking. Physical fitness does help a lot, but it is the mental preparation and will power that is really important on the second day. Statistically they tell that only about 10-20% of a group completes parikrama on an average ' we do not know how far this is true and how far this has to do with the age factor. Anyway in our group of 122 passengers, only 49 attempted parikrama, and of the 49 only 22 completed (the rest returned after the first day) and out of 22 only 7 walked the whole way through and out of the 7 who walked only 2 were 40+.

Even physically fit persons can get mountain sickness and persons who got mountain sickness at a lower level can get well enough to do parikrama by walking. In our group there was a lady who got so sick at Nyalam (13,000ft) that she became unconscious and had to be put on drips, but then she recovered and went on do parikrama by walking 'just by her sheer will power and gods' grace. Whereas a lot of people who did the first day parikrama and who were physically fit and perfectly all right till then got mountain sick and returned back. So to reiterate- prepare yourself mentally, have faith in god and accept what is in your destiny.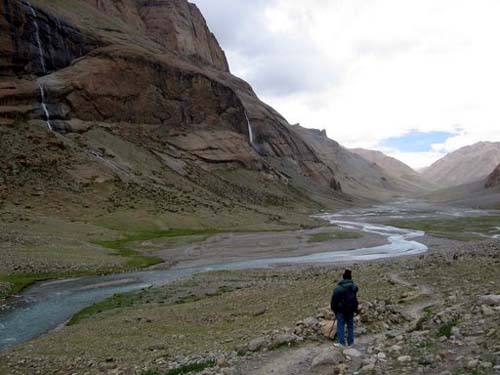 Having said that mental preparation is important, let us make clear that physical preparation is also equally important. It will help you a lot if you exercise regularly ' exercises such as walking, jogging, swimming are more preferable and yoga /breathing exercises such as pranayama will help you a lot. People with cardio vascular problems also come for yatra and it is a lot more tougher on them, but as long as you are careful and do not take a risk by pushing yourself beyond your body limits it is safe to do the pilgrimage. But never take a risk and ascend if you have mountain sickness- you are not only putting yourself at risk but you are compromising the safety of the whole group.

However much money you spend and whatever group you end up in, your attitude will go a long way in making your yatra enjoyable. Irrespective of the operator and the amount charged the accommodation available is very basic, toilets are really dirty, food and water not very hygienic the terrain is hostile and climate can be nasty. To top all that you might be the unlucky one to have a car breakdown or get mountain sickness. If you want to enjoy against all these odds, you should have a positive, optimistic attitude to take all your experiences with a spirit of adventure. Be compromising and understanding ' True you have paid a lot of money for the trip and you want to get your moneys' worth , but remember cribbing and complaining all the time and driving the sherpas around the bend with unrealistic expectations of service, you are going to be miserable. Also be accommodating 'not everyone in the group is going to be to your liking and it would be better to avoid unnecessary skirmishes. Put up with whatever you can, adjust as much as possible with a team spirit and avoid confrontations as much as possible- all this will make your yatra more enjoyable.

Having said all this about mental and physical preparation, there are lot of things you can do while planning your trip which can contribute substantially to making your yatra comfortable. We have given the main factors you should consider in the planning in the next section ' Planning your trip followed by the Travelogue and finally a section on our trip in which almost everything went wrong.
Planning your trip

A. Choosing your route

There are principally 4 routes and multiple options combining these 4 routes.

Option 1- The Indian Route entering Tibet via Darchula takes 30 days and involves lot more trekking 'however you will have more time to acclimatize and the route is apparently more scenic. If you have the time and opportunity it is recommended to take this route. The only problem is that you need to be lucky to be one of the yatris picked up by a computer-generated, gender-balanced, random selection process for 960 slots across 16 batches conducted by Ministry of External Affairs. Follow the Kailash Mansarovar yatra link on Ministry website www.meaindia.nic.infor further information.

Option 2- The second route is via Nepal and takes 16 days via Zhangmu. This is the most commonly used route and the one which we took 'all the details that follow in this posting pertain to this route.

Option 3- The third route is costlier one and takes 26 days if you are trekking and 17 days if you drive from Lhasa to Shigatse- but there is added advantage of covering Lhasa and going in from one route and exiting via another route. You arrive in Nepal, fly to Lhasa, reach Saga via Gyantse, Shigatse, and Lhatse and then on follow the normal route (second option). The trip back to Kathmandu is via Zhangmu. You could trim down the itinerary by cutting out the days spend in Lhasa. A variation to this route which takes 24 days is that you can go in via Simikot (Option 4) and exit via Lhasa and fly back to Kathmandu.

Option 4- Fly to Nepalgunj and then fly to Simikot , trekking via Dharapari, Kermi Yalbang , Tumkot , Thado Dhunga Nara Pass (4500m) reach Hilsa/Taklakot and from theredrive to Purang and then onwards to Chiu monastery Manasarovar Lake. Thereafter you have a choice of following Option 2 or 3. The number of days would vary between 20-24 days. Obviously due to the flight costs and longer period, the costs would be even steeper.

Option 5- You could do the yatra in 11days if you are ready to splurge on helicopter. You would be flown to Nepalgunj and then to Simikot. From Simikot instead of trekking like in Option 4 you would be transferred to Hilsa 'Taklakot by helicopter, and then driven to Mansarovar where after you will follow the normal route for Parikrama via Darchen. The return route is same using helicopter/flights if you want to complete the yatra in 11days or alternately you could choose any of the above options if you want to save on costs and if you have time

You could also get to Mt Kailash from Pakistan side via Kajerba pass but this route is not an option open to Indian pilgrims.

In order to get an idea of these routes refer to the map available on Samrat travel website www.samrattravel.com or Ecotrek website (under Tibet section)www.ecotrek.com.np, map available in Tibet section on www.trekking-in-nepal.com.

As we told earlier, the most popular option is 2.If you are just a husband-wife couple trying to join a bigger group, you need to be lucky to catch other groups with openings suiting your dates.
B. Choosing your tour operator

This is the most important decision you need to make since the quality of your trip is dependent on the operator' so here are some tips from our experience (not strictly in any order of relevance or importance)

1. The size of the group will primarily determine the quality of service you are going to get. The optimum size would be 24 and definitely the maximum the group size should not be more than 40. Some tour operators will not take more than a fixed number- these are the ones you should use. Some operators do not operate on this principle and add on as many passengers available till the last moment- avoid them at all costs even if they are marginally cheaper.

Now tips from our experience on this factor. Travelorg, Bombay and Shresta Holidays (operated by Mr.Pradhan 'there is one operated by his brother Mr. Ashok who is a much more disciplined operator according to his customers- more about that later) are tour operators belonging to the category of operators who keeps adding passengers till the last moment. We had 122 passengers in the group and just because of the large size our experience was not at all good (more about that later). So the first issue you need to clear with the tour operator in writing is a guarantee that the total size of the group will not exceed say 40 or so. If the operator is not ready to guarantee that, take your business elsewhere.

2. It is better to use a operator who does the trip directly rather than an operator who just collects people, takes his margin and delivers his passengers to another operator. Let us explain.

Our tour operator Travelorg was just a sort of middle man who collects people from Bombay, arranges tickets for the Bombay-Delhi-Kathmandu sector and delivers his customers to Shresta Holidays who handles all the Kathmandu side of operations. If the communication and coordination between the two is not of a very high standard, the customer can have all sorts of problems (we will give the details of the problems we had later).

The bottom line is to use an operator who handles the Kathmandu side of operations himself rather than using a sub agent. Some examples are Oriental Journeys, Samrat Holidays, Ecotrek (we did hear good opinions about Oriental and Ecotrek ) etc.

3. Check the ratio of sherpas to the number of passengers and who is accompanying from the operator: I am not sure whether any of the operators would give you the number of sherpas they are planning to take ' usually this is done on a trip contract basis. But ask nonetheless 'we had 18 sherpas for our group of 122 (1 for every 15) which was too little. From our experience you should be having 1 sherpa for every 6 persons 'roughly 7 for a group of 40. Maybe you can check this aspect on arrival in Kathmandu during the briefing session and then get it sorted out with your operator before starting the yatra.

When you are on the yatra, the capability of the tour leader will have a substantial effect on the quality of your experience. Some operators would just transfer you across the border and dump you at the mercy of Chinese guides and entrust the tour leader role to a Senior Sherpa. If the Sherpa has delegated authority for expenditure and if he is strong willed enough to handle the Chinese guides this is acceptable 'but usually it is not and he has to refer back to the operator tour leader back in Kathmandu for any decision which involves money. Such a situation can seriously deteriorate the quality of your tour (which is what happened to us -more about that later). Therefore it would definitely be better if a Senior representative of your tour operator accompanies the group till at least Darchen/Manasarovar- make sure this is done and you will have a better time. We know for sure that this factor does make a lot of difference- For e.g. - we met a group in Mansarovar accompanied by Mr. Ashok of Shresta Holidays and they had no complaints because his presence assured that everything was smooth. Whereas our group did not have anyone senior from Shresta and this created a lot of problems during yatra.

4. Check the region of the group and operator: This would be not an issue if your group is large. But if you are a small group or a single family joining an operator in Kathmandu, checking the region from which other members of your group comes from will be worthwhile (particularly if you are fussy about food). For example, Travelorg is a Bombay based company 'so you will find that most of the group will be Gujratis, Maharashtrians etc. If you prefer South Indian food, you would be better off using south-active operators such as Samrat. We don't mean to say that North Indian or Bombay groups should avoid Samrat. What we are trying to highlight is the fact that there are specific markets in which each operator is more active and it would be a good idea to dig out these regional preferences while researching and choosing. Also there are operators with agents active in States- so if you are an NRI with deeper pockets, probably you would be better off with such groups.

5. Check the hotels the Operator is using: In Kathmandu most operators give full board basis accommodation in 3 star or better facilities. We stayed at Hotel Himalaya which was a perfectly OK 3 star facility. Confirm with your operator that the accommodation is on full board basis and check the website of the hotel he is offering you in Kathmandu.

In most cases you will be having 2 nights accommodation on your inward journey and 1night on your outward journey. If you are intending to stay back in Kathmandu on your own for some sightseeing negotiate with the operator to book you in the same hotel on his corporate rate. This would make a substantial difference ' For e.g. we paid only 3000 Indian Rs per night for full board basis accommodation in Hotel Himalaya while we would have had to pay about 5000Rs for accommodation alone if we had booked direct.

Also if you are taking the tour ex-your home town basis (for e.g. ex Bombay) the tour operator is responsible for your accommodation in Kathmandu if you are delayed due to reasons such as flight delays or flight booking issues etc. Although most operators would morally and legally accept this, it would not hurt you to check.

Although the rating of the hotel provided in Kathmandu would have an effect on the total cost of package, this is not what you should be concentrating on. Instead you should try and find out the accommodation where you will be put up during your yatra.

The quality of the hotels where you would be put up would largely depend on how much per night rate your operator has fixed with the Chinese sub contractor.

While there is nothing much to choose between hotels in Nyalam (your first stop) and almost all accommodation would be 4 bedded or more with common toilet/bathrooms, you would get a relatively cleaner facility if it is newer.

In the second stop at Saga there are good hotels with attached bathrooms- Saga International is one such. It will definitely be worthwhile to insist that you be put up there both during the inward and outward journeys.

At the 3rd stop 'Paryang- the quality of accommodation gets worse. However there is definitely one better place with manageable toilets at the end of the town near to the post office. It does not have a name but try to get you put up there. (We found Oriental Journeys group put up in this better place while we were in Paryang)

In Manasarovar you will be put up in tents. But there are better, larger tents with cots which will make your stay comfortable particularly if the weather is bad. If you have to get these tents after your arrival in Manasarovar, it will cost you 40yuans extra. Check with your operator if he can arrange assured accommodation for you in such tents in Manasarovar.

In Darchen also there are some slightly better places ' the govt guest house is one such. Try to get yourself accommodated there.

Finally during Parikrama, your package tour includes accommodation in tents. But there are rooms available in both stops at an extra cost (if it is not included in your package). But one of the Sherpas will have to go earlier each day to organise this for you- particularly in the peak season. The extra cost you have to bear varies from 40-50 yuan per person depending on the demand/supply situation. Check whether your operator is ready to organise this for you. Staying in rooms rather than tents during the rains will definitely make a difference during parikrama.

6. Always check out ex-Kathmandu prices when comparing: While operators prefer to fly you out from Bombay, Delhi or wherever you are it is almost always at a margin. In this age of cut throat competition between airlines, you can surely get a better deal and more flexibility in choosing the flights from wherever you are to Kathmandu. But make it clear that it is ex-Kathmandu airport i.e. transfer from and to airport is operator responsibility ' this should be no problem and all operators would agree to this. Also you might have a problem if your operator back office staff who arranges the transfers do not do their job efficiently (we had this issue 'more about that later). However if you do not need any flexibility in your itinerary and you do not want the bother of ticketing and reconfirming yourself, you would be better off choosing a deal ex-wherever you are.

7. Check what is offered in the free Kathmandu sightseeing trip and whether Manasarovar Parikrama is included: Almost all operators will offer you a free sight seeing trip in Kathmandu mostly during your inward journey. This will definitely include Pashupathinath (confirm anyway) and 2 or 3 more locations. Ours offered Budhaneelakant and Swayambunath (Shresta Holidays did not take us there though). Check what is on offer when comparing

All operators include Manasarovar parikrama by Land cruiser 'but we have read that some operators do not actually do it. Check this out and insist on the Manasarovar parikrama 'it is really worth it.

8. Check the Land cruiser being used: Specifically ask for Land cruisers with curtains to keep you protected from sun and a newer model to make your trip smoother. However we found that the Land cruisers don't operate ACs- I do not know whether this has to do with fuel consumption or whether it has to do with costs. Check with your operator and if you are willing to pay extra- AC would definitely go a long way in making your road journey comfortable.

9. Check what happens if you are not able to do Parikrama: While most of the operators would state that you would be put up for 3 days at an extra cost, we have a feeling that the costs are negotiable- so do negotiate up front if you expect to land up in such a situation. Also since Darchen has nothing to offer, you would be bored stiff for 3 days when the others are doing the parikrama. Hence it would be better if you could stay in Mansarovar- at least you can take more dips in the Holy Lake and have more Kailash mountain darshan. Do negotiate with your operator the arrangements and prices in case of a contingency and you have to wait back without doing parikrama.

10. Check what happens during an emergency on your way: If you have altitude sickness and you need to be evacuated we got the feeling that helicopter evacuation is not done even if it is covered by your insurance. Most of the operators would evacuate you to a lower altitude (like Nyalam) and put you up there till the group reaches back and catches up with you- at least this is what happened to people in our group who got seriously sick in Darchen. It would definitely be better if you could get evacuated to Kathmandu, but we believe this may not be possible due to group visa issues. But we did meet a couple in Hotel Himalaya who got evacuated all the way to Kathmandu 'so the reason of group visa might be false. In any case do check what options the operator is giving if you need to medically evacuated.

The medical facilities available on the way are very basic and in most cases you would be depending on Chinese military doctors and establishment for any emergencies. It will be good to have doctors within your group 'check with your operator if you are lucky to have one. At least clarify this issue with the operator and get a commitment from them to have at least a first aid trained sherpa to accompany you. Not that it will make much of a difference ' the operator will usually commit this but you will find that the basic first aid trained sherpa he has in mind would be very basic indeed. Anyway it does not hurt to check and make your operator aware that this issue is in your focus.

11. Finally check what happens during an emergency during Parikrama:
While researching for the yatra, you will come across claims of gamow bags, oxygen cylinders etc being available. But we could not find anything other than couple of small oxygen cylinders being available (our operator did not have even that) with some of the operators. We saw an elderly pilgrim being treated for altitude sickness by a group of sherpas using borrowed cylinders and then being carried down on their backs to a lower altitude. Believe me ' most of the operators do not take this issue very seriously. The minimum you should insist is that a couple of sherpas with Oxygen cylinders (at least) brings the rear of your group and make sure that everyone in your group is accounted for and reaches the camp by nightfall.
C. Choosing your yatra dates
Everyone likes to be at Mansarovar on a full moon night and no doubt it is really worth it. But beware that you will have a much bigger crowd to do parikrama at Darchen the next day which will result in a non-availability of ponies, yak, porters etc. If you are a fit person intending to do parikrama by walking or if you are a person not intending to do parikrama this should not be a problem. But if you are a senior citizen planning to use a pony for parikrama, you would be better off not landing in Mansarovar on a full moon night. Also because of the demand and supply gap, the rates for everything go up. The official rate for pony for the 3 day parikrama was 1050 yuan in 2007, but I paid 800 yuan to have my wife transported by yak at the tough Dolma La pass ascent. Furthermore due to heavy rush , if your operator has not got his logistics properly sorted out in advance you will end up using the worst available accommodations throughout your trip (which is what happened to us- again more about that later)
D. Things to pack/take

It is not our intention to provide you a detailed packing list since numerous such lists are available on the net (see online information section). However, let us try and highlight some essentials, point out the items in your luggage on which you need to spend more money and some tips on reducing the weight of your luggage.

The most essential items are:

1. Good waterproof trekking shoes : Although you need not spend on fancy brand names, you need to make sure that your shoes are waterproof, with non-slippery soles fit for wet surfaces and of course comfortable to wear with 2 pairs of socks.

It is strongly recommended that:

- You buy your shoes wearing 2 pairs of socks

- You buy your shoes well in advance use them regularly for your walks in order to avoid shoe bite problems during the trip

2. Good waterproof jacket with hood: Some operators provide the jackets on hire (ours charged 450 Nepal Rs) and if you do not see the need to invest in a jacket- the hire option is good enough. If jackets are not easily available and costly in your home town, wait till you get to Nepal 'you can pick up good ones in all budgets in Kathmandu.

3. Good sun hat 'with a wide brim and sun glasses

4. Sunscreen with an SPF above 20 and Lip protection balm 'preferably with sunscreen

5. Dust mask- You will need it during your travel from Nyalam onwards. If you are unable to get it in your place, wait till you reach Nyalam to get cloth dust masks.

6. Good monkey caps (take 2 in case you lose one), lots of socks (thin cotton ones and thick woollen ones) and under wears (Tip-considering that you don't get to take bath daily and most probably you would be too tired to change anyway do not pack on the basis that you will be changing socks and under wears daily), thermals and sweaters/pullovers with hoods (2 pairs of thermals and 1thin and 1 thick sweater/pullover with hood enough for us).

7. Torch (2 preferably in case you lose one -one that can be worn on head and one small hand held type-good cheap ones available in Kathmandu and Tibet)

8. Plastic mug.

9. Good non breakable hot water/cold water thermos bottle

10. In your first aid pack- Flagyll (for travel related stomach problems), Deep Heat Spray, Eno salt, Electral ,Diamox (most operators provide 'just confirm. Even if it is provided it is better to carry 1 strip at least as an emergency back up), Vitamin C 1000mg tablets (it is a good idea to start taking Vitamin C tablets 2-3 weeks before your travel to get better resistance against catching colds)

11. Dry fruits- Get everything separate, mix them up, and pack in small zip lock plastic pouches if you can.

Some not so essential items

12. If you are a lady, carry some bindis to gift to Tibetan ladies. Gents- carry some simple gifts like caps/sunglasses/cheap watches etc to gift to driver/sherpa/guide etc.

The tour operator would provide a duffel bag- check and confirm this since it is an absolute necessity. Your normal bags won't be able to take the rough handling of sherpas during the journey. You can always throw the duffel bag away in Kathmandu on your way back.
E. Money issues

Exchange rates

Myself and wife travelled from Abudhabi to Kathmandu and joined the yatra group there. Since I changed most of the money for the trip from Abudhabi , I am not sure how far the information we give here will be accurate or applicable. But let us highlight for you some of the pitfalls:

Some of the tour operators make some fast cash through money changing (ours- Shresta Holidays of Mr.Pradhan did). Here is how it works- During the briefing in Kathmandu, the operator would tell that at Kodari, there will be a big crowd clambering around you offering the service of changing money and you can get cheated (and this is true) - therefore you are better off changing money at the hotel before your trip with the operator (this is not true).

For example in 2007, Mr. Pradhan offered us a rate of 6.25Rs for 1 Yuan and offered to buy back at the rate of 6Rs for 1 Yuan at the end of the journey (he made a packet from our group)

In Kodari, when we were sitting and having lunch in Hotel Kailas, a lady was offering us a rate of 5.90Rs for 1 Yuan and it was perfectly safe to change it there. Right across the border in Zhangmu there is lot more choice and you can get a better rate 'one person in our group managed to easily get a rate of 5.3Rs for 1Yuan. In short, it is better to change your money in Zhangmu after you finish your immigration formalities (or right after you cross and before you get into your Land cruiser). However you should not wait any further as Indian Rs cannot be exchanged easily after Zhangmu.

The most easily exchangeable currency in both Nepal and Tibet is US Dollars- and if you are stuck for money the sherpas in your group can almost always find you somebody who will change Dollars for you. I was in need of some Chinese Yuan in Mansarovar and I got a rate of 7.5 Yuan for 1 $ which was very much the rate I got in UAE.

For the information of pilgrims from Gulf the exchange rates for 2007- 2.02 Yuans to 1 Dhs while the dollar rate was 3.678Dhs for 1$.

In Nepal Indian Rs is easily exchangeable (except for 500 &100Rs notes) @ 1.6 NPR to 1 INR ' and this rate was constant for both small and large businesses (even for Hotel exchange counters which almost always charge you extra). Furthermore you can pay in Indian Rs for anything and get the change back in Nepali Rs. So you don't need to carry any Nepali Rs from India. However if you are travelling from anywhere else the best currency to bring in for your needs in Nepal is US Dollars. The exchange houses offers better rates (you find a lot of them in all the touristy areas of Kathmandu) as compared to banks 'shop around for a better deal.

However be aware that the airport departure tax in Kathmandu can only be paid in Nepali Rs or US$. In 2007, the tax was 1356 Nepal Rs or roughly 22$.

How much money should you take

Since the operator is taking care of your food and accommodation and because all your needs in Kathmandu can be met using Indian Rs, let us give us some idea about the costs and how much Chinese yuan you would need.

1. If you are planning to take pony or yak for your Parikrama the official rate in 2007 was 1050 Yuan for 3 days. But during the peak days you might end up paying more (we paid 800yuan for the Dolma La ascent only and 30 yuan for a short distance on 1st day). So a better strategy would be change and carry enough yuan for the official rate and carry $ for any contingencies.

2. For a porter during the parikrama the official rate was 300 Yuan .Whatever your fitness level it is better to have a porter to carry your backpack during parikrama.

3. If the weather condition is favourable, definitely you should do the Ashtapad trip from Darchen ' you will get the best close up views of Kailas on good days from here. This will cost you an extra of 300Yuan per car and you can directly arrange with your driver in Darchen with the consent of your operator. For Ashtapad trip keep aside 75 Yuan (with 4 passengers sharing 300Yuan)

3. You can make phone calls right upto Darchen with the rate going higher as you ascend (details in Communication section) - keep about 100Yuan (for approx 20mnts of talk time during 14days)

4. An energy drink like Red Bull costs you from 5-8 yuan a 600ml of water bottle will cost from 2-5 yuan (depending on where you are), a hot water shower will cost you 8-10yuan, a visit to WC about 2yuan 'keep about 100yuan for all the miscellaneous purchases.

5. For tipping the porters, driver, sherpas etc keep about 200yuan (depending on your inclination).

So considering that you will use both pony and porter (it is better to make this assumption since you will have enough money to do the parikrama even if you have to take a yak) the total would be 2000 Yuan per person (12000 Rs approx). If you are determined to do the parikrama by walking carry 1000 yuan per person.
In both cases, do carry about 200 $ minimum as emergency cash.

One more tip- Carry only what you need during your yatra, leaving the money you plan for your Kathmandu expenses and some emergency cash in your bag left with the hotel.

Continue Next Page