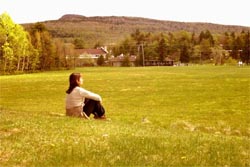 Man loves nature.
Loves to spoil it.
To spoil it till it dies away....

God has made many creations - all of them lovely and sights to behold. And to be preserved for eternity for all other eyes to see. The lush lakes, the bottom of the ocean, the fish, the clouds, air, sky.... He created the lovely birds, the flora, those beautiful colorful flowers that brought joy and vigor. Those lovely tulips, the jasmine and roses with their flavors and their fragrances that filled our nostrils with as much delight as possible. He created those animals, to chase each other and play around, to survive in the forests and the deserts.

And then He created Man. Perhaps a slight mistake on his part to do that act.

Man etched with nature, set upon his life like all other creatures on earth. He learnt to mingle with the dinosaurs and the sea lions, the whales and all creatures bigger than him. He obeyed their will. And then that change happened. All those larger creatures slowly faded off the face of the earth.

That phase gave a new face to natural history. The Charles Darwin Theory - comes into force with effect from this stage. Or so it is presumed. Survival of the Fittest!

Man wanted fire, food and shelter. He made them come his way. Only he had to lay hands on a few species of creatures for his own survival. With pure selfishness, man set upon his task of world domination. He built his own castles, huts, mansions. And gave them meaningful names. A meaning, which made sense to him, and only him.

He built his own homes, dug his own bones into pits if he didn't burn them. In short, Man wanted to change the world to suit him. Man refused to believe he was an animal as all the others. And he forgot that he was given a birth by God to mingle and not be single!

And then came words like "civilization". Yes, that very word which has made man behave as he does now. Destroy all of nature's gifts, endanger every known possible species. And yes, building his cities and recognize himself into a community. Set his own rules, most of which he managed to default in and suffer for it.

Man wanted power and money. So he gave himself that and in turn for all his work, he got guilt - guilt of mining and digging out endless holes, looking for stones that glitter. Why? All for his own misery. He wanted to increase pleasure and he didn't realize the pain that comes along with it. Its name is GREED, and the greed for luxury, eggs one to ponder why not to look for alternative sources of making oneself "happy".

And to man, true happiness comes out of mindless pursuits of exploiting the resources that dearest Mother Nature brought out. To seek that goal of making earth a miserable place to live in. Driving in cars, bikes and industrial growth; those big charts of plotting how much you made last year and how to make more this year.

And to pass off silly toys down to other people so that they might find themselves another use for that otherwise useless joyful toy. And to fool himself telling he is civilized.

And to call himself "the son of God", "autograph by the hand of God" et al.

Perhaps it might have been closer to God than ever to might as well preserve what is left of nature. And then we realize, it just is too late. Man has looted and ruined the worthy things that God gave us to save and help along. So that Generation Next might be happy. Not with Cola bottles, not partying your head down all night. And not visiting churches in the day and looting the world at night.

Not to walk within the dangerous lines of extremity. Not to knock himself out doing silly games. Anything to make himself feel alive. Freaking out till they cry!

And finally when Man finds the time after running around with all his unsafe methods, it will be saving face to realize that common sense is the refuge. Then he comes closest to speaking his heart out that time around. Only to find that no creation of God is left but man himself.

No more aquaria to dump his toxic waste. No longer will there be any more rabbits out of the whole, nibbling at the carrot in the fields. Not anymore shall we see those lovely birds soaring to other horizons challenging the puffy clouds. And no more freshness in that tinge of air that we long for after a hectic day. And nature shall infer herself to be at the call and beck of mankind.

Man shall be king of the world, command every single speck of dust and grime. And what do we get out of it all? Pride? Satisfied that we read E-mails in artificially conditioned office houses and smoking that puff of smoke that sets a clock running for our lungs and hearts?

And then reading this on the internet that might help us all think a while over what we do rather than what we have been doing. To realize what has been done and what is to be done in the remaining days. And to realize what is to happen of us. We don't need a Nostradamus to predict this. This we have brought upon ourselves and this shall be our destiny. Not unless you and me..... Just do it!