Time 7o' clock (February 27, 2008), evening; passengers are anxiously waiting for Taj express at Agra cant station. Some poor children are also roaming at the station without any attention from passengers. But there is something seriously wrong with these vagrants. They are walking like a drunkard and have something in their hands, which they are inhaling frequently.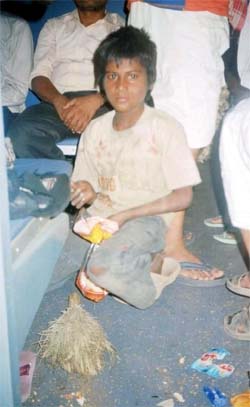 As one moves closer to them one feels strong smell of correction fluid. In their hands they have this solution poured on a piece of cloth and they inhale it repeatedly. When asked why they inhale it , Satish a 14 year old boy says , " I have started taking it when I was only seven. It gives me relief". "Poore din paise kamane ke chakkar me thak jate hain (after daylong race for earning, I am left dog tired). Isko soonghkar need aa jati hai (I can sleep after inhaling it)", says Mohan, who sells Pan-masala and cigarettes in the train (Government has banned smoking in the trains and at stations.)
There are almost 90 children on this station including few girls. Most of them have left their homes due to odd consequences like death of mother, regular beating etc. Some of these children are addict to this hazardous liquid from last many years. They are too addicted to quit it. Imran, who is merely 10 and addict of this fluid does not know that it is very harmful for lungs. He smiles and says , "Mujhe accha lagta hai (I like it)."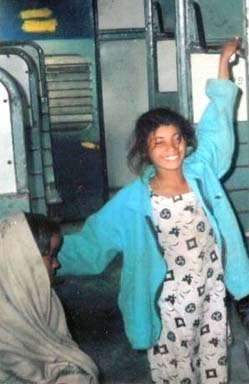 Saina a girl who is hardly 10 years is also a fluid addict. She lives in a nearby slum and sells Guthkas and refilled water-bottles in the train. These all children are from economically backward society.
Many of these children are taking this fluid from last 5 to 7 years under the nose of station and police administration. But Railway police SP shows ignorance about the matter, and assured the reporter to take proper step to rehabilitate these children. Surprisingly, the police station is in the station premises and the policemen on the beat visit the station regularly. Railway Protection Force (RPF) however has helped a Delhi based NGO Chetna in rehabilitating these homeless children. But not much is achieved till date. "We have sent many children to Government Correction homes. But there are many hurdles. Most of the times these homes are full and this is not possible to send all children to these homes. but we are helping Chetna wherever they want our help", says Kailash Chandra Gupta, incharge RPF Station. Children allege policemen and vendors for taking money. "They take 10 to 20 rupees from us and sometime snatch our belongings. They beat us and force us to do their work ", says a boy.
"We started here in 2005 and working hard to see the positive signs." says Pramod Kumar, project co-coordinator of Chetna. "We use community therapy (in community therapy children are treated, where they live ) because it is less expensive. We don't have a big set up to rehabilitate all the children in one go." He tells further about the way they treat these small addicts. "We organize games like cricket, kabbadi , Kho-kho to exhaust them. Once they are exhausted they sleep sound without any drugs" he adds.
But this therapy does not work much as they live in the same environment and start taking the liquid as soon as they see their colleagues taking it. There is hardly any signboard visible anywhere in the city to locate Chetna. Children also allege the NGO people for beating and ill treatment. But all charges were denied by Pramod Kumar.
Doctors who are working with this NGO say that white fluid is directly affects the lungs and and then affects the immune system. So these children are slowly moving towards death.
With regular hardships posed by police beatings, threat posed by vendors and potters, these kids are left with pain and sorrow at the end of the day. To overcome their pain and agony, they succumb to the temptations of drinking and substance abuse, without knowing that they are inhaling death. But blaming the administration is not right. We as a society are responsible for the state of these children. Thousands of Indian visit Taj every year but no one has even tried to raise the issue. Local and national media is more responsible than people. Neither any newspaper nor any channel tried to cover this issue. So the future of these children is entirely in darkness.