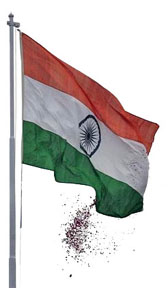 I came back home tired from work. Instead of watching the news I thought, let me watch
Swades
. I quite like this movie and is very close to my heart. Not because of Gayatri Joshi, but because of the strong patriotism depicted in the movie, which came naturally to me as a child. The scene where the scientist points the trajectory of the NASA satellite, especially when he says...'We pass from Australia and then across over INDIA...' was a tearjerker not only for Shahrukh, but for me as well. The camera work is brilliant, with a slow zoom over our majestic country.

Dad and myself never missed a republic day parade and he always says, even now ...'Look how powerful our country is, and look where it will go in another 25 years'. He is particularly crazy about the Indian armed forces and has endless tales of bravery to tell me from the 65 and 71 wars with Pakistan. I can say that these were the foundations for my never-die love with my country and also the armed forces.

When Kargil happened in 99, I saw first-hand the pain, sacrifice and suffering our soldiers went through, to win the war for us. Media reporting had never been more daring; showing the war as it happened, live from the battlefield. Kargil changed my life. Deep within, I became a much more emotional person having seen how unpredictable a front-line soldier's life is, and how much anguish his family has to undergo. I saw newly weds lose their husbands, kids orphaned, and old parents lose their only son. During those months I was deeply moved and didn't know where and how to let out my emotions. My friends were not particularly helpful, as they didn't see any reason to feel so strongly about it. But Kargil increased my patriotism, my Indianess and appreciation for our armed forces by a million times. I decided that someday, when God gives me enough, I will work for our soldiers and their families so that they can lead a better life, for our children so that they don't go out of money to buy school uniforms and text books, for our elders so that they can live the last few years of their lives with dignity, for our farmers so that they don't commit suicide for not being able to pay debts as low as 100 Rupees...

Often people say that individuals who leave their country and settle abroad or even work abroad are unpatriotic. Over the years, having seen problems at grass root level, I have come to believe that this argument is completely incorrect. There are many reasons for this. Funds are and will always be the most important issue of concern for NGOs. Most people don't know that 90% of the funds for India's NGO's are provided by her NRI (Non Resident Indians, often jokingly christened Non Returning Indians). Same holds for donations to centers of learning. Gururaj Deshpande, one of the hot potatoes in the Silicon Valley, recently donated $2million to IIT Mumbai. So did Sabeer Bhatia, with a donation of about $3million. Ok, lets leave millions; an average Indian working abroad can do more for his country than an average Indian working in India. I can spare $15 every month easily as contribution but sparing Rs.1500 every month for an average Indian in India isn't easy. Yes, we are taking 'average' people here. If I have a dream to build a school to support 50 children, I can confidently say that I could do it by working just 5 years here. Wonder how many years one have to work in India to be able to do that.

Of course, the most important thing is that one should feel the need to effect a change in India. Real brain drain is only when people go abroad, settle there and FORGET their country, their culture and their responsibilities.

My reasoning is that patriotism is in our heart; the country or the city we live need not justify it. Staying in UK, I can confidently say that I am more patriotic than most Indians back home.