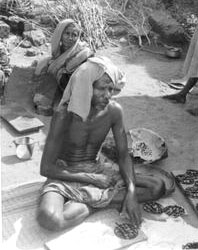 Dusashan Behera, several state and national award winner is a victim of fate, NGOs, tradesmen and administration. He is fighting is a losing battle to save dying Dhokra craft. At the age of 68 his zeal to fight is exceptional.

Situlia (Dhenkanal): " Mu je parjanta banchhi, se parjanta kala ku banchi rakhibi" (till live , I will keep this art alive) Dusashan Behera, many state and national awards winner craftsman says in despair.

Situlia popularly known as Dhokra village first came into limelight when the then Chief minister of Orissa, Nandini Satpathy sent Behra's name in Pragati Maidan's 'Shilp mela' to represent the state.

From there, Dushasan was sent to Japan by former PM late Smt. Indira Gandhi to represent India and he did so and received first prize among 25 contestants. The whole village was in a festive mood because the poor villagers thought that their fate would also change with the popularity of this art globally.

But the happiness was short-lived. After returning from Japan, he got other awards but not the funds to run the business. The financial state of this Santhal populated village can be understood as soon as one enters the village.

Various NGOs however work for the 'upliftment' of this craft but only on papers. Says Behera, "They purchase from us in Bulk and sell them on higher rates. It takes 3 days and 150 rupees including 300 rupees of brass and other raw material. They offer us 300 rupees per kg, how can we sell in total loss." He adds further.

He was betrayed time and again. Once a man from Cuttack, named Nityanand Bhol took two pieces of his excellent work- Konark Chakra and Ashok Stambha with 108 diyas, giving Behra a false assurance of high monetary prize and award from Central Govt.

"Bhol got the prize for the products he never made. He is also getting pension after that" utters Behra. He tried to file a case of cheating against Bhol but advocates denied. He was allegedly attacked by 'gundas' sent by Bhol to withdraw the case he never filed. " We are poor people, can't afford police cases, so at last I decided to sit mum at home." Red-faced Behra says.

He is fighting a losing battle. Out of 50 homes, 30 left the work because of the lower income from the craft business. Even his sons, don't depend on this art, they are laborers. ' On a good day in Situlia says Behra nostalgically "people get money to feed them at the end of the daylong tedious work".

Prime Minister in 2006, to uplift such excellent traditional crafts, sanctioned six crore rupees to Orissa, but where that money has been spent is still a detective story. "Out of six crore rupees, we got a handicraft showroom 'Shilpika' which is under control of NGOs. They sell our products at higher rates, taking all money and credit themselves." Says Behera.

But this 68-year-old 'Young man' has a fire in his eyes to safeguard this art. He wants to open a school to train people in this craft. He left three jobs to train people only to protect this rare art. This skilled craftsman is still hopeful, that in near future he will get aid from government and his dream to train people will come true.

"I will Train without charging any fees." Says an enthusiastic Behera.