When people are educated at universities, but never taught how to apply their education in an authentic manner ... ignorance becomes normal and the more power people get ... the more ignorance of the true meaning of life shows up in their actions. If any proof were need we only have to ask the question...Does a person who has suffered brain damage and can no longer feed themselves deserve to live?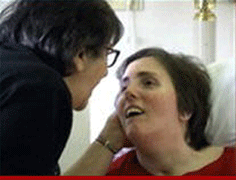 The person who is hitting the headlines in the USA is a lady named Terri's Schiavo who is disease free and all her body organs are in a healthy condition. Her conscious brain is not functioning properly so she is in an -- non compos mentis state of being.
Solely on the testimony of one person, her husband, she has been sentenced to death by starvation and dehydration. There is no actual evidence from Terri herself that her wishes were to terminate her life if she could not function normally.
This did not stop an educated judge making his own disciplined decision to end her life, even though the innocent ladies parents wanted to nurse and care for her. Surrounding this case is the normal media hysteria and hype that feeds on educated differences in politicians, lawyers, judges and doctors opposing points of view.
All involved had advantageous educations, but unfortunately the education did not teach them how to live an authentic life on earth. Without any true meaning, all that is left is the personal views, opinions and perspectives from so called professional experts who we never taught how to apply their education in a trustworthy and credible manner within universal laws.
The result is the chaos we read in the newspapers and see on TV news programs. And all along an innocent lady is needlessly being starved to death without any compassion, dignity, grace and true deliberation from people in power. Simply because ... They don't know how live in an authentic way as nature designed ... Unenlightened ignorance is not bliss in America ... It is a crying shame ... A real live travesty played-out in educated ignorance.