Do you want repose to relieve you of stress, fatigue and tension? Then visit Pondicherry or Puducherry (as called now) which is a peaceful, easy break away to recharge your life. It is a place which is kept unpolluted and clean.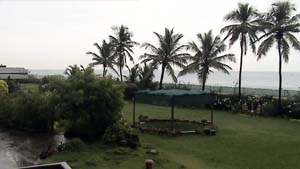 Even though the most comfortable season in Pondicherry is mid December to mid March we had to visit in October during Dussera vacations as we have school going children. This was our second visit.

It is the ideal place to stay if you are there to relax. It overlooks the beach and has a lovely well maintained lawn.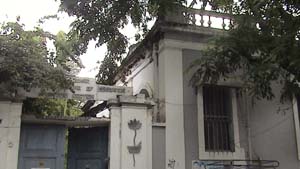 You can sit by the sea at night and inhale the pure and fresh breeze that whistles past you. The first floor A/C rooms are lovely with big glass windows. You can see the sunrise from your room. Each room is named such as Equality, Devotion, Creativity, Surrender etc. The staircases are decorated with beautiful pictures and bonsai plants. There is zero room service and you have to be back to the guest house by 10.30 pm

The ashram charm is so alluring that you feel like coming to this place again and again to retire into the old-world ease it offers. What attracted me most about this place is the striking grid like street plan and the well paved roads.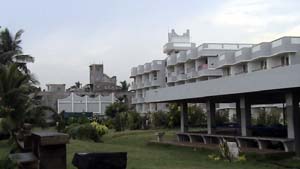 The Park Guest House has a canteen which offers modest breakfast, lunch and evening tea. But there is a snacks bar few yards away which serves delicious ice creams, fish fingers, chips etc. While it is possible to enter the main Ashram building freely during visiting hours, some sections of ashram require that you obtain a pass for entry. If you get accommodation in any of the ashram guest houses you will be given the appropriate passes. Otherwise you can obtain it from Bureau Central.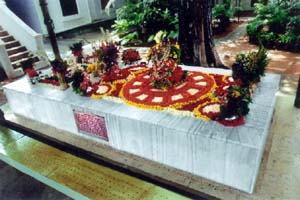 The Sri Aurobindo Ashram main building spoken of simply as 'the ashram' is a complex of four houses, two of which were the abodes of Sri Aurobindo and the mother. There is a photo section and a reading room. In the inner court yard of this premises is the Samadhi of Sri Aurobindo and the mother. The Samadhis are decorated with an exquisite pattern of colorful flowers and garlands everyday. The tranquil and serene ambience tempts you to sit and meditate there.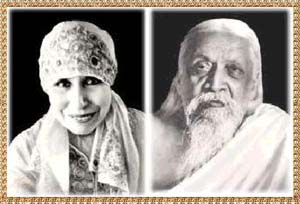 Another thing which attracted me is the silence, neatness and the discipline maintained in the ashram dining hall which I wanted my children to see.
The food served is very simple. We came to know from an Ashramite known to us that all the food items served in the dining hall are produced in the ashram's own farm and dairy except cooking oil. They serve breakfast, lunch and dinner to the visitors for a meager amount of Rs20. The food is purely vegetarian however non vegetarian and food rich in protein is served to the children residing and studying in Ashram school according to the Mother's instruction. This was also told by an Ashramite.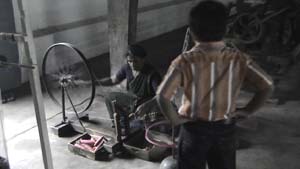 At present the Ashram community is made up of some 2000 persons who live and work in more than 400 buildings spread all over the town of Pondicherry. All ashram buildings are painted grey in color. There is no fixed routine either of spiritual practice or of material duties. However every member here is expected to do some work in the Ashram as part of this spiritual preparation. The work of the Ashram is organized into a number of different departments. There are essential services concerned with construction, house maintenance, electricity, water etc. Ashram authority manages various industries such as hand made paper factory, foundry, handicrafts, weaving, embroidery, batik, marbling, agarbatti (incense sticks) etc. The ashram has its own dispensary, printing presses and library.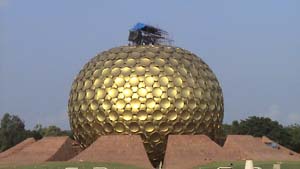 North of Pondicherry (16Km) you can enter the ecologically revived Auroville. Work on Auroville was started in 1968. However it is still incomplete. A large modern architectural marvel- the Matri Mandir houses a meditation room that holds the single largest glass crystal in the world. It is undergoing renovation work for the last three years and it will take another one year to complete the work. A taxi booked from Ashram guest house takes Rs.275 for three hours. Battery operated vehicles are available which takes you to Matri Mandir from the entrance gate.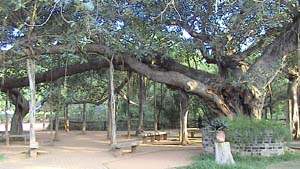 I feel the best way of exploring Auroville as well as the Ashram is on foot. Strolling along the clean and lovely streets and watching the architecture which flaunts high ceilings, arcades and French windows is really charming.
A two days stay at Park Guest House, Puducherry was a nice break away from the busy routine to recharge the life.