It was a small but memorable trip, almost total. Here is a short memoir of the tour in Nature's own country.

24.02.07 - Started from Vizag by Aleppie-Dhanbad Express for Ranchi – me, Debjani, my wife and our 5 year old daughter, Tvisha.

25.02.07 - Reached Ranchi at 9.00 am. Checked in Hotel Ranchi Ashoka. Hired a Maruti Van and headed straight towards Dasam Falls (now famous for Lalu's daughter's friend's suspicious death), so named because of its number of streams falling, they say. It's a lovely picnic spot. We found a busload of Midnapur College students picnicking. Debjani purchased 'Topa Kul' (local Plum fruits) from tribals (deliciously chutneyed later, back in Vizag).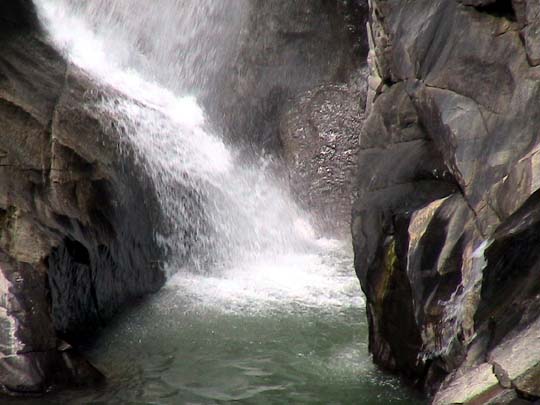 Dasam Falls

26.02.07 - Started early in the morning in the same cab for Hundru Falls. After a terrible stretch of 20 km we reached Hundru. Took a local elder to accompany us as we were the only tourist by then. Climbed down 725 new steps laid one year back. Water has become limited because of a dam constructed on Suvarnarekha before Hundru. Still it was serene. We took our breakfast there and shared with Satrughna Mahato, our elderly guard.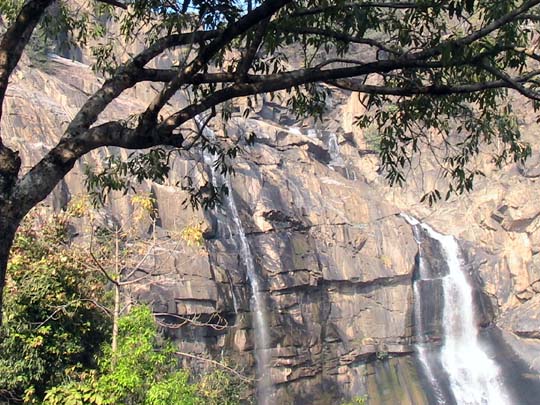 Hundru Falls

Then we proceeded towards Jonah Falls. We had to forego the dam on Suvarnarekha due to lack of time.

Road to Jonah was good and Jharkhand Tourism is developing it as a major tourist attraction. The newly laid steps were more than 1000. It was difficult for Tvisha but she managed. The Jonah or Goutamdhara is falling into the sprawling bed of Kanchi River and it's wonderful to touch the falls and play in the knee deep water below. Tvisha enjoyed very much.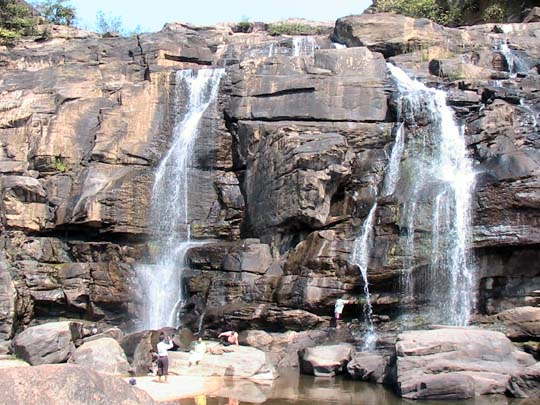 Goutamdhara

We saw a temple dedicated to Gautam Buddha on the top. Another falls named Sita was around 5km from Jonah, but the local people told us not to venture as it is in a corner of the forest.

We had to rush back as my seminar was scheduled to start by 2.00 pm.
I attended the seminar. The technical session was followed by a spectacular Kathak recital by Padatik from Kolkata and then a sumptuous cocktail party. Debjani and Tvisha could not join me as feeling tired.

27.02.07 - Debjani vomited throughout the night. I attended seminar. Brought medicine and gave to Debjani. By evening she was better. Attended the cultural program and party. Today it was Chhou and Panthi dance – dazzling performance both.

28.02.07 - I gave a presentation in the seminar. They gave a beautiful memento - a painting on palm leaves, framed aesthetically. The seminar was over.

Today Tvisha was not ok due to stomach problem. Gave medicine.

In the evening we went to the Ranchi Main Road for some shopping. But it started raining and Tvisha also started complaining for stomach ache. We had to come back. Debjani cursed me. Told that all was my conspiracy as I never want to shop anything. I too vented out my emotion saying that she was making an issue out of nothing. It looked like the tour was over.

01.03.07 - Early morning we checked out with packed breakfast in the same Omni of Guddulal. The receptionist wished saying 'we hope you come back well'!

Ranchi to Netarhat is 157 km.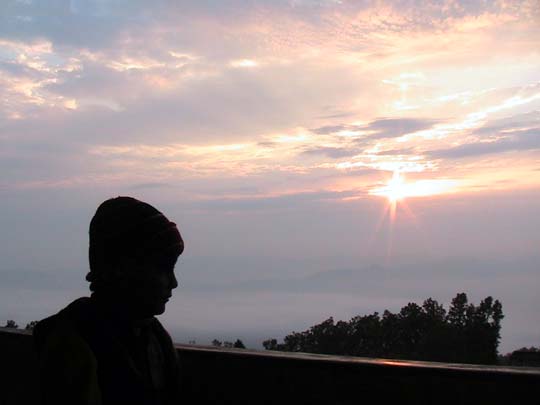 Sunrise at Netarhat

On Ranchi-Daltongunj road we took left turn near Kudu, 60km from Ranchi, then right turn from Ghaghra for another 55km to Netarhat.Then the actual journey began. After around 20km of bad patch, the road almost tarnished. It was a skeleton of a road for 30km, that too 'Ghat' area amidst forest all around. There was enough evidence of land mines on the road side. Looked like the handiwork of the so called Naxalites. We did not come across any passenger vehicle throughout. Only a few trucks with bauxites were coming from the other side. Somehow we covered that stretch, thanks to Guddulal. Last 5km was ok. We reached Netarhat at 12.30 pm and went straight to Hotel Prabhat Vihar of Jharkhand Tourism. It has a sprawling campus surrounded by big trees overlooking a valley where the river Koel flows. We were only the second tourist in the Hotel. Another Bengali family like us was there.

By now Debjani has normalized. Thanks to 33 crores Gods and Goddesses. The tour is saved.

We took bath and lunch before starting for local sight seeing. A small falls, Upper Ghaghri, Naspati (Pear) Gardens fully blossomed, Netarhat Dam were some of the sights. Then we visited the famous and beautiful Netarhat Public School, established in 1954 by Charles Napier. But the best was the Pyne trees. Debjani was roaming around the marvelous Pyne trees. Debjani and Tvisha picked up the Pyne fruits to their heart's content. We had to carry a separate bag to bring them to Vizag as souvenirs.

I was surprised to find Netarhat as sleepy as it was 35 years back when I first visited at the age of Tvisha. It is totally un-invaded, un-spoilt.

We took a break. Had tea and walked around the hotel. We went up to the very old but well maintained Palamu Dak Bunglow and its Sunrise point.

Then we started for Magnolia Point, 10km from our Hotel, for sun set. It was very cloudy. We could just see a glimpse of it. But what followed was even more interesting. Suddenly the clouds from the hills below gushed towards us and engulfed us. It started raining. We rushed back. But there was hardly any visibility. Guddulal somehow managed.

Coming back to hotel we had tea with pakoras. Found one Australian and few more people, employees of Hindalco, also had boarded in the hotel. We had Roti and Chicken Kari for Dinner, all made in 'lakri ki aag'.

02.03.07 - Got up early to catch up with the rising sun. But again the clouds played spoilsport. But sitting in the corridor, sipping hot tea alongside wife and daughter and looking for the rising sun - it was just exhilarating.

We packed Aloo Parathas for breakfast and started by 8 am for Betla. Only 120km, the road was good, but now the danger was different. Not even the Maoist or, 'Partywala' in Guddulal's parlance, this road is known to be infested with dacoits, 'Road Chhintai' as Guddulal says. We hided our valuables, didn't know what to do with the camcorder, and didn't stop after taking our breakfast at Mahuadar, 42 km from Netarhat. We missed a few water falls en route because we were trying to reach Betla as early as possible. People in Netarhat told the Police Force accompany or arrange 3-4 cars to go together. We didn't find any of them. The road was through dense forest and breathtaking at times. But I was too tense to enjoy them in full. However, we reached Betla safely by 12.00 noon as the only tourist.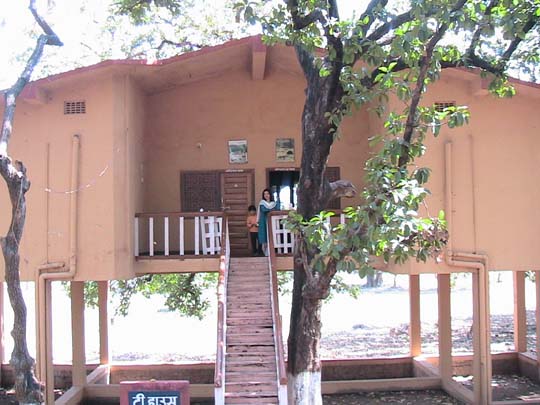 Tree House at Betla

Got in the 'Tree House' of Forest Department and lost ourselves. Hundreds of deers were gazing around in the vast field and a huge number of monkeys (hanuman or langur most of them) welcomed us to Betla. Very shy monkeys, happy and busy with their family and friends. We took our lunch in a road side line hotel. Booked a jeep and went to the meeting point of Koel and Auranga, two main rivers of Palamu. A vast landscape cut out of the jungle. Spent half an hour in walking over the sand and collecting white marbles.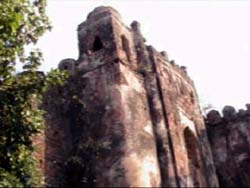 Then came the surprise as we moved to the Palamu Fort or better known as Raja Medini Roy's Fort, 5km from Betla. The Fort was built by the Chero kings of whom Medini Roy (1661-1672) was the most popular. The fort had fallen in the hands of Daud Khan, a deputy to Mughal Emperor Aurangzeb. It's in a dilapidated condition, standing amidst thick forest atop a hill. But it just took our breath away. It's fantastic. Debjani loved it very much.

The Guide was hurrying us. But seeing our interest he took us to places where generally people don't tread. He told, most of the people say 'what you are showing - all old useless stones'! We climbed up a broken stairs to the top of the fort - it was risky but worthwhile. Later in tourist guides, I found that the fort has become a den of the naxalites and thieves.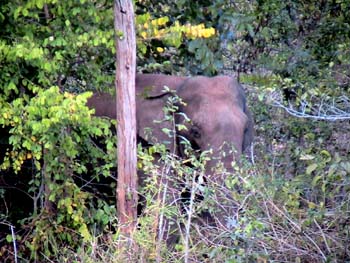 We went back to Betla and started our Jeep Safari in the Betla National Park. In the lights of setting sun, we saw two Elephants munching branches and leaves and a couple of Bison out for an evening saunter. It was evident that they were not liking our presence. Otherwise the Park hosts a wide variety of animals including the RBT.
We took tea and came back to our Tree House. The hotelwala served Roti, Anda curry with Salad for Dinner.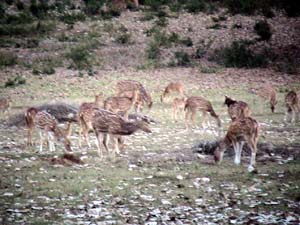 It was full moon (next day Holi). The forest and the field were flooded with moonlight. The deers were sitting or strolling quietly. Sitting in the balcony Tvisha and I was listening to the sound of the falling leaves. It was terrific.

In the midst of night, the barking deer was piercing the silence sporadically, God knows why.

03.03.07 - We woke up early and jumped out for the highly coveted Hati Safari. Wow, the aged jumbo, fondly named Juhi, carried 4 of us including the Mahut, Immamuddin, so easily.

She went through the difficult terrains, crossed ditches, climbed hills, took us to the Bagh Gufa, the mahal of the tigress. But the langurs on duty didn't give any signal of her royal presence as per Imamuddin. We could spot a couple of peacocks and a vivid variety of birds. The pleasant chirping and twittering of the birds filled the morning jungle.

Tvisha fed Glucose biscuits to Juhi. Debjani and Tvisha, though very scared, sat on the folded leg of the Elephant for a snap.

We packed our bags, had puri-sabji in the same Hotel Medini and set out for Ranchi, 165km via Latehar.

04.03.07 - Back to Vizag with fond memories of our sojourn in the lap of nature.

Tailpiece: In this tour, Tvisha liked most the safari on Juhi, Debjani liked most the ruined fort and I liked most their making merry in the Pyne forest.