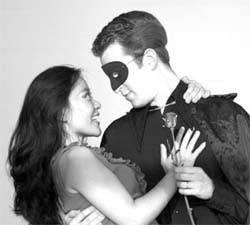 Jenna, a 20-something graphic designer, has just discovered that she's pregnant. She's wondering whether or not to keep the child. Not because she doesn't want to, but because she's not sure who the father is. It could be Adam, the guy she's currently dating or it could be her ex, Colin, or her other ex, Nathan. Shocked?! Well... she can't help it if, after Colin, each relationship only lasted a week.

This could be just another day on an American soap, complete with the trials and tribulations of teen blondes and brunettes. But 'Sex in Seattle' is neither the story of white Americans nor is it average daytime TV fare. On the contrary, it is a scene from 'Episode 15: The Anatomy of Love' of Seattle's longest running original episodic theatre (rather like a TV soap opera but performed over time on stage).

'Sex in Seattle' revolves around a quartet of Asian-American women in their late 20s: a schoolteacher who accidentally marries the wrong man; a junior graphic designer with major boy trouble; a divorcee psychic-hotline operator; and a soon-to-be-divorced Miss Junior Boston beauty queen.

The brainchild of a group of Asian-American theatre enthusiasts, the play debuted on stage in 2000. Ever since, each show of every episode (there have been 15 episodes till now) has drawn in throngs of hip and young Indians, Chinese, Japanese, Koreans and, of course, Americans, who not only come for their share of laughs but also to catch a glimpse of their modern lives.

"We usually show thrice a year. But now we have reduced that to two, as we want to concentrate on our Asian-American productions like Noh theatre," says Lisa Marie Nakamura of SIS productions (Sister Productions), the presenters of the play. SIS creates, develops and produces works that involve and revolve around Asian-American women and their issues.

A Japanese-American, Nakamura essays the role of the happy-go-lucky divorcee, Tess Matsudaira, in the latest Episode 15, which was staged at the Richard Hugo House at Seattle's Capitol Hill last month.

About her character Tess, Nakamura says, "Tess was married but now she's divorced and doesn't want to be in any relationship. She thinks being single is the way to be. Though she has potential suitors in Nathan and Colin (characters in the current episode) she keeps snubbing them."

There are others like Tess. Chloe is the Korean-American mistress of the China-born Harold, played by producer Miko Premo. Elizabeth Ko is a Japanese- American (who meets the love of her life, Cyrano, online), played by Kathy Hsieh, the co-conceiver, co-creator, playwright and co-executive producer of the show; and Jenna Sheng, a Chinese-American and the one wondering about the identity of the father of her child. Incidentally, Sheng's character is essayed by Serin Ngai, the original playwright of 'Sex in Seattle'.

Kathy Hsieh, Serin Ngai, Moi and Amy Washky, creators of this sassy show, began by retelling their personal experiences. The show was basically in response to the absence of Asian-Americans in the white American media. "If you notice, American television has hardly any Asian faces. Through 'Sex in Seattle', we wanted to put up something that Asian-Americans could relate to," says Heish, whose character, Ko, after a whirlwind romance, gets married to the traditional Chinese, Harold (whom she mistakes to be her online love, Cyrano), only to regret it later.

"Asians have this model image of being people who are good at math and sciences, who do well in school and at college, and who ultimately take on serious jobs like engineering or medicine. None of the characters in 'Sex in Seattle' has a 'serious' career. Jenna's character is a designer, while Nathan is an architect," Heish elaborates.

And how different are the love lives of Asian-Americans from the average Americans? "There are not many differences. But there are some taboos that we grow up with and that's something that does come in the middle of relationships - like the issues of pre-marital sex and marriage. But apart from that there isn't much of a difference," says Heish. Shawn J. West, the director of Episode 15 adds, "It's all about explaining the traditions and communicating. Ultimately, we are all the same."

Each episode tries to tackle issues that are centered on love, such as dating, infidelity, gay and lesbian relationships, and single motherhood. They also explore the issues like sexuality, struggle, identity and perceptions - using humor and drama. Some episodes have also attempted to break a few stereotypes of Asian women.

"Asian-American women are usually considered to be very passive individuals without opinions, but in 'Sex in Seattle', it is just the opposite. Also, there is a notion that Asian-Americans will date only within the community because they find something in common with each other. And, if an American man dates too many Asian women he considered to have a 'thing' for Asian women," says Heish.

Apart from that, the play also shows Asian-Americans as regular people with a sense of humor, as compared to many other theatrical productions that tend to portray the community as victims or a deprived lot. "Most Asian-American scripts also tend to be historical and SIS wants to show Asian-Americans as normal and everyday people," she says.

This ground-breaking theatre series has acquired a cult-like following, and has almost always played to sold-out houses. It has received rave reviews: "Sex in Seattle is progressive in its field, not only for producing sexy, witty theatre written with heart about vital issues, but also for showcasing an under-represented part of the population..." Incidentally, SIS has no plans of televising 'Sex in Seattle'.