It was while I was having lunch at the Board Walk, an open air restaurant which overlooks the famous Dubai Creek and from where you get a panoramic view of the city, that I suddenly recalled that it would be a cold winter in Kabul and I still hadn't bought any protective footwear.
I mentioned this to Omita, my petite young host and friend from Kalimpong who works as an Air Hostess and Trainer in one of the major airlines, and has been based in Dubai for several years now. Omita, Julie, her Irish Air Hostess colleague and I were having a leisurely lunch in this section of the city, which adjoins a five star hotel and some luxury villas. I spoke of my need to have sturdy warm shoes to pass the winter in a regretful tone, not really hoping to find a solution, even in this city of shopping malls.
Omita was quiet, but her five feet ten, blond friend Julie at once came up with a solution. She had just been skiing in Dubai the previous weekend and thought that she had spotted a couple of stores selling footwear designed for severe winters.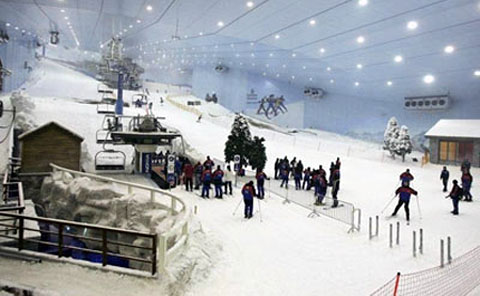 Skiing in Dubai? Yes, that's true. My friends informed me that this was indeed possible at Ski Dubai, which provided entertainment in the three S's namely skiing, snowboarding and, you guessed it, shopping. I needed to find shoes that would protect me against minus thirty temperatures in Afghanistan and if there was anywhere in the Emirates that I would find them, Ski Dubai was surely the place.
In the evening Omita took me to Ski Dubai and I saw for myself first hand the amazing ski slopes. Young children and adults wearing thick winter jackets and headgear dotted the slopes. Snow boarding and skiing had been made possible at Ski Dubai by means of artificially manufactured snow spread on designer slopes in an insulated area kept at minus degree temperatures, in order to prevent the snow from melting. There was an entry fee that was high but not prohibitively so and jackets, snowboards and skis were all available on loan. I would recommend getting jackets since the fee for the loan was slightly high for equipment. You could look into this other cooler world through glass panes while remaining on the other, shopping side of Ski Dubai. Indeed, indulgent parents could be found glued to the glass partition watching their children jump and frolic in the snow.
We wandered through the shopping area past food courts selling all manner of cuisine and came across the promised shops selling footwear designed for winter. I needed snowshoes that could work in an office environment and had to at once rule out all the fancy multicolored adventure footwear. Nearly giving up, we finally stumbled upon a Timberland store where I finally found shoes with sufficient thermal protective cover to tide me through the Afghan winter.
After dinner, Omita drove me back to my three star hotel on Computer Street in Bur Dubai. As we sped through the sparkling, lighted city past office skyscrapers and shopping malls, I couldn't help recalling another very different journey through a very different landscape years earlier from Hargeisa in Somalia to the port city of Berbera. During that particular journey through the hot desert at a certain juncture, when we were nearly half way to our destination, the Land Cruiser suddenly braked to let a herd of close to one hundred baby camels pass the road.
It was truly a wonderful sight to see all those camels in that barren sandy landscape. Most affected amongst us was Thomas aged 10, the young son of a Swiss colleague who immediately fell in love with the animals and couldn't help talking about them the rest of his stay there. He was of course aghast later when he learnt from his mother that some of these animals would be exported to Saudi Arabia for purposes of human consumption.
We were all of us then amused by his fantasies about taking back two small camels to Geneva and one of us even joked that he had better fix up an appointment with the Minister of Livestock (incidentally one of the most important ministries in Somaliland) for permission to export the animals. Young Thomas was confident that he could recoup the expenditure entailed in the transport of two baby camels all the way to Geneva by charging his friends and others a small fee to view the animals.
Vast sums have been spent in Dubai in the setting up of desalination plants, which makes it possible to use the seawater for purposes of drinking and irrigation. This water has in fact been used successfully to introduce some greenery into the desert landscape. It must have also cost a lot of money to create Ski Dubai in the heart of the city but the crowds there even on a weekday suggest that the investment is being rapidly recovered.
Back in Kabul and braced for the winter ahead I find myself re-examining Thomas's fantasy. If you can have skiing in the middle of the desert then perhaps one day in the not too distant future it will be possible to create a sealed off desert landscape even in wintry Geneva where Swiss fathers and mothers will stand by glass partitions craning their necks to catch a glimpse of young Thomas or Hans enjoying a camel ride. Possible, though perhaps not commercially viable as yet.