The gentlemen's game is catching the fancy of women, who are wielding the willow with 'lan. Cricket Australia, the governing body for professional and amateur cricket in the country and formally known as the Australian Cricket Board, is going all out to change the perception of cricket amongst women as an old fashioned and male-dominated game.

Announcing the first 'Females in Cricket Strategy', James Sutherland, Chief Executive Officer of Cricket Australia, said, "We must recognize that engaging women and girls is the key to growing the game." The strategy provides a framework to evolve cricket to the needs of women and girls and increase their participation in all areas of the game - playing, volunteering and watching.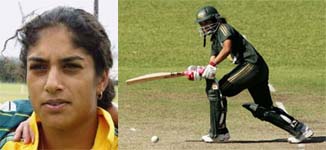 A role model for today's young girls, Pune-born Lisa Sthalekar, 27, vice-captain of the Australian national women's cricket team, began playing cricket with her father at the age of five and enjoyed watching matches at the Sydney Cricket Ground. At age nine, she joined the West Pennant Hills Cricket Club in the Sydney suburb of Cherrybrook.

"I was the only girl there and bowled my first ball in the opposite direction! When the boys saw I had some ability with the bat and ball, they became very protective - like big brothers," says Sthalekar, who would conceal her ponytail under her cap. However, one day the cap fell off and the boys yelled, 'That bloke is a girl!'"

At 12, she was playing with the boys in the morning and girls in the afternoon. "My father did emphasize academics but also realized the importance of sport in the Australian culture. With supportive parents and good time management, it was possible to balance study and play," explains Sthalekar, who would someday like to do a Masters' degree.

An international Test cricketer since 2001, Sthalekar is also the high- performance coach of an all-junior elite cricket team in New South Wales. She doesn't have a role model, but enjoys watching Sachin Tendulkar, Adam Gilchrist and Mark Waugh play.

Unlike tennis, where players on court make a fashion statement, women's cricket prescribes to the standard cricketing uniform of white pants and shirt. But the realization has dawned that glamorous "good looking" apparel is an important component to attract females to the game.

Sthalekar says, "We used to play in shorts or skirts, but it wasn't practical. Knees would get grazed and there were infections. In 1997, pants were adopted as the cricket uniform. But I feel with Twenty20 women's matches, there are opportunities to exploit and try fashion on the women's gear." (Twenty20 cricket is a more entertaining form of one-day cricket in which each team bats for a maximum of only 20 overs [instead of 50 overs for a standard one-day match]. The game lasts for only about three hours, making it popular among children and women.)

The new format is also being seen as one of the ways to promote women's cricket. "If we play Twenty20 games before the men's Twenty20 matches, it will give a big boost to women's cricket," says Karen Rolton, captain, Australia women's cricket team.

Rolton, 32, who won the inaugural ICC Women's Player of the Year award in Mumbai, in 2006, says Australia is producing quality women cricketers. The integration of Women's Cricket Australia (a body to promote women's cricket at the national level) with Cricket Australia is benefiting the players. Women's Cricket Australia is now known simply as Women's Cricket, a programme of Cricket Australia.

At present, women and young girls constitute 10.5 per cent of the total cricket participation in Australia, with 50 per cent of these aged between five and 12 years. Captain of the 2007 under-13 Victoria state girls' side and a potential future Test player, Anna Lanning played cricket with her brother and sister in their backyard. At seven, she started playing club cricket and looked up to some great players like Ricky Ponting, Adam Gilchrist and Michael Clarke.

Coach of the under-13 Victoria state team for the past five years, Gavin Nelson says, "A high percentage of these children go onto the under-15 squad and so on. Up until the last few years, most girls who played cricket were from an Australian background. Those with older brothers seemed to play, but then gave up as they grew up. It was considered to be 'fairly uncool' if a girl kept playing cricket in a boys team."

Girls tend to join the national team in their early 20s and the average reign is 10 years. "These days we have many Indian and Sri Lankan girls from metropolitan Melbourne trying out for the under-13 state side. They're very good and love cricket as this stems from their culture, where cricket is almost like a religion," says Nelson.

"To increase the involvement of women in the game, incentives - such as tagged grants from Cricket Australia - need to be put in place for clubs to develop facilities. In the past, women have organized their own club structures, with minimum financial resources. However, the greatest obstacle is that the access to grounds is controlled by arrangements between councils and male cricket clubs, thereby restricting the access to grounds for women's cricket," says Rina Hore, Director of Cricket, New South Wales and a member of the Cricket Australia's women reference group.

"It is equally important to target and track the development of new grounds and lobby for facilities designed to service the community in general, like child-care facilities," suggests Hore.

Cricket Australia's General Manager Game Development, Damien Bown, says, "We have rolled a national programme in schools called CricKids to promote the game amongst all children. The Twenty20 female matches at state level will also help raise the profile of women's cricket by exposing them to crowds of 15,000 to 20,000. That has never previously happened. By June 2009, we aim to appoint at least one female on all Australian Cricket Boards." All measures are now being taken for the ICC Women's World Cup in 2009 to be held in New South Wales Australia.

Women's cricket is televised in most countries like the UK, New Zealand and India, but not Australia. The strategy includes encouraging a more contemporary commentary influence, including female representation. Also, ensuring adequate coaches, umpires and volunteers to drive female retention and achieve 10 per cent female coach representation.

Despite the Australian women's team being as successful as their invincible men's team, women are not professional cricketers in Australia and they don't get paid sponsorships either. Players work full-time and many of them are also studying. As Sthalekar says, "It is difficult and we aren't rolling in wealth as is the perception. It is also why most of us are single - there is no time to socialize."