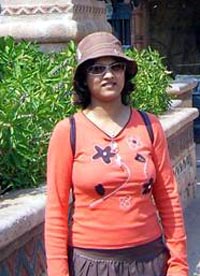 Brussels - Heathrow- Johannesburg, almost 9 and ' hrs flight. By 9 am the plane was nearing Johannesburg and activities on land really started to pick up - roads, farms, buildings just popped right out at me. The plane flew in an anti-clockwise circle over Johannesburg for the landing. The smell of the tropics greeted us; on April 5, 2006 I reached a place on earth where life is endurance.
Our flight landed simultaneously with other long haul flights and so it took sometime to get through the immigration process. My husband, who reached the day before, was waiting outside with the Bulgarian chauffer, Tony.
Tony was quite a chatter box; he wasted no time to introduce me to his place which had been his home for the last 12 years. Johannesburg, as he informed, is the economic powerhouse of Africa but there is an omnipresent fear of crime. While driving down to Rosebank I could see beautiful houses with towering walls topped with razor wire and electric fences. Tony said he will take us to the suburbs where people live in conditions ranging from basic to appalling.

I read in the book that the first settlement in South Africa was established by the Dutch East India Company in 1652. This settlement was built to provide the company's sailing ships with fresh supplies of food and water for their journeys between Europe and India. In 1869 diamond and in 1886 gold was discovered near Johannesburg. This event saw an influx of immigrants. Today South Africa's population is forty million out of which three-quarters is black (African) and about 15% white (European), with the remaining 10% comprised of people of mixed white, Malayan, and black descent and people of Asian (mostly Indian) descent.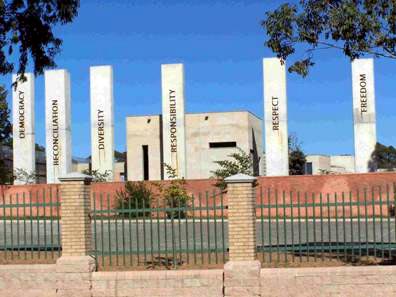 We reached our hotel ' Park Hyatt Rosebank. Although I was quite exhausted after the night long flight as I hardly had a siesta, yet I wanted to see it 'all'. We dumped our luggage and after replenishing ourselves, we went out.

Our first destination was Apartheid Museum. Museum to us always rendered a very typical picture of being a place where artifacts were preserved in big colossal mansions. But this museum is built in a very different manner - the synthesis of natural element and the building finish of plaster, concrete, red brick, rusted and galvanized steel, creates an amicable relationship between the structure and the backdrop. It's like a historical journey from the early people of South Africa to the birth of democracy. The apartheid museum not only narrates the apartheid story, but also shows the world how South Africa overcame apartheid.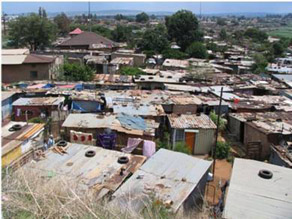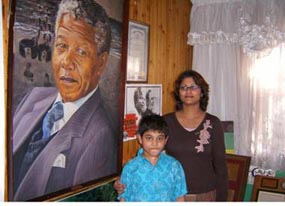 Our next stop was Soweto. Soweto is the largest black township in the country. The township of Soweto as a whole could be called multi-cultural, in the sense that its residents are from all the tribes in South Africa. The type of housing ranges from huts to large manor.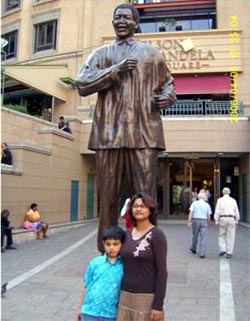 Nobel Peace Prize winners; Nelson Mandela and Archbishop Desmond Tutu once lived here. We visited the house where Nelson Mandela once lived for few years before he went to the prison. It was in Soweto that much of the struggle against apartheid was fought.
Exhaustion overpowered us. We wanted to have dinner so Tony suggested we go to Nelson Mandela Square formerly known as Sandton square where a 6-metre statue of Nelson Mandela was installed to honor the famous South African statesman.
We had our dinner there in a Thai restaurant ' quite a sumptuous meal and that too very reasonable.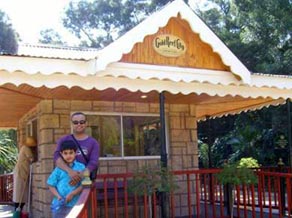 Next day we went to the Gold Reef City ' a combination of show, pleasure resort and a little living theatre. On the grounds of a former gold mine, a replica of the original gold-rush times houses and entire streets have been rebuilt. Most of the employees of the resort are dressed in costumes of that era. It was a great experience to see how gold was extracted. My son got really arrested by the amusement park.

The most famous Casino of Johannesburg is the Monte Casino supposedly done inside and out in a 'Tuscan' style. Although I didn't dare to try my luck after the horrible experience in Monte Carlo but of course there were some interesting shops and nice restaurants which kept us occupied for the rest of the evening.

Deep in the rugged bushel, in the heart of an ancient volcano, lies the Las Vegas of southern Africa - the internationally acclaimed Sun city, our next day's destination. The Palace of the Lost City is a fantasy world of Africa's jungles, cliff-tumbling gardens, streams, waterfalls, swimming pools, and al fresco entertainment areas.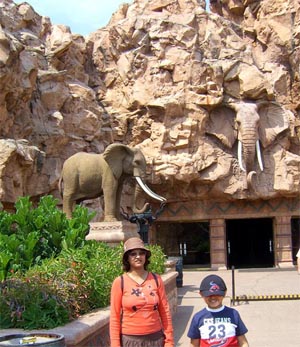 Myth tells that the Palace of the Lost City was the royal residence of an ancient civilization of South Africa but was destroyed by an earthquake. It has now been restored to its former grandeur. A large lagoon dominates the scene with a wave machine capable of generating 1.8 meter waves every 90 seconds. This water park has five thrilling tube rides. I am the least adventurous person of all and both my men - hubby and son, had to keep in tune with me so we lazed around in the wave pool for hours and hours.

Our next attraction Lesedi village - best way to get to know South Africa's vanishing cultures. Lesedi Village featured Ndebele, Zulu, Sotho, Xhosa, and Pedi tribes all in one cultural package.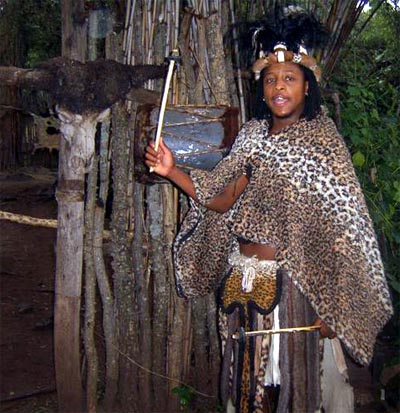 The experience began with an excellent video show about the life and living of the tribes. Next came the tour of the tribal villages where traditional huts and daily life were displayed. Before entering the traditional huts we had to take permission in respective languages. The tour was followed by tribal dance where audience participation was hailed. We too couldn't resist dancing to the drum beat - heart beat of Africa. The final touch was a buffet. There was a kind of mashed potatoes made from corn meal. I enjoyed squash, ostrich, and crocodile.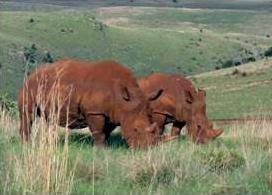 Lesedi will always remain a fond memory.
Trip to Africa without experiencing wild beauty ' safari, was like to comprehend the body without its soul. So our next days highlight was 'Lion & Rhino park'. This time my husband's friend and his family accompanied us. The most famous safaris are that of Kruger and Kwa-natal but, these parks are massive and not ideal for a day trip.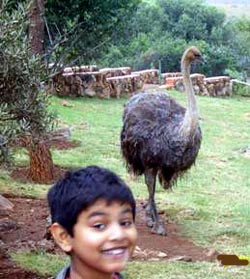 The Rhino & Lion natural reserve is a privately owned park situated in the 'Cradle of Humankind', a declared World Heritage Site at Gautang province and is one of Africa's few remaining havens for big cats and scarcely believable diversity and abundance of species.

The trip also included a tour to the wonder caves, an impressive collection of stalactites and stalagmites. Before joining the tour to wonder caves, we had snacks outside a small restaurant where we could watch the vultures perched on the electric poles that speckled the landscape. There was also an apathetic ostrich pecking about, and the children had fun trying to befriend it.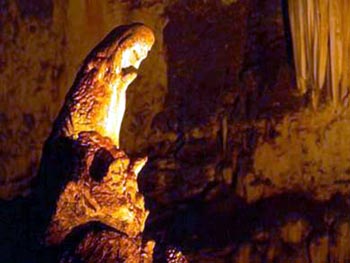 The entrance into the cave is quite steep. At the bottom of the stairs, we squeezed into a cage-like lift. The splendor and sheer size of these natural wonders had most of us taken aback. We were led around the cave and informed of the stalactite and stalagmite formation process. The guide informed us that the miners used to work there by candlelight. Just to give the feel the lights were dimmed and realization pounded us.
Climbing up was easier.
The children were impatiently waiting to see the big beautiful cats. We set out to our real life safari. The gate keeper of the lion park told us that the feeding time was around 1 pm. As we impregnated more and more to the deep savanna, we found a number of cars waiting and there were curious bystanders – well the onlookers were none other than the kings and queens.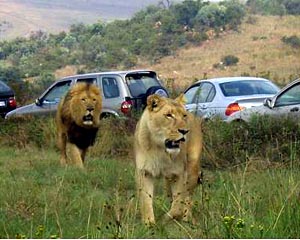 They were all running hither and thither brushing past our and other cars, for a moment I felt that we were all caged while the big cats were free. Soon after they became engrossed feasting on a buffalo. Like dutiful married women, who wait for their husbands to finish their meal, the lionesses waited upon their turn to have their share.
Zebras gave us a curious inquisitive look- as if who are these guys? The abundance of ostrich reminded me of the crows in the streets of Kolkata. Cheetah as cunning as ever, very hard to spot but as we neared the exit of the park out of the blues rather green, came out one and stopped right on our way, it gave us a repulsive look and disappeared into the bush. Other animals that we saw were springbuck, gemsbok, impala, suricate, Siberian tiger, crocodile, mongoose, jaguar, stork and also white lions amongst other unknown ones. Unanimously the best part of the safari was to spend time with the little sambas - lion cubs under supervision.
Naughty little simbas literally jumped on us and few of the visitors got scratches here and there. When they cushioned their paw on my palm I could feel how delicately soft they were. Undoubtedly, this was one of the many memorable experiences of a lifetime to ponder upon and cherish.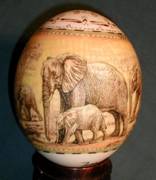 Next two days were inconspicuous. We spend the afternoon in the Rosebank mall, watched a movie and at night, dinner at Ocean Basket restaurant was a treat to reminisce. Next day we visited our friends and at night we all had dinner at Bombay Blues - Indian restaurant with abundance of tikkas, African beer, rogan josh, chicken handi etc – well, all yummy stuff!
My last day and I kept it free specially to do shopping of artifacts. Tony took us to a place called Bruma Lake – a successful conversion of an old sewerage catchments area into a lakeside flea market, shopping malls and commercial parks. The area offers a string of restaurants and shopping venues well frequented by bargain hunters of African carvings and artifacts.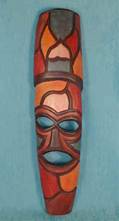 I was at shopping spree and ended up with painted ostrich egg perched in between kudos horns, wooden carved candle stand and big-five bread basket, stone sculptured family, Zulu basket, Ndebele doll, small masks for gift and personal collection three giant masks and particularly, carved wooden mask called Guro from Ivory Coast.
It was very difficult to call it a day as the whole place was flooded with exceptional wooden and stone carvings, I had my luggage to think about so I had to wrap up my shopping and head back to the hotel satisfied with my bargain hunt.
It was time to bid farewell to the world in one country South Africa – remarkable for its diversity, from spectacular natural beauty to the vibrant 'rainbow nation' mix of cultures.
Sala kahle (goodbye in Zulu) and the promise Sizobonana (Zulu) – see you again, we boarded the flight on April 12, 2006.