The five year old who drew whimsical figures with charcoal on the walls of her modest home in the southern village of Gintota, Galle, in Sri Lanka, today is an internationally celebrated children's book writer and illustrator. For over five decades now, Sybil Wettasinghe has been amusing, entertaining and winning the hearts of millions of kids across the globe through her engaging stories and colorful illustrations.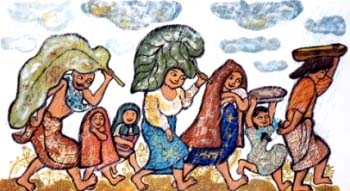 Wettasinghe started writing for children at a time when children's literature in Sri Lanka was in its nascent stage. 'Kuda Hora' ('Umbrella Thief'), first published in 1956, changed the mindset of the Sinhala book lovers, who till then had never even considered giving their children any reading material other than their school textbooks. When 'Kuda Hora' was published, its bright illustrations and large text seemed an unlikely rival to the imported English books. "But it was, in fact, a new beginning for children's literature in the country," says Reggie Siriwardene, journalist, writer and critic.

'Kuda Hora' ('Umbrella Thief') was such a success that it was translated into 12 foreign languages and is popular among children in Japan, Norway, Sweden, Denmark, the US, Korea and China.

Wettasinghe took her first steps towards a fulfilling literary journey when instead of going in for higher studies at school, she opted for art. Her father took some of her sketches for an exhibition at the Ceylon Society of Arts, where H.D. Sugathapala - Headmaster at Colombo's Royal College - was so taken in by the work that he asked her to illustrate a series of books for him. She was only 15 then.

Throughout her teens, Wettasinghe regularly contributed stories and artwork for the children's section of local newspapers. This experience helped her to develop a unique brand of storytelling, which made the most of her gift for lively and expressive lines and comic exaggeration. All her works have a common aspect - the text and illustrations are in perfect sync and the story progresses with the support of both the elements at the turn of every page. "Apart from the fact that all my books have this happy combination, my stories interest children because I write to entertain them, to make them happy. This comes to me naturally because I am still a child at heart," says the septuagenarian author. "My stories often refer to my life in the village and have a distinctive flavor of our country, which the children readily recognize."

Interestingly, one of the first books Wettasinghe wrote in English - 'Child in Me', which received the prestigious Gratiaen Prize in 1995, has a lot of local color. The book is the recollection of an untroubled childhood in a Sinhala village, complete with the aroma of the auspicious kiribath (a traditional rice and coconut milk dish) and the sounds of drums during the New Year celebrations. There is also a Sinhala and Tamil version of the book. In fact, the Sinhala version is even being made into a film for the local TV networks.

Her creative talent and a unique style of narration prompted an enthusiastic response from foreign publishers. Her international success began when 'Kuda Hora's' Japanese edition, brought out by Fukutake Publishing, won the most popular children's book award given by the Tokyo Children's Library in 1987. In fact, the Asian Cultural Centre even used one of the illustrations from the book as the cover of their well-known calendar that year.

"It was at the Bologna Book Fair in 1986 that I met people from the American firm, Kane Miller Publishers, who later brought out the English versions of several of my books, 'Kuda Hora' being one of them. The Danish, Norwegian and Swedish editions followed and in 1993 came a Chinese version by the Formosan Magazine Press," she recalls.

So far, Wettasinghe has written over 150 books. Apart from 'Umbrella thief', 'Hoity the fox', 'Strange Visitors to the Cat Country' and 'Run Away Beard', have been translated into Japanese. The first three books won the Best Foreign Book Award in Japan. 'Run away beard' won the SAARC Award for the best designed children's book in 2003. In 1998, she was invited to be part of a panel to select books for the Peace and Tolerance Award by UNESCO in Paris.

But more that accolades, it is the one-on-one interactions that she has with children, through various workshops and reading sessions, that are close to her heart. "What makes me most happy is the fact that I have been able to give out copies of my books in Tamil to children in conflict areas especially at Baticaloa and Ampara on the Eastern coast. I never refuse an invitation to go to a remote distant village to speak to the children and tell stories, as their responses are heartwarming," says the grandmother of five.

She also pays regular visits to special homes for children like the Chitra Lane School for the Special Child in Colombo and the Suwa Setha Sahan Sewa in Moratuwa, fifteen miles from the capital, to spend time with them. In some slum areas, informs Wettasinghe, children gather in such large numbers to hear her that often there is no room left. "Then, we meet in the temple preaching hall," she says with a smile.

Most these workshops and interactions end with children gathering around her and asking her to draw pictures on demand. "Sometimes they want me to draw a cat or a dog; some ask me to draw his/her mother or teacher; or a man with a long beard. There is no end to their imagination and their eyes light up, as with just a few strokes I get their ideas on to paper."
Pravin Jayasundera, 8, an avid reader of Wettasinghe's books, says, "I like her dogs. They have such large eyes, and I like the monkey... he is just like the one who comes to our mango tree." In fact, the Jayasundera household has another Wettasinghe fan. Pravin's father, Chandaka fondly remembers her books which he enjoyed reading as a child. "I still remember running to the children's book section whenever my mother took me to a bookshop and looking for Sybil's books," says the 40-year-old lawyer.

Her readers - critics included - believe that the whimsical figures, bold layouts, unique characters and a brilliant style of narration, make Wettasinghe's books popular among a vast spectrum of people.

"But," Wettasinghe says, "I think that they are liked because I don't preach to children. I have no issues to convey or messages or morals... if they learn something from reading my stories - say, the importance of protecting the environment or being kind to animals and the disabled, that's fine. But what I want most is for children to enjoy my books and illustrations."