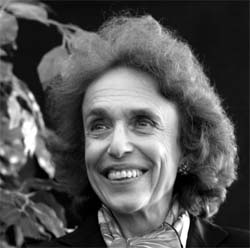 When Iranian-born intellectual Dr Haleh Esfandiari, 67, now an American citizen, went to Tehran last December to visit her ageing mother, she had no reason to think the visit would be any different from the others she had been making regularly.

But on her way to the airport to catch her flight back to Washington, D.C. (where she directs the Middle East Program of the Woodrow Wilson Center), her taxi was stopped and her belongings, including an American and an Iranian passport, were confiscated. Shortly thereafter, Esfandiari was subjected to a series of interrogations that went on for six weeks. After a prolonged pause in the questioning - a period of virtual house arrest - she was incarcerated on May 7, 2007, in Tehran's Evin prison. Several days later the hardline newspaper, 'Kayhan', announced that Dr Esfandiari stood accused of working with the US and Israeli governments and with trying to topple Iran's Islamic regime.

"I was shocked!" says the former Princeton University professor, author and Middle East expert. "I'm not an activist. And the Woodrow Wilson Center is entirely transparent. But there is a fear of think tanks and foundations [in Iran]. They worry about a Velvet Revolution." (The Velvet Revolution - November 16-December 29, 1989 - refers to a non-violent revolution in Czechoslovakia that saw the overthrow of the Socialist government there.)

Esfandiari remained under interrogation and in solitary confinement for 105 days. Permitted a brief weekly phone call to her mother, she had no direct human contact, except with her interrogator and her guards, whom she has described as kind. Her lawyer, Nobel Peace Laureate and Iranian feminist activist Shirin Ebadi, was repeatedly denied access to her client.

Determined not to give in to despair, Esfandiari "decided to survive the ordeal". She adhered to a strict routine, which included several exercise sessions a day, regularly timed meals and baths, and a proscribed reading time. "Solitary confinement is horrible," she says, but her 'room' had windows and a walled terrace so she could "see the moon".

During her incarceration, Esfandiari was unaware of numerous activities being undertaken on her behalf. Key among them was a letter sent by Lee Hamilton, a former Democratic Congressman and now head of the Woodrow Wilson Center, to the Grand Ayatollah Ali Khamenei, Supreme Leader of the Islamic Republic of Iran. His reply was "positive and respectful" according to the Center, and on August 12, the investigation into Esfandiari was concluded.

She was released 10 days later on bail of US$ 320,000 secured by Esfandiari's mother putting up the deed to her apartment. On September 1, a new Iranian passport was issued and the next day Dr Esfandiari flew to Vienna where she was reunited with her husband and other family. She returned to the US on September 6.

Although she doesn't consider herself an activist, Haleh Esfandiari, who once served as Deputy Secretary General of the Women's Organization of Iran, is a noted speaker on contemporary Middle Eastern women's issues as well as Iranian politics. She believes the most critical issues for women in Iran today centre around family and personal status law - marriage age, child custody, divorce and retribution laws, including stoning for adultery.

Esfandiari says that as young women in Iran struggle to have a political voice, they remain defiant and persistent. Their attitude and activism are evident in many ways. For example, the Campaign for Equality (or Million Signatures Campaign) was launched in August 2006. Aimed at reforming the legal system, the goal is to secure a million signatures, nationwide, calling for an end to inequitable laws. Door-to-door education, peaceful rallies and petitions are all in play. Several women associated with this campaign have been arrested or interrogated, especially during demonstrations in which they were supporting International Women's Day last March. They have been accused of "acting against state security through propaganda against the system", according to Amnesty International. At least two women have been sentenced to lashings in addition to prison time.

"Rather than arresting peaceful demonstrators, the Iranian authorities should be taking seriously women's demands for equality before the law and addressing discrimination against women wherever it exists in the Iranian legal system," Irene Khan, Amnesty International's Secretary General, said. Added Shirin Ebadi in a March 2007 joint statement with Khan, "As long as women are denied human rights, anywhere in the world, there can be no justice and no peace."

Parliamentary elections are scheduled to be held in Iran in March 2008. "If we elect a reformist government, the country will open up," says a hopeful Esfandiari. "If it is a conservative government, who knows what will happen?"