Amar Singh: Creativity Beyond Politics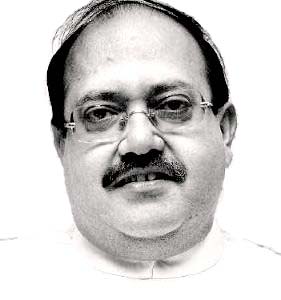 During the rabid summers in India Amar Singh first showed his symptoms of sickness during a campaign trail in Uttar Pradesh which he exposed to the media. I am not well; he said and hopefully would take a long rest after the elections are over. The writer a keen follower of Samajwadi politics immediately felt that there is far more than that catches the eye. It was this statement that prompted me to write the article 'Being Amar Singh' in these columns which exposed the occupational disorders in the health of an Indian politician for the first time.

Soon after the elections, he left for Singapore to have a kidney transplant. It was only after he came back that we found a changed Amar Singh. The first inkling of his new understanding came from his blog that he started recently. It seems that during the period of his sickness, none of his political friends bothered to visit him other than a few of his close friends and relatives. The rest obviously is history.

It is a well known fact from the spectrum of Indian politics, that creativity in any sphere is a restricted word partly because of lack of interest in venturing beyond the run of the mill of local politics.

The saga of Amar Singh started from Kolkata, reached Bhopal where he became close to Madhav Rao Scindia and finally ends in Delhi where he showed his deft political acumen in bringing Samajwadi party to a national status.

But we are not keen about Amar Singh the politician but more about his creative pursuits beyond politics. Even before he left for Singapore he had acted in a couple of Bengali films. His acting abilities have landed him a number of roles in Hindi films the latest one being in Dev Anand's 'Chargesheet' where he would be seen in the role of a Home Minister. He is seen acting opposite party colleague Jayaprada in the Bengali Film, 'Sesh Saghat' which has sympathetic undertones for the Naxalites. 'Bombay Mittayi' is his next film where he has a role opposite Dimple Kapadia.

Jaswant Singh, a close friend of Ruskin Bond and an author of many books was expelled because of his creative pursuits and writing a book on Jinnah. He made many enemies in BJP primarily because of his openness and ability to quote from history at BJP meetings. An intellectual to the core he was shunned by party leaders who were not happy in seeing him rise in the political sphere.

The late Vishwanath Pratap Singh, the former Indian Prime Minister who gave an exhibition of his paintings at London once said that if only he knew earlier the happiness that his creativity can bring, he would never have entered politics.

At the regional level in West Bengal, Subroto Mukherjee, the former Mayor of Kolkata starred with Moonmoon Sen and George Baker in the Bengali serial titled, 'Chowdhury Pharmaceuticals'. It ruffled many a feathers in the Congress-I during that period of his screen debut and a few swimming pool sequences with Moonmoon Sen. Satyajit Ray had once remarked to Victor Bannerjee that he would not like to miss any sequence of the tele-film starring Subroto Mukherjee.

Mamta Bannerjee of Trinamool Congress is an exponent of Rabindra and Adhunik sangeet and has many recordings to her credit.

Creativity in the political sphere is a sequestrum that refuses to be rejuvenated; such rare talents usually go unnoticed by pot bellied, intellectually restricted politicians. Bureaucrats and Technocrats too fail to understand the lateral dimension of such an intellect that remains mortally compartmentalized.
14-Feb-2010
More by : Dr. Amitabh Mitra
---